Boulder (USA) : Rare Clovis artifacts document Boulder's prehistory
Boulder (USA) : Rare Clovis artifacts document Boulder's prehistory
Rare Clovis artifacts document Boulder's prehistory
Source -http://www.dailycamera.com/ci_18863516?source=most_viewed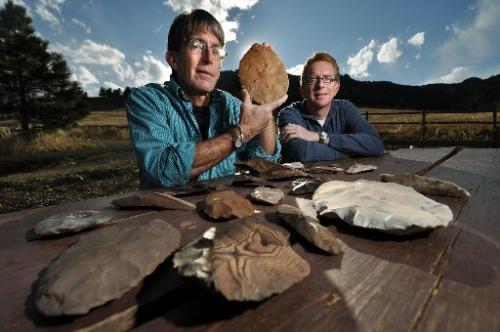 Douglas Bamforth, Anthropology professor for the University of Colorado at Boulder, left, and Patrick Mahaffy, show a portion of more than 80 artfiacts unearthed about two feet below Mahaffy's Boulder's front yard during a landscaping project this past summer. ( Glenn J. Asakawa )
Thirteen thousand years ago, Clovis people roamed The Hill, and there are 83 stone age tools to prove it. Archaeologists now believe the prehistoric people may have had an ice age megafauna butchering station along the banks of Gregory Creek, where the tools were discovered.
In May of 2008, landowner and biotechnology entrepreneur Patrick Mahaffy hired landscapers to excavate part of his yard to create a pond. When one of the crew members heard an unusual chink, he stopped to investigate. They had stumbled upon a collection of 83 stone implements.
Mahaffy was curious about the implements, which he thought might be Native American and possibly a few hundred years old. He telephoned the University of Colorado's anthropology department. Luckily, he reached Dr. Douglas Bamforth, an expert on ancient people and their use of stone tools. Bamforth walked over to take a look.
He was astounded at what Mahaffy had discovered. Experts at the Laboratory of Archaeological Science at California State University, Bakersfield were consulted. Analysis to determine the age of the implements would be costly, but Mahaffy gladly paid out of his own pocket.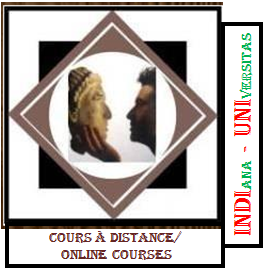 ANT 101 : Introduction à la Préhistoire / Introduction to Prehistory
CIV 106 : Civilisations paléo-indiennes / Amerindians of North America
After some months, the unprecedented results of the protein residue analysis were made public. The results were international news. The tools contained the blood of prehistoric mammals including camel, bear, horse and sheep, the megafauna that roamed over North America 13,000 years ago during the Pleistocene.
It was the first analysis to identify protein residue from an extinct camel on North American stone tools and only the second to identify horse protein on Clovis-age tools, according to Bamforth. The rare find, which was officially named the Mahaffy Cache, is one of only a few Clovis artifact group discoveries in North America.
The Clovis people mysteriously disappeared from the earth about the same time as the ice-age mammals also became extinct.
One scientific theory is that a group of comets exploded over North America, creating massive heat that caused the extinction of ice age mammals, and perhaps the Clovis people, too. Clovis people were once thought to be the first human inhabitants of the New World, but new archaeological discoveries have called that belief into question.
The 83 tools of the Mahaffy Cache themselves are made of Kremmling chert, rock material found on Colorado's Western Slope. They are not hunting tools, but were probably used for butchering the animals for food.
Mahaffy described the tools as perfectly ergonomic, fitting beautifully into a human hand.
In 2009, Patrick Mahaffy was recognized with a special project award, given by the Boulder Heritage Roundtable, for his dedication to preservation of the ancient historic materials.
Shortly after the discovery, the biopharmaceutical entrepreneur named his new company Clovis Oncology.
Although Mahaffy intended for most of the tools to be on exhibit for the public, they have not yet been made available.