Bodzia (Pologne) : Treasure-Laden Viking Cemetery Discovered
Bodzia (Pologne) : Treasure-Laden Viking Cemetery Discovered
Treasure-Laden Viking Cemetery Discovered in Poland
Monami Thakur
Source - http://uk.ibtimes.com/articles/269213/20111219/unusual-treasure-laden-viking-era-cemetery-discovered.htm
A mysterious burial ground dated to the late 10th and early 11th centuries A.D. has been discovered in a recent archaeological excavation in Poland.
Located in the small village of Bodzia in central Poland, the site was excavated from 2007 through 2009 by archaeologists from the Institute of Archaeology and Ethnology of the Polish Academy of Sciences.
The discovery is the most recent in a series of excavations of funeral sites in Polish lands dated from the end of the 10th to the middle of the 11th century and connected to the presence of migrants, mostly from Scandinavia.
Apart from the graves, the burial grounds contain rich grave goods comprising weapons, high-quality jewellery, ornaments, coins, amulets and many other finds.
The graves, of women in particular, were loaded with necklaces made of glass beads or precious stones. There were also silver rings, earrings and many other objects inside the graves. The findings have been published in the current issue of the journal Antiquity.
The National Geographic mentioned that researchers were especially intrigued by a figure they called the Young Warrior, who died a violent death in his 20s. The man's jaw was fractured, his skull laced with cut marks. The sword provides further evidence of a martial life.
All the bodies were buried in wooden rectangular boxes that were decorated from the inside with fabric and were reinforced by iron fittings. In total, the remains of 14 men, 21 women and 14 children were documented during the excavation. While the average age for burial of women in the cemetery was 22 to 35 years, for men it was 35 to 55 years.
Take a look at the findings below: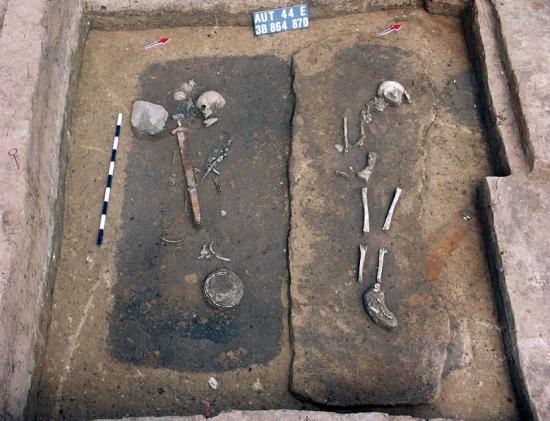 Chamber grave E864 with the richly equipped burial of a young warrior - Source: S. Gronek Date:12/19/2011
The Bodzia cemetery showing the outlines of the chamber graves and the rectangular fences preserved under a layer of arable soil - Source: A. Buko Date:12/19/2011
Fragment of a necklace from chamber grave E61composed of beads of silver, combined with rock crystal and carnelian - Source: M. Jórdeczka Date:12/19/2011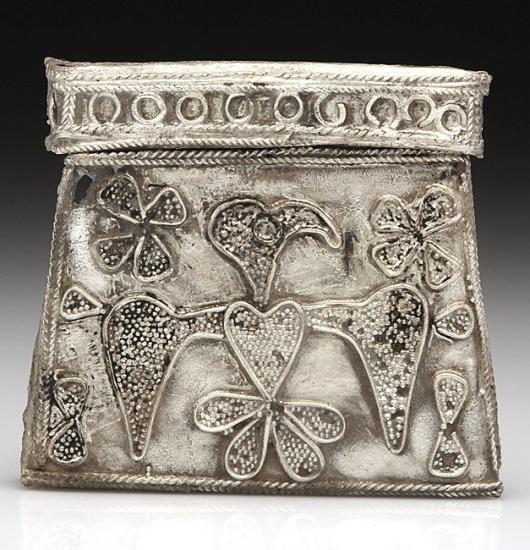 Kaptorga (amulet container) made of silver with the image of an eagle - Source: M. Jórdeczka Date:12/19/2011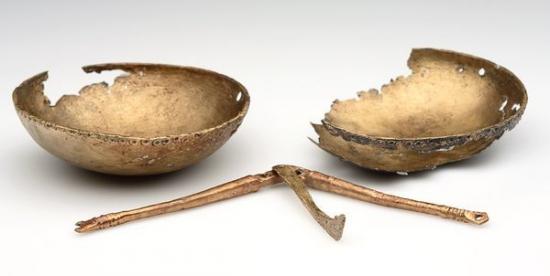 An ornate bronze balance. - Source: M. Jórdeczka Date:12/19/2011