Archaeologists unearth a 9,000-year-old ritual site in a Swedish cave on an island with a long history of superstition and witchcraft.
Source - http://sciencenordic.com/archaeological-discovery-sweden-reveals-site-stone-age-rituals?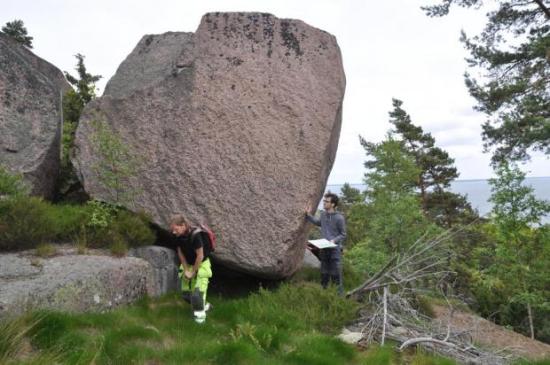 Archaeologists work on the island off Sweden where they discovered evidence of Stone Age rituals. The island has long been linked with tales of witchcraft, supernatural powers and curses. Credit: Kenneth Alexandersson
A 9,000-year-old ritual site has been discovered in caves on the uninhabited island of Blå Jungfrun in Sweden. The island has a long history of witchcraft and religious ceremonies, writes LiveScience.com.
The finds, some of which are shown in the gallery above, were presented at the European Association of Archaeologists annual meeting in Glasgow, Scotland.
At the meeting, the archaeologists behind the discovery described it as "astonishing" and say that it "reveal[s] extensive human activities on the island in the Mesolithic Stone Age," according to LiveScience.
Among the discoveries is an altar that shows clear signs of having been shaped with grinding tools. The archaeologists suspect that offerings to deities might have been made here.
There is also an area of the cave that looks like a stage, which could be where ceremonies were performed.
They also discovered the remains of a fireplace that they suspect would have been viewed from above as onlookers watched the ceremonies. It could even have been a theatrical part of the ceremonies held within the caves.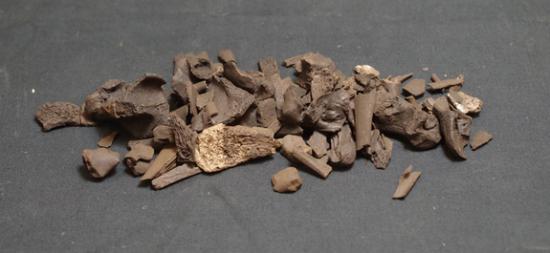 Animal bones found at the Stone Age site contained mostly seal remains, dated to around 9,000 years ago. Credit: Kenneth Alexandersson
Other finds include stone tools and the remains of seals that date to around 9,000 years ago, found within a shelter between the two caves.
"A few people could've been sitting or standing, perhaps just resting or spending the night during sporadic stays on the island," says Ludvig Papmehl-Dufay from Kalmar County Museum to LiveScience. He is one of the archaeologists that discovered the site.
"However, more specific activities with ritualistic elements to [them] cannot be ruled out, such as feasting in connection to the rituals performed in the nearby caves," he explains to LiveScience.