Source - http://english.vietnamnet.vn/fms/art-entertainment/116726/shipwrecks-reveal-ancient-trade-routes.html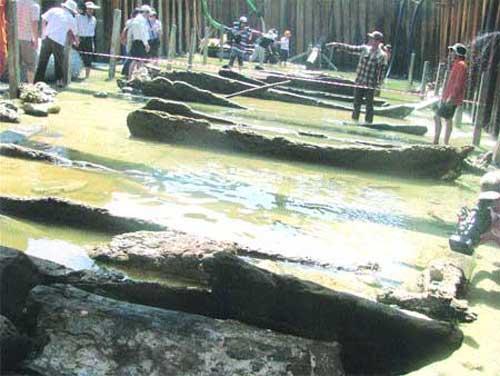 Exploration: Archaeologists and workers inspect an old shipwreck found at the bottom of the sea in Binh Chau, Quang Ngai Province. 
Two ancient shipwrecks near tiny Chau Thuan Bien Village on the coast in central Quang Ngai Province have attracted hundreds of researchers and archaeologists in recent years.  The village, in Binh Chau Commune, is believed to be the resting place for many wrecks dating from the eighth to 18th century.  The seas off the coast are being closely explored for more shipwrecks so that the locality can apply for National Special Heritage listing. If this happens, the area will be listed as the first museum of vintage shipwrecks for eco-tours and water archaeology in Viet Nam.
Seeking shards:A diver searches for fragments of ceramics from a shipwreck in Ly Son Island's An Binh islet.
The village of 400 people, of them 150 are scuba divers, has a long, pristine beach in a most tranquil area. According to local fishermen, a large area of the sea 150 metres off the beach contains at least seven shipwrecks. Hundreds of antique ceramics and fragments of ship buried in the sand have been retrieved in recent years. One of the divers, Vo Dung, 81, said he was told by his grandparents a channel had once existed from the village to the area containing the wrecks. "The village faces the sea and backs onto sand dunes, creating a wide arch in the centre. Locals call it Vung Tau gulf and the channel Ban Thu, which eventually filled with sand in the 1940s," Dung said. "Local people have found wooden anchors and other remnants when digging foundations for buildings in the area," he said.
Old wares: Ceramic fragments from a 700-year-old ship in Chau Thuan Bien Village, Binh Chau Commune.
Another fisherman, Tran Van Anh, said villagers had dived to collect antiquities from shipwrecks for years before the first official excavation the authorities organised in 1999. "We found a shipwreck with various ceramic fragments, lead and coins just 150m off the coast 20 years ago. The second one was just 10m from the village beach," Anh said. "We all flocked to the area in seeking gold and precious objects, but we could only find chains of coins and wooden panels from ships," he said. Anh said he even touched skulls of a men and horses at the bottom of cargo holds.
Five hundred years ago, the gulf of Vung Tau was the scene of a battle between Dai Viet (Great Viet Nam) and the Kingdom of Champa. In 1471, King Le Thanh Tong won a fight against Cham troops and took over the area. The gulf then developed under the Nguyen dynasty as a busy trading hub. Nguyen Viet, director of the Centre for Southeast Asian Prehistory, said Vung Tau gulf was a major anchorage for boats carrying goods to and from China and South-East Asia. "The excavation of a 700-year-old cargo ship and another ship in the area last year has provided a veritable treasure of antiquities and clues to historic trade routes," he said.
Salvaged: A burnt log from a shipwreck, stored at the provincial museum. 
The excavation of the second shipwreck last year produced 268 buckets of artefacts, of which 91, including porcelain dishes, jars, bowls, pots and coins from the 14th century, were in perfect condition.
Binh Chau Commune with eight coastal villages and a total population of 16,000 is still poor. Local people live mostly from fishing and farming and have incomes of about VND5 million (US$250) a year. Vice chairman of the communal people's committee, Nguyen Thanh Hung, said these villages had a huge potential to boost development with ocean tours. "The commune has 3km of pristine white sandy beaches and 700ha of untouched seas. A fleet of 420 fishing vessels nets about 12,000 tonnes of seafood a year, but this provides only low incomes as there are no processing plants," Hung said. "The commune, 1.5km off National Highway 1, still has to develop infrastructure and accommodation for eco-tours," he said. "About 70 per cent of fishermen make their lives from diving for seafood," he said, adding that this experience was a tourist asset.
Nguyen Tuan Lam, an underwater archaeologist, said antiquities including terra-cotta fragments and coins had been stolen by local fishermen. "They do not know the real value of the antiquities and the historical meanings of shipwrecks. They dive looking for antique objects for money, but sold their finds for well under its value. We want the Government to protect the area by recognising the shipwrecks as national heritage," Lam said. "Many antiques and pieces of boat timber are kept by local collectors and fishermen. We have been carrying out a survey to determine the shipwreck areas before asking the Government to approve the site," he said. The 52-year-old, who is one of the first Vietnamese maritime archaeologists, said of sea near Chau Thuan Bien Village would benefit from tourism.
Ancient history: A stone arch 10m deep in the sea area of An Binh Islet. The rocks, stone arches and coral reefs were formed by dormant volcanoes between 250 and 300 million years ago. — Photo courtesy of Doan Anh Duong Co. Ltd
Vice chairman of the provincial people's committee Le Quang Thich said the shipwrecks were a treasure for the whole central region. We have UNESCO-recognised World Heritage areas at Quang Nam's My Son Sanctuary, Hoi An ancient town and Cham Island. Then there is the former royal capital city of Hue and Quang Binh's Phong Nha-Ke Bang National park," Thich said. "World recognition would accelerate development for the province as well as connecting a series heritage sites in the central coastal region," he said.
Doan Sung, director of Doan Aùnh Duong company, who was given permission to excavate a 700-year-old sunken ship in the province, said the work was not difficult. However, time, weather and people have gradually damaged many pieces of wreckage. However Sung, who was born in the province, said putting shipwrecks on display out of the water was a choice, but it cost too much money and time. "I want to leave the shipwrecks as they are. The location will develop as an attraction to lure scuba tourists and researchers," he said. In 2003, Sung hoisted 16,000 pieces of wreckage near Cham Island from a depth of 72m. Sung has been building an eco-tour project for the Binh Chau sea and water off Ly Son Island 30km off the coast of the central Quang Ngai Province.
A field survey in October on An Binh islet and Ly Son Island revealed a sunken ship with fragments of ceramic ware and stone pieces believed to be from the 13th and 15th centuries. The sea off Ly Son has an abundant ecological system with 700 species of fauna and flora, including coral reefs. "The sea around Binh Chau Commune could become a diversified eco-tourism area," said director of the provincial department of culture, sport and tourism, Nguyen Dang Vu. The sea area in Binh Chau is home to eight ancient shipwrecks from the eighth and 18th centuries. Ly Son Islands have large coral reefs with abundant ecological systems, so tourists will have more options when visiting the area. "The Hoang Sa festival recognises hundreds of years of service by ancestors of the present islanders. "The festival pays tribute to local men who enlisted in the Hoang Sa Flotilla. This group was set up under the Nguyen dynasty to patrol the Hoang Sa and Truong Sa archipelagos and salvage goods from the many wrecks, catch fish and maintain Vietnamese presence over the area. "Ly Son Island, 30km off the coast of the province, is a tranquil destination with 21,000 inhabitants, most of whom make their living from farming garlic, onions and fishing," Vu said.
Underwater archaeologist Lam, who manages excavation and survey of shipwrecks in Binh Chau and Ly Son Island, said research could establish that ports in central Viet Nam were among the busiest in Asia, even as far backs two or three thousand years ago, as artwork on ancient bronze drums indicates.