Source - http://vietnamnews.vn/sunday/features/242073/shipwreck-dredges-up-forgotten-trade-secrets.html
Uncovering the past: The ship is believed to be the oldest shipwreck so far discovered in Viet Nam. — VNS Photos Hoai Nam
The excavation of a 700-year-old cargo ship in Quang Ngai Province, has provided a veritable treasure trove of antiquities and clues to historic trade routes betweenViet Nam and China. Cong Thanh reports.
Vietnamese archaeologists, experts and workers recently spent 26 days excavating a 700-year-old cargo ship buried in sand only four metres under the sea off Binh Chau Commune in the central province of Quang Ngai. They excavated 268 buckets of artefacts, of which 91, including porcelain dishes, jars, bowls, pots and coins, were in perfect condition.
The ship is the oldest shipwreck so far discovered in Viet Nam. The excavation reveals that the ship caught fire before sinking.
It's the first time Vietnamese archaeologists have been involved in the excavation of a ship wreck because it is in only four metres of water deep and only 100m from the beach.
"The dishes, jars, bowls, pots and coins show that the ship were from 13th century," said vice director of the National Historical Museum Nguyen Dinh Chien. "The blue flower patterns, bronzes and coins suggest the goods were likely from the Chinese Tang and North and South Sung dynasties," Chien said.
Awash with artefacts: Scientists and excavators work hard to retrieve precious antiques at the site.
Local archaeologists are still trying to confirm the ship's origin and its connection with the then busy port of Sa Ky in central Viet Nam. "The ship was 20.5m long, 5.6m wide and had 13 cargo holds. Evidence of a blaze was found in three cargo holds," Chien said.
"Two-thirds of upper part of the ship has been destroyed by water and time, while the remaining parts including rudder, wooden mast and main structure have been kept intact under a thick layer of sand," he said.
"This confirms the existence of an ancient trading port in the area, which is littered with wrecks," Chien said.
Pham Quoc Quan, a member of the National Heritage Council, said: "We have been classifying pieces of timber to find where the ship was built. Porcelain ware with brown enamel will also help identify where the vessel left from."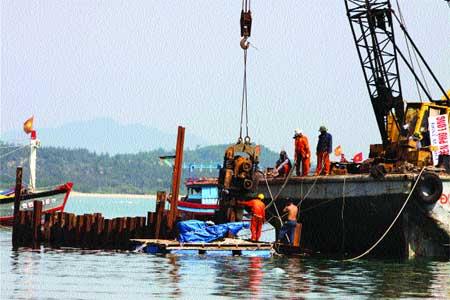 Tough call: Authorities still have two options: lifting the ship up or leaving it in the seabed as a potential tourist attraction. — VNA/VNS Photo Thanh Long
The ship provides the first clear image of a vessel from the 13th century.
Doan Sung and 50 members from his Doan Anh Duong company won bidding rights to hoist the shipwreck. They piled up steel panels to create a 300sq.m tank around the wreck. Workers pumped water and sand out of the tank, leaving a dry base for excavation of the ship and its cargo.
Sung, an antique collector, succeeded in hoisting 16,000 antiquities from an old sunken ship near Cham Island 10 years ago at a depth of 72m.
"We have experience in excavating antiquities from old sunken ships deep in the sea. We risked money in lifting the ship from the sea, but we'll receive a return of precious antiques. These antiques will help us build a museum to house the old ship and its cargo," he said, adding that his company will start construction of a 50ha museum on Phu Quoc Island.
"It would be an interesting sample for tourists and researchers because a wreck like this is a first in Viet Nam," he said.
"I prefer to take the wreck out of water because the sea around it is included in the enlarged Dung Quat port. This will only take a few days," he said, adding that the ship was unique in Viet Nam and would cost a lot of money to preserve.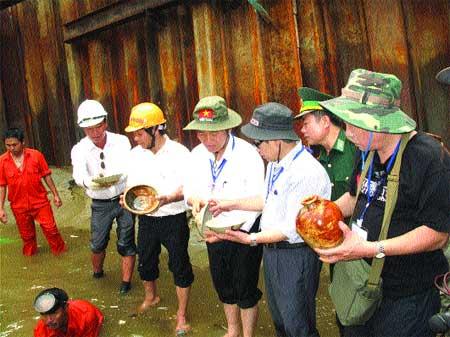 Piecing it together: Scientists found many ancient ceramics at the site and will now endeavour to determine their origins. — VNS Photo Hoai Nam
Nguyen Dang Vu, director of the Quang Ngai Provincial Department of Culture, Sports and Tourism, said archaeologists and researchers had been discussing the possibility of leaving the ship in the water and using it to attract diving tourists.
"We still have two options: lifting the ship up or leaving it there. On the one hand, land preservation would cost a lot of money, while the development of Dung Quat port would damage the wreck in the near future," he said.
Vu said the department would host scientific seminars about the ship with the participation of local and foreign archaeologists and historians.
Nguyen Viet, director of the Centre for Southeast Asian Prehistory, said that bringing the wreck ashore was the best move.
"It's a good opportunity to save a wreck near the coast. There have been few untouched wrecked ships found in South-east Asia, so it's a precious treasure not only for Quang Ngai Province, but also for archaeological studies in Viet Nam and Asia," Viet said.
Viet said the ship would be dismantled before hoisted out and restored. All objects found are being stored and sealed at Quang Ngai Provincial Museum.
Eventually researchers will be able to pin down not only the origin of the ship but on which trade route it was sailing. Examinations will also help unravel the importance of ports in central Viet Nam at the time. According to some historians, central Viet Nam ports were among the busiest in Asia not only in the 13th century but also one or two thousand years BC, as artwork on the ancient bronze drums show. — VNS
The leftovers: Ceramics found in the shipwreck. — VNA/VNS Photo Thanh Long