Bhirrana / Rakhigarhi (Inde): new Archaeological Survey of India (ASI) report
Bhirrana / Rakhigarhi (Inde): new Archaeological Survey of India (ASI) report
Rohan Dua
Source - http://timesofindia.indiatimes.com/city/chandigarh/Haryanas-Bhirrana-oldest-Harappan-site-Rakhigarhi-Asias-largest-ASI/articleshow/46926693.cms
Asia's largest and oldest metropolis with gateways, built-up areas, street system and wells was built at the site of Haryana's two villages, including one on the Ghaggar river, according to a new Archaeological Survey of India (ASI) report.

The ASI report, submitted in December 2014, a copy of which is with TOI, has now also debunked the early research that the Indus Valley civilization's Harappan phase originated in Sind, in present-day Pakistan.

The report, based on C 14 radio-dating, has said the mounds at Bhirrana village, on the banks of Ghaggar river, in Fatehabad district date back to 7570-6200 BC.
The previous Pakistan-French study had put Mehrgarh site in Pakistan as the oldest in the bracket of 6400-7000 BC. Mehrgarh is located near the Bolan Pass, to the west of the Indus River valley and between the Pakistani cities of Quetta, Kalat and Sibi.

"The C 14 dates of excavations at Bhirrana readily agree with the accepted chronology of the Harappan civilization starting from Pre-Harappan to Mature Harappan. But for the first time, on the basis of radio-metric dates from Bhirrana, the cultural remains go back to the time bracket of 7300 BC," said the report.

The C 14 dating was done at Birbal Sahni Institute of Paleobotany in Lucknow over last 10 years.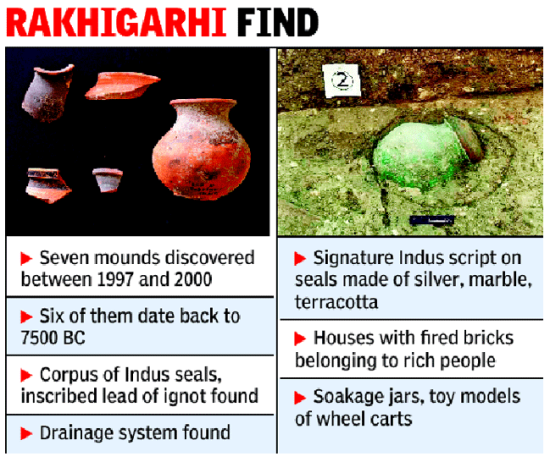 The ASI report also said that that excavations done by its archaeologists between 1997 and 2005 reveal that a civilization site in Rakhigarhi village in Hisar district is spread over to 240 hectares.

While ASI stopped its excavation activity in Rakhigarhi, a team from Deccan College Post-Graduate & Research Institute, Pune, which is carrying out further research, said the site's dimensions may go beyond 350 hectares with more excavations.

At this moment, Rakhigarhi has emerged as bigger in size than even the Mohenjedaro and Harappa sites in Pakistan and Dholavira in India's Gujarat with dimensions of 200, 150 and 100 hectares.

While the 356-page research on Rakhigarhi has been authored by former ASI's archaeology director Dr Amarendra Nath, the holistic study on Bhirrana has been compiled by ASI's former joint DG K N Dikshit and addtional DG B R Mani.

The archaelological excavations at Rakhigarhi and Bhirrana have revealed all the definite features of Indus civilization such as potter's kiln, an elaborate drainage system, a granary, ritualistic platforms and terracotta figurines.