Beyond El Dorado: power and gold in ancient Colombia
Beyond El Dorado: power and gold in ancient Colombia
Elisenda Vila Llonch, curator, British Museum
Source - http://blog.britishmuseum.org/
While admiring the stunning works of art in the exhibition Beyond El Dorado: power and gold in ancient Colombia, you might ask yourself who commissioned, owned and used such magnificent gold objects. In most cases, they were mainly in the hands of the powerful elites. However, depending on their final shape, they could have a very different function and meaning. In the exhibition we explore three of the main uses for these gold artefacts.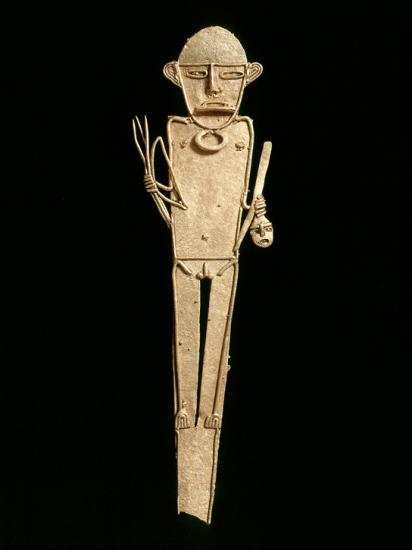 Tunjo representing a warrior with bow, arrows and a trophy head in his hand. (exh. cat. p. 120). © Museo del Oro – Banco de la República, Colombia O00296
Some were created as offerings to the gods, placed in rivers, lakes (such as Lake Guatavita), caves and other liminal places in the landscape, to mediate for the community. Votive offerings, which included ceramics, stones, and gold figures and scenes, were probably intended to petition the gods or to thank them for their intervention in favour of an individual, group or the wider community. These figurines, known as tunjos, give us a wonderful window into the life of those ancient people, portraying images that ranged from female figures with children to musicians, warriors and chiefs.
Gold objects were also widely used as body adornments. As such they marked the belonging of an individual to a group through a very specific style and type of ornament. They also indicated the status and rank of the wearer within the group. Gold objects acted as very public displays of power and identity with an incredible range of styles and shapes that included diadems, nose rings, ear spools and earrings, pectorals, necklaces, bracelets and anklets. Each group also mastered specific metalworking techniques that gave the final character and look to their pieces.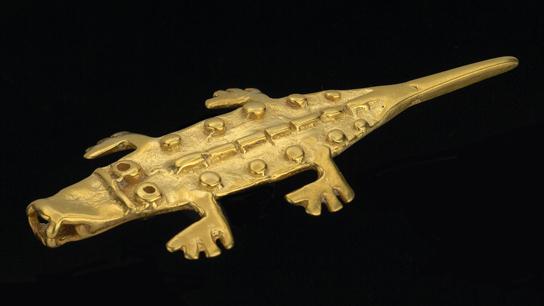 Crocodile-shaped pendant, 700 BC – AD 1600, Late Quimbaya, gold alloy (exh. cat. p. 147). © Museo del Oro – Banco de la República, Colombia O05928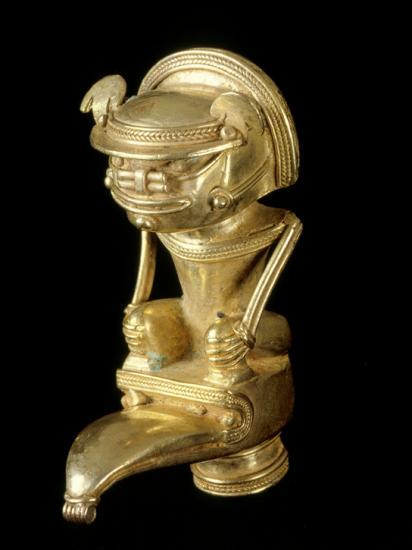 Anthropomorphic bat-man staff finial, AD 900-1600, Tairona, gold alloy (exh. cat. p. 157). © Museo del Oro – Banco de la República, Colombia O26176
But perhaps the most complex and intriguing use of gold was in rituals, ranging from musical instruments, paraphernalia used as part of the consumption of powerful plants, such as the chewing of coca leaves, to the rituals of transformation. In ancient Colombia people believed that by changing one's physical appearance one would undergo a total transformation and take on the characteristics of the creature. But what did ancient Colombian people want to transform themselves into? Spiritual leaders wished to transform themselves into the powerful animals that surrounded them, such as jaguars, birds and even bats, to experience the world from a very different perspective. This transformation was aided by gold objects that helped in the long process that might have taken months or even years to achieve. Wonderful necklaces, impressive masks and body piercings, spectacular pectorals and other body adornments helped leaders take those magical journeys to gain knowledge of the world from a very different point of view and later recount back to the community all they has learned and experienced.
In ancient Colombia, gold was a powerful metal, which not only allowed people to communicate with the supernatural and display one's identity as a member of a community, but it also allowed you to gain a new one.