Beechwood (G-B): New 'Iron Age' discoveries
Beechwood (G-B): New 'Iron Age' discoveries
Steven McKenzie
Source - http://www.bbc.co.uk/news/uk-scotland-highlands-islands-18840754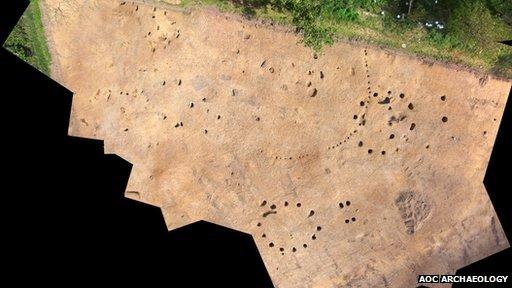 An aerial view of Beechwood showing evidence of roundhouses and ironworking furnaces
New discoveries made in Inverness have fuelled speculation among experts that it was an important area of prehistoric iron production.
Rare finds of well-preserved metalworking hearths, or furnaces, have been uncovered at Beechwood during work by Edinburgh-based AOC Archaeology.
Archaeologists believe the discoveries date to the Iron Age.
Highlands and Islands Enterprise (HIE) is spending £25m on preparing the land for the new Inverness Campus.
The University of the Highlands and Islands and businesses will eventually occupy buildings constructed on the former farmland.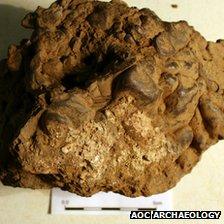 Iron slag was found at Beechwood
HIE commissioned AOC Archaeology to evaluate and record any buried historical sites and artefacts at Beechwood, before bulldozers moved in earlier this year.
Excavations were done in 2011 and work is now being undertaken to understand what those digs revealed.
Several timber roundhouses of possible Iron Age date - around 700BC to AD400 - as well as evidence of earlier activity in the area stretching back thousands of years into the Neolithic period 3500BC were uncovered.
Examinations of Neolithic and Bronze Age pottery fragments, quern stones for grinding grain and significant quantities of iron slag are still in the early stages.
But AOC Archaeology said the finds provided "tantalising hints" of Beechwood's important past.
'Much rarer'
A spokesman said: "The metalworking evidence from Beechwood is providing clues that there were two ironworking areas on site.
"One is a possible clay-lined ironworking hearth or furnace and a dump of waste material, and the other, a spread of debris from smelting and blacksmithing which appears to come from an area now lost to modern urban expansion.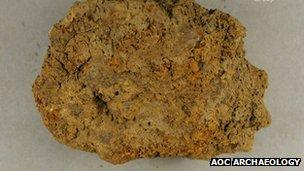 The remains of the bottom of a hearth recovered at the campus site
"Iron slag, the waste material left behind after smelting and blacksmithing, is not an uncommon find on archaeological sites but the survival of metalworking hearths or furnaces is much rarer.
"Radiocarbon dates from charcoal found in pits and postholes associated with the iron slag suggest that this activity took place between 400 and 100BC, making it Iron Age in date."
He added: "This new discovery is just one of an increasing number of ironworking sites in the area found over the last 15 years which is leading experts to speculate that north east Scotland may have been an important focal area for iron production in later prehistory."
The metalworking at Beechwood may have been taking place at the same time as that at nearby Culduthel, AOC Archaeology said.