Bathonea (Turquie): Thousands-year-old bones come to surface
Bathonea (Turquie): Thousands-year-old bones come to surface
Source - http://www.hurriyetdailynews.com/thousands-year-old-bones-come-to-surface-in-istanbul.aspx?pageID=238&nID=75792&NewsCatID=375
The Bathonea excavations in Istanbul continue filling the gaps in the city's history. A skull found in one of the graves reveals a successful brain operation from the ancient ages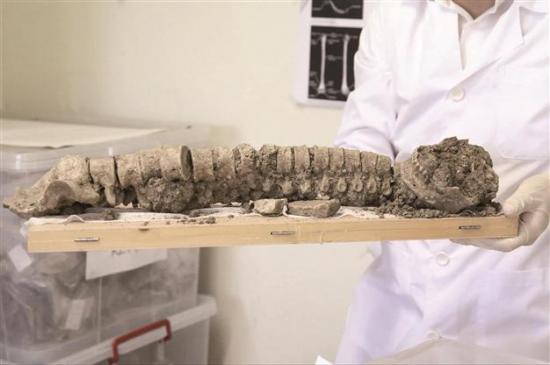 The bones of people of all ages, who lived between the 6th and 11th centuries BC, have been found in ancient graves in suburban Istanbul. AA photos
The identification of a cut on a skull that was unearthed during the Bathonea excavations, which archaeologists have been conducting in the Küçükçekmece lake basin for the last five years, appears to reveal that brain surgery was performed 1,000 years ago. 

One of the excavation team members, forensic science expert Ömer Turan, said the Kocaeli University Department of Forensic Science had been conducting the excavations since 2010 and opened nearly 70 graves in two different fields so far. 

Turan said babies and people of all ages had been buried in these graves, and the team has removed the bones of humans who lived between the 6th and 11th centuries B.C. 

"There is a human group between the ages of 20 and 35. The men's average height is 1.65 meter and for women it is between 1.50 and 1.55 meters. Their backbones had the most damage. Health problems such as arthritis, rheumatism and bone flexure, which are usually only seen in the elderly, are seen in these bones. It may be because of genetic transformation through families or because it was a society working under hard conditions with problems in nutrition," he added. 
Turan said there was evidence that the teeth of the uncovered skeletons had encountered tough objects, showing that they were eating unbaked granulated or tough foods. "It was a society of people who worked hard, who didn't have the chance to get old, and had a lack of food," he added. 

Turan said the reason for most of the skeletons' deaths was not war, but mostly chronic disease or problems in their bones. "We have seen the marks of infectious diseases in bones. There was even an apparent medical operation conducted in one skull that we found," he added. 

"The skull of this person, who is over the age of 30, was cut very regularly by medical workers, just like today's brain surgeons. It is a painful process to open the skull. A person cannot tolerate this pain and should be anaesthetized, so this type of operation in such an early era makes us think there was a kind of anesthesia. Biological studies on the bones will enable us to find out which substance was used. The traces of recovery are apparent in the place of operation. This person survived the operation," he added.

Turan said in another grave they had removed a female skeleton aged 22-25 and 1.55 meters in height. 

"We saw a hole in this women's incisor. This hole appeared through time because of chronic use. Next to this skeleton, we also saw a tool used in weaving. A gift related to this woman's job was left in her grave. Since this woman constantly used a rough metal object, it caused the hole in her tooth. We think the woman worked for a business like weaving or tailoring," he said. 

Turan said the excavations had unearthed 440 small terracotta bottles, called "unguanterium," and the black tar-like fossilized material in the bottles went through chemical examination. As a result, they found methanone, phenanthrene, phenanthrene carboxylic acid in the bottles. 

"This might have been a combination or contaminated chemicals of a material. The hard part was to understand it. We had talks with organic chemists about it. It turned out that these three substances were deliberately mixed," he said. 

One of the materials was methanone that prevents drugs from deterioration and the others had the effects of painkillers, narcotics and soporific effects. "One of the tarred substances in the bottles might have been used for the purpose of anesthesia, narcotics or painkillers. We believe the substance was a compound, like incense, that is smoked. They might have operated on the skull using this substance. It prevents deterioration and is used for the same purpose today," Turan said.

He added that the abundance of bottles made the excavation team think this place was a production center. "This place may be a drug production or storage center; like a pharmaceutical warehouse. There are studies related to the flora of the region. It is believed that this region was rich in plant diversity. The stock of these drugs may be here," he said.

Turan noted that the 10-20 millimeter bottles were filled mathematically and it is not known how the rate of substances was calculated. "We are now working to understand how we can produce similar substances," he said.