Basing House (G-B): Civil War siege house excavated
Basing House (G-B): Civil War siege house excavated
Source - http://www.bbc.com/news/uk-england-28551014
The remains of a grand Hampshire house destroyed during the English Civil War are being unearthed for the first time in more than a century.
Experts from York and Southampton universities are leading an excavation of Basing House, near Basingstoke
It was regarded as one of the finest in England and had frequent royal visits before being destroyed following a siege in 1645.
Among the items recovered so far have been musket balls.
Built in 1535, in its heyday Basing House was on a par with grand royal residences such as Hampton Court. When Elizabeth I visited in 1601 she brought with her an entourage of 1,400.
Owner John Paulet sided with the Royalists during the English Civil War and the 360-room house was the site of one of the longest sieges of the conflict, finally being breeched by Oliver Cromwell's forces in October 1645.
After the civil war, the remains of the house were plundered for building materials by local villagers.
The ruins were briefly unearthed by the then-owner Lord Bolton at the end of the 19th Century and the site is currently owned by Hampshire County Council.
Gareth Beale, the dig's co-director, said it was "very fortunate" ground in between the remaining walls had been left untouched by the Victorians. These areas are being examined by archaeology students from the University of Southampton along with members of the Basingstoke Archaeological and Historical Society.
"All kind of interesting layers are coming through," he said.
Very little is known about the area of the house being excavated, although a newly-revealed drain points to it being a kitchen, bake house or a brew house.
Dr Jude Jones, co-ordinator of finds, said: "It's a very rich area in terms of archaeology - you never know what you are going to get.
"We're building a picture so quickly - with a lot of digs you have to wait for it to emerge, but at the moment the archaeology is popping out of the ground. It's the most magical thing".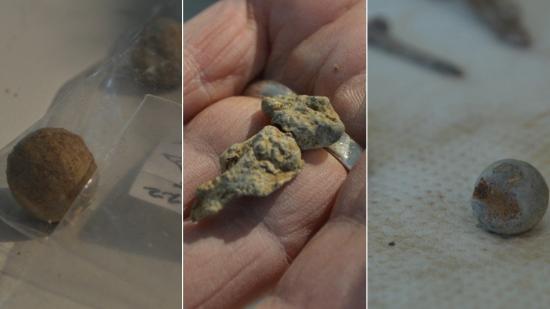 Lead musket balls (pictured above) - some deformed after striking a wall or hard object - have been found along with building materials, window glass and fragments of bricks.
Mr Beale said: "It was a very intense siege and it brings home what an incredibly violent time it was. It would have been a very frightening time to be alive - with food shortages and disorganised armies."
Other experts from the University of Southampton (pictured below) are carrying our a geophysical study of land nearby thought to have been used as a siege camp by the Parliamentarian forces.