Jagaddala (Bangladesh): Ancient artifacts found
Jagaddala (Bangladesh): Ancient artifacts found
Rabiul Hasan, Chapainawabganj
Source - http://www.thedailystar.net/beta2/news/ancient-artifacts-found-in-naogaon/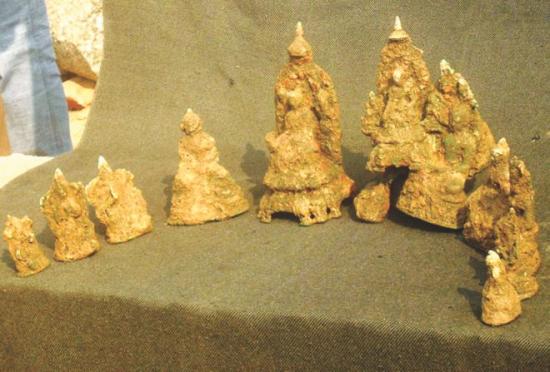 Several artifacts found during excavation at Jagaddal Budhha Bihar archaeological site in Naogaon. Photo: MUKUL HOSSAIN
Four Fourteen bronze-made Gautama Buddha sculptures and some other artifacts, including an ancient brick-built structure with a lotus-shaped inflorescence have been found recently during an excavation at Jagaddal Budhha Bihar archaeological site of Dhamurhat upazila, some sixty five kilometers away from Naogaon district town.
Though many Buddha Bihars (Buddha monastery) have been discovered in the country, all of them were square or geometrical in shape, only this bihar is shaped like a lotus inflorescence, said archeologists.
Mahbub Ul Alam, one of the members of the excavation team and custodian of Paharpur Buddha Bihar Archaeological Museum said that some rare sculptures of Gautama Buddha were found, including some ancient brick, granite and black stone built structures and four cells of Buddhist monastery have been found in an excavation at Jagaddal Bihar recently. "They also found precious stones, ornamental stone pieces, ancient brick built staircases and broken earthen pots", he said. The structure was built in the tenth or eleventh century during Pala dynasty. "The locals had their doubts about the authenticity of the Jagaddal Bihar. After digging out some rare artifacts and ancient structures, like the lotus inflorescence, we are now sure that this is the original Jagaddal Bihar", he said. The archaeologist further added, "It is a rare discovery for our country."
Archaeologists said, Department of Archaeology started an archaeological excavation one of the ancient cities in the country, Jagaddal, from December 1st, 2012, aiming to find out the history of the archaeological site. The excavation continued till February this year.
Earlier, Archaeology Department excavated Jagaddal Bihar in 1996-1997 and 1997-1998 fiscal years. At that time, they found some rare ornamental artifacts from the archaeological site, they said.
Jagaddala Mahavihara was a Buddhist monastery founded by the later kings of the Pala dynasty, possibly Rampala (1077-1120), most likely at a site near the present village of Jagaddal in Dhamurhat Upazila in the north-west Bangladesh on the border of India, near Paharpur.
Little is known about Jagaddala compared with the other mahaviharas of the era. For many years, its site could not be ascertained. AKM Zakaria inspected five likely locations, all called Jagddal or Jagadal, in the Rajshahi-Malda region- namely Panchagarh, Haripur upazila in Thakurgaon, Bochaganj upazila in Dinajpur, Dhamoirhat upazila in Naogaon, Bamongola of Malda in India. Of these, significant ancient ruins were present only near Jagddal in Naogaon district. Excavations under UNESCO over the past decade have established the site as a Buddhist monastery.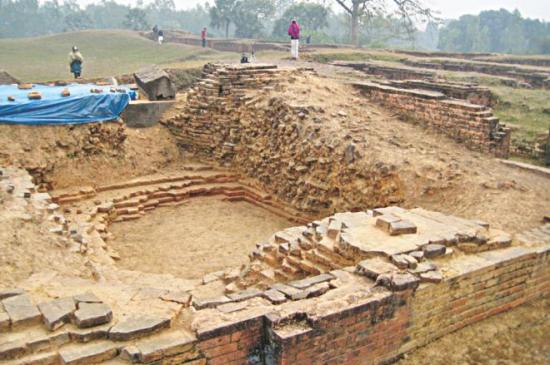 Several artifacts found during excavation at Jagaddal Budhha Bihar archaeological site in Naogaon. Photo: MUKUL HOSSAIN
A large number of viharas (monasteries) were established in ancient Bengal and Magadha during the four centuries of Pala rule in north-eastern India (756-1174 AD). Dharampala (781 – 821) is said to have founded 50 viharas himself, including Vikramshila, the premier university of the era. Jagaddala was founded toward the end of the Pala dynasty, most likely by Ramapala (1077-1120). According to Tibetan sources, five great mahaviharas stood out, Vikramshila, Nalanda, Somapura, Odantapura and Jagaddala. The five monasteries formed a network under state supervision.
Jagaddala specialized in Vajrayana Buddhism. A large number of texts that would later appear in the Kanjur and Tenjur were known to have been composed or copied at Jagaddala. It is likely that the earliest dated anthology of Sanskrit verse, the Subhasitaratnakosa, was compiled by Vidyakara at Jagaddala toward the end of the eleventh century or the beginning of the twelfth.
Sakyasribhadra, a Kashmiri scholar who was the last abbot of Nalanda Mahavihara and instrumental in transmitting Buddhism to Tibet, is said to have fled to Tibet in 1204 from Jagaddala when Muslim incursions seemed imminent. Historian Sukumar Dutt tentatively placed the final destruction of Jagadala to 1207; in any case it seems to have been the last mahavihara to be overrun.
In 1999, Jagaddala was submitted as a tentative site for inclusion on the list of UNESCO World Heritage sites. UNESCO reported that the excavation has revealed an extensive mound, 105 meters by 85 meters, which represents the archaeological remains of a Buddhist monastery. The findings have included terracotta plaques, ornamental bricks, nails, a gold ingot and three stone images of deities.