Baghpat (Inde): 4,000-year-old house found offers rare clue to Harappan habitation
Baghpat (Inde): 4,000-year-old house found offers rare clue to Harappan habitation
Source - http://timesofindia.indiatimes.com/city/meerut/4000-year-old-house-found-at-Baghpat-village-offers-rare-clue-to-Harappan-habitation/articleshow/45663993.cms
Here's something for history buffs to get excited about. The Archaeological Survey of India (ASI), in excavations carried out at Chandyan village in Baghpat, have found remnants of a house that corresponds to the late Harappan period. The discovery is important since, according to archaeologists, this is the first time evidence of habitation pertaining to that period has been found in the Upper Doab region between Ganga and Yamuna.

The late Harappan phase pertains to the period starting around 1900-1800 BC when the Indus Valley Civilization, popularly known as the Harappan Culture, began to decline. The civilization, which is known for its superior urban planning, is believed to have flourished in the period between 3300 BC to 1300 BC in what is today Pakistan, northwest India and parts of Afghanistan and Balochistan.

Earlier in August, a human skull with a copper crown corresponding to the late Harappan period, was accidentally discovered at a brick kiln site in the village. The ASI started excavating the area on November 27 and found, to its delight, a number of items that pertained to the 4,000-yr-old era. "Till date, we have excavated around 20 burial pots, a pelvic bone of the same man whose skull we had found with a copper crown and a few beads like carnelian, faience and agate. However, the most interesting development, undoubtedly, is the evidence of habitation which was found for the first time. We excavated a mud wall with post holes where wooden pillars were probably fixed to support thatched roofs. We also found multi-level foundations that supported structures in different times," said AK Pandey, superintending archaeologist, ASI.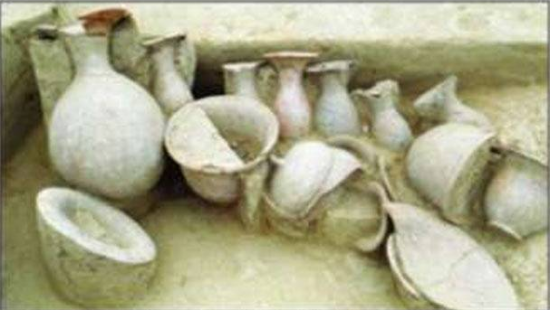 Incidentally, the Harappan link to the area was established in 2005 when a farmer accidentally discovered a huge burial site at Sinauli village located just 40km from Chandayan. The Sinauli graves are also believed to correspond to the late Harappan period, strengthening archaeologists' conviction about the latest find. What got them further excited was finding a clue to the period's habitation, which they point out, happens very rarely. "During excavations, we found about 50 cm of habitational deposits. The chances of finding habitational structures here is quite uncommon because this is a fertile region and over a period of time, cultivators raze structures to the ground for agricultural purposes. But since we have burial sites here, logically, there should be habitational sites as well. If we extend the area of excavation, we might find something more substantial," said DN Dimri, director of archaeology, ASI,

However, historians say there is a need to exercise caution. "This certainly looks like a habitational site but a lot more needs to be done to thoroughly establish the theories. In fact, instead of terming it a late Harappan site, I would rather call it a post-Harappan site when just a few remnants of the Harappan culture remained. Its antiquity could be anywhere between 1700 BC to 1500 BC", said RS Bisht, former joint director general, ASI.