Auroville (Inde): Excavation throws up Iron Age artefacts
Auroville (Inde): Excavation throws up Iron Age artefacts
Megha Dharan
Source - http://www.thehindu.com/todays-paper/tp-national/tp-tamilnadu/excavation-in-auroville-throws-up-iron-age-artefacts/article6907209.ece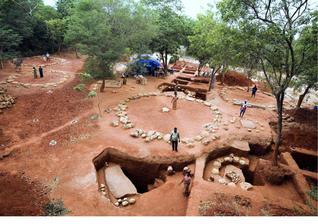 The findings in Auroville date back to the Iron Age and establish internal trade links before Greco-Roman times.— Photo: Special Arrangement
Burial sites, possibly dating back to the Iron Age, were unearthed during an archaeological excavation programme in Auroville.
The artefacts found beneath granite slabs in urns include cups, vessels, cowbells made of bronze, beads and semi precious stone lapis lazuli. Iron objects such as swords, spades, spears, sickle and axe were also found.
According to archaeologist and assistant professor from Tagore Arts College Ravichandran, who has been leading the excavation, assisted by field supervisor Gopinathan and volunteers from the college, the three burial sites found are secondary ones and only partial remains could be found in such sites.
The depth of the site is around three to four meters and 10 to 15 meters in diameter. The cairn circle in the centre is made with limestones transported from Royapudupakkam and granite slabs from Thiruvakkarai, a few kilometres from the site.
The team has been making several similar finds over the past two years in Auroville. The excavation programme, which concentrated on an area very close to the Matrimandir, was aimed at finding evidence of a trading link between the ancient port city of Arikamedu and the site inside Auroville.
"The significance of the excavations is in that they establish a once flourishing internal trade and commerce even before the Roman and Greek period," Mr. Ravichandran said.
He surmises that the language used must have been Tamil but no evidence has been found so far. Only graffiti marks can be found on the outer surface of the pottery. According to the findings, the settlement must have been a cattle-rearing community and they must have had trade with Arikamedu.
The site was first accidentally discovered by the locals while taking soil for Pongal celebrations. Initially, it took time to get permission from the Archaeological Survey of India (ASI). Surveys conducted around Puducherry and Auroville revealed Medieval Age and Stone Age materials.
Gilbert Lachaux, an Auroville resident, recalls finding a granite slab about 60 cm below the ground level while digging holes to plant trees 30 years ago.
The excavation is funded by the Auroville Foundation. The team is collaborating with the Tamil Sembulam, a part of the Tamil Heritage Foundation (THF) for archaeological purposes.
It is supposed to go on till September, depending on the availability of funds.
"There is an immediate need to protect the site from being destroyed like Perambai near the Ousteri Lake, which was ruined by mineral excavation. India has several archaeological sites that are not preserved and shares the same fate as Perambai," said Mr. Ravichandran.
In the near future, the site will be turned into an archaeological park where the architecture can be studied and the excavated items will soon be exhibited in a museum at Bharathi Nivas in Auroville.