Nick Kampouris
Source - https://eu.greekreporter.com/2018/10/09/archaeologists-find-ancient-greek-familys-grave-in-northwest-turkey-photos/
The archaeological site of Assos is located in the north-western part of Turkey in the famous area of Troad, in the province of modern-day Çanakkale.
Recently, a 2,300-year-old family grave belonging to 21 individuals has been unearthed by a Turkish archaeologist.
The archaeological site of Assos in northwest Turkey. Photo by Hürriyet
The story goes that Greeks from Methymna on Lesbos founded the Greek city of Assos in the 7th century BC. In 6th century BC, Assos was among the western Greek states which became subject to Lydia.
The findings of the 2,300-years-old grave that belongs to an ancient Greek family named "Aristios". Photo by Hürriyet
Speaking to Turkish state-run Anadolu News Agency, Nurettin Arslan, the head archaeologist of the Assos excavations and a professor at Çanakkale Onsekiz Mart University, said that the family grave dates back 2,300 years ago and was discovered as part of the ancient city's excavations
The findings include ancient Greek pots where the ashes were put. Photo by Hürriyet
"We have conducted drilling works for the welcome center, which has been decided as part of environmental planning this year," Arslan said.
"During these excavations, we have discovered a family grave in the region called Western Necropolis. Aristios, which is a name that was also used as a surname at the time, was written on the cover of the grave," he said.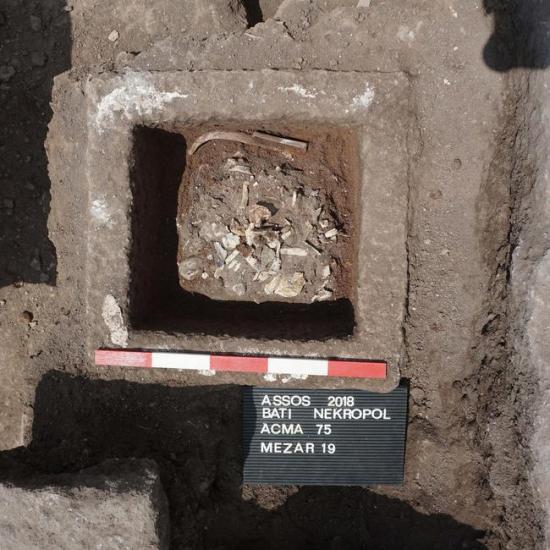 The bones of some of the people who were buried there. Photo by Hürriyet
This proves that the family that was buried there had a Greek origin and the tools that were found inside the grave offers valuable information about the population's rituals during the Hellenistic era.
20 of a total of 21 people who were found inside the grave were cremated and only one was buried with his or her whole body.
The archaeologists continue the excavation and hope that they will be able to find more interesting facts about this ancient Greek city.