Ministry of Antiquities
Source - https://www.facebook.com/Ministry-of-Antiquities-336764893195328/
Antiquities Minister Dr. Eldamaty announced today the discovery of the intact burial place with a coffin of a (Priest) of Amun-Re, King of the Gods who carried the name " Ankhef in Khunsu", inside the tomb of the Vizier Amenhotep, Huy number 28 in Asasif (Luxor). The announcement was made during the Antiquities Minister visit to Luxor to start the scanning works inside the tomb of Tutankhamun in search of a hidden tomb behind its walls.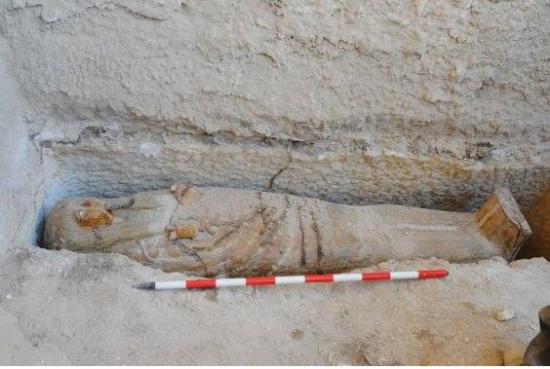 Eldamaty clarified that the well preserved coffin was found inside a rock cut pit covered with stones. The discovery was made by the Spanish Archaeological Mission of Institute of Ancient Egypt "The Vizier Amen-Hotep, Huy Project" in collaboration with the Egyptian MoA Mission.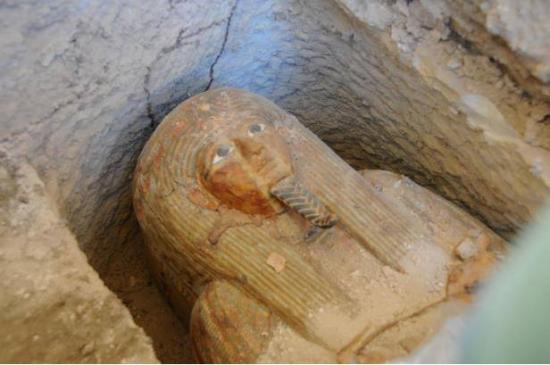 According to the Mission's report, the coffin is a typical example for the XXI Dynasty (Circa 900 BC). The coffin which represents a man wearing a tripartite wig with stripes and floral crown is made of wood and covered with gesso. The man carries a braided beard and a broad collar "Usekh" protects his neck and shoulders. Three columns of text are distinguished in the center ranging from under arms up to the feet. The box of the coffin is decorated with several records with the deceased making offerings to the gods Osiris, Nefertem, Anubis, the goddess Hathor as a cow, and the Lady of the West, with hieroglyphic texts.