Arikamedu (Inde) : Setting the record straight on the Arikamedu finds
Arikamedu (Inde) : Setting the record straight on the Arikamedu finds
Setting the record straight on the Arikamedu finds
A. Srivathsan
Source - http://www.thehindu.com/opinion/op-ed/article2151055.ece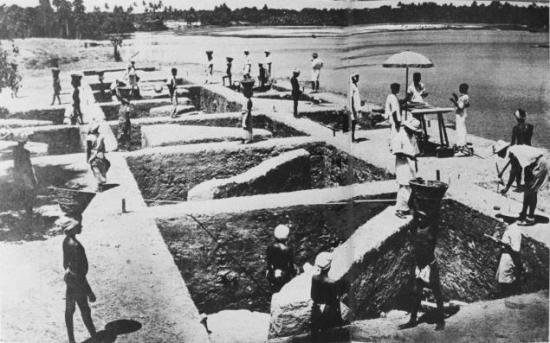 The Hindu Archives Excavation in progress in Arikamedu in 1947.
An article that appeared in The Hindu in 1941 throws light on the work of A. Aiyappan in establishing Arikamedu's archaeological significance.
Without pre-medieval archaeological evidence and a firm datum line, south Indian history has for long appeared "like a jumble of words with no consecutive meaning." Excavations at Arikamedu, the once flourishing port town near Pondicherry (now renamed as Puducherry), for the first time provided datable evidences to confirm trade links with Rome that arched back to the first century CE and helped construct a proper chronology of south Indian history.
The credit for establishing Arikamedu's significance is often attributed to British archaeologist Mortimer Wheeler and his 1945 round of excavations. Wheeler's own prolific but often self-promoting writings created this impression. At times it even misled readers and tended to eclipse an important earlier contribution that had brought archaeologists there in the first place. This fact would have gone unnoticed but for a report published in The Hindu in 1941, and the writings of a French archaeologist in 1947.
Though Arikamedu was known to French historians for a long time and important artefacts were found on its sands, no formal excavations were carried out. Four years before Wheeler came there, A. Aiyappan, the Superintendent of the Government Museum in Madras conducted trial excavations for the first time.
Jouveau Dubreuil, the French archaeologist who was residing in Pondicherry then was one of the earliest experts to note the significance of Arikamedu. In the earlier months of 1941, he 'generously' shared some of the artefacts collected at the site with Dr. Aiyappan. After carefully studying them, Dr. Aiyappan was convinced about their antiquity and decided that it was time for a systematic examination and mapping of Arikamedu. He persuaded Dubreuil to take the initiative, and later, at Dubreuil's invitation, commenced the first formal trial excavation.
On March 23, 1941, a few days after completing the round of excavations, in an article in The Hindu Dr. Aiyappan provided a factual account of it and described the artefacts found. The article was well illustrated, including with a photograph showing the trench with a pottery ring well. It carried the reconstructed drawing of an amphora (terracotta vessel with two handles used by Romans to carry food). It was this article, as Jean-Marie Casal, the French archaeologist who conducted excavations in Arikamedu in 1947 observed, that aroused "interest in French and Indian archaeological circles" and "brought about visits to the site."
Wheeler was not only less generous, he even recorded the process in a different manner. In his detailed excavation report, published in 1946 in Ancient India, a bulletin of the Archaeological Survey of India (ASI), there is no reference to Dr. Aiyappan's contribution. On the other hand, in the same report Wheeler went some distance to acknowledge some minor excavations that followed.
Even in his later writings, including the widely read autobiographical account titled My Archaeological Mission to India and Pakistan, published in 1976, Wheeler ignored Dr. Aiyappan. Wheeler recalled how "fortuitously" he had reached Madras on a warm morning of May 1944, only to find the Madras Museum almost deserted. The staff, he observed, like many others in the city, had fled fearing bombing by Japanese aircraft: the Second World War was on. He wandered around in the museum by himself, and discovered a Roman amphora in one of the cupboards. It was his "tireless questioning," he claims, that led to the conclusion that the amphora had been "extricated from a site on the outskirts of Pondicherry."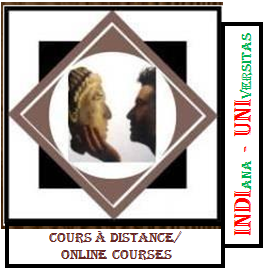 ARC 101 : Les grandes découvertes archéologiques
ARC 102 : Histoire de l'Archéologie / The history of Archaeology
The truth, on the other hand, was that Dr. Aiyappan had received him as the Director-General of the ASI at the Madras Museum. Wheeler himself briefly mentions this meeting in his memoirs titled Still Digging (1956). Dr. Aiyappan "readily cooperated" and explained to him that the amphora was "found on a site 80 km south of Madras in Pondicherry in French India, where he and others had been carrying trial excavations." It was after this meeting that Wheeler took a night train to reach the site.
What lurks behind these contradictory accounts, apart from a tendency for self-promotion, is Wheeler's contempt for non-specialists undertaking excavation and his urge to emphasise the importance of his own methods.
Dr. Aiyappan was an anthropologist amongst archaeologists. He was trained as an economist but joined the Madras Museum as a curator in 1929. In 1933, he went to the London School of Economics to do his doctoral research under Raymond Firth, the eminent anthropologist. After completing his research in 1937, he returned to the Madras Museum and later became its Superintendent. To Dr. Aiyappan, his interest in Arikamedu was in keeping with his own interest and the long archaeology-oriented traditions of the Museum. He knew the limitations of his efforts and made only modest claims in his article about his findings. He also saw the difficulties in pursuing excavations in Arikamedu that was part of French-Indian territory.
To Wheeler, the Arikamedu excavation was an "evangelical mission." In his view, Dr. Aiyappan and other non-archaeologists, despite their plans for "systematic examination, mapping and protection" of ancient sites, were men "anxious indeed to do well" but amateurs who did not "know what good work is." He probably thought he was fully justified in ignoring, if not erasing, their contribution. As a prolific writer himself, Wheeler should have realised that the printed word would come back to tell the full story at another time.