Archaeological discoveries in Turkey round up 2010
Archaeological discoveries in Turkey round up 2010
Archaeological discoveries in Turkey round up 2010
Source - http://www.eturbonews.com/20388/archaeological-discoveries-turkey-round-2010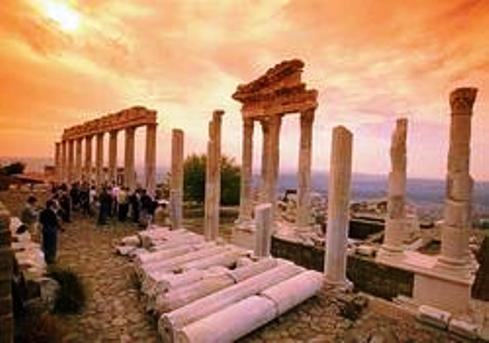 Image via telegraph.co.uk
This year has been a bumper one for archaeology in Turkey with a number of new sites and finds unearthed. Highlights include newly discovered lost cities and significant artefacts from ongoing excavations.
Lost cities
The discovery of the lost city of Germenicia in Kahramanmaras with its many houses decorated with mosaics such as found in Ephesus and Zeugma.
The antique Roman city of Julianopolis close to Ankara during whose unearthing the ancient city of Parnassos was also discovered.
Excavation finds
In Istanbul and its surrounds, findings include ceramics of the Roman and Byzantine period and a Roman tombstone at the ancient city of Bathoneia situated at the edge of Lake Kucukcekmece, Istanbul. A 60-metre section of a Roman road and a tunnel have been found in Kocaeli. A temple with statues of Aphrodite and Eros dating from the 2nd century BC in addition to a plethora of ceramics and the remains of walls and a tower in Tekirdag.
The Black Sea region was also the location for many interesting finds including a 2500-seater antique theatre during excavations of the antique city of Tieios, Zonguldak. This ancient city looks set to become known as the Ephesus of the Black Sea Coast. There have also been discoveries of unique mosaics of such animals as horses, elephants and panthers at the ancient city of Hadrianapolis in Karabuk, leading to this site being referred to as the Zeugma of the Black Sea Coast.
In and around the coastal areas of Turkey findings include those such as what is believed to be King Hekataios's (father of King Mausolos) marble-relief sarcophagus found in the Zeus Karios area of Milas in southwestern Turkey. A relief statue of a crowned female holding a torch has also been found in Perge. A 1500-year-old Byzantine paint-manufacturing workshop indicating that the port was once full of such premises and a 900-year-old Byzantine chapel have been uncovered in Demre, Antalya.
On the Aegean coast, a 3000-year-old wine-manufacturing centre has been found in Cesme, whilst an 8200-year-old seal has been unearthed in Bornova, Izmir.
Findings in Central Anatolia (inland Turkey), include Cuneiform-script tablets near the ancient city of Kanesh (Hittite Neša) in Kayseri, showing that the first written trade agreement in Anatolia was made 4000 years ago. The ancient city of Kanesh is also the site of discovery of the earliest traces of the Hittite language, and the earliest attestation of any Indo-European language, dated to the 20th century BC. 5000-year-old ramparts have also been unearthed at Kultepe in Kayseri.
In Eastern Turkey, a 2600-year-old wall belonging to the Urartu Empire has been found at Dogubeyazit castle.
Restorations
An 1800-year-old fountain, the Antoninen Nymphaeum, from the ancient city of Sagalassos in Burdur which collapsed after a major earthquake around the year 650 reopened after restoration; today it flows again with water.
The 19th-century Ayavukla Church was restored to be used as a cultural centre. The figure of Christ as well as the frescoes depicting St John and the angels Michael and Gabriel have also been uncovered.