Apatheia (Grèce): The Mycenaean Chamber Tombs
Apatheia (Grèce): The Mycenaean Chamber Tombs
Eleni Konsolaki
Source - http://www.archaeology.wiki/blog/2014/10/29/mycenaean-chamber-tombs-apatheia-troezen/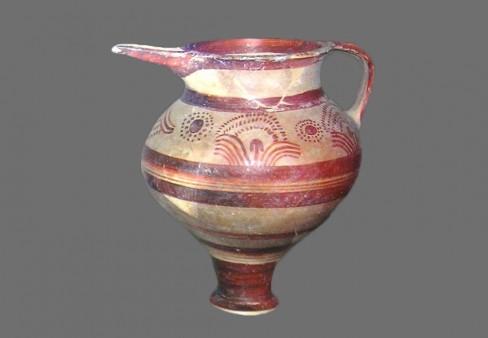 Find from the Mycenaean Chamber Tombs in Troezen.
On Thursday, 30th October 2014, Dr. Eleni Konsolaki (Honorary Director of the 26th Ephorate of Prehistoric and Classical Antiquities) will present the topic "The Mycenaean Chamber Tombs at Apatheia in Troezen" as part of the Mycenaean Seminar series. This will be the 1st meeting of this year's seminar series.
The area of Apatheia lies ca. 3kms west of the town of Galatas, south of the road leading from Galatas to Troezen. At the heights above the plain of Apatheia, in the northern foothills of Mt. Aderes, seven chamber tombs were excavated between 1985 and 1993. The tombs belonged to two hitherto unknown Mycenaean cemeteries.
The first, which was named the Lower Cemetery, lies at a height of ca. 100m and the second, which was named the Upper Cemetery, at a distance of 500m to the northeast, lies at a height of ca. 300m. Six of the chamber tombs investigated belong to the Lower Cemetery and one to the Upper Cemetery. Both cemeteries probably consisted of more chamber tombs, which have not been located yet.
The discovery of the chamber tombs was the first indication of the existence of and subsequent search for Mycenaean Troezen, in the area to the east of the known town of the historical period. The surface surveys that followed in the wider area between Troezen and Galatas eventually led to the discovery and excavation of the important tholos tombs on the hill of Megale Magoula, to the northeast of Apatheia, at a distance of 2kms from the Mycenaean cemeteries.
The use of the Upper Cemetery, judging by the finds from the excavated tomb, began in the LH II period, the time of the construction of tholos tombs 2 and 3 at Megale Magoula. This tomb (B1) included multiple burials, the latest of which is dated in LH IIIA2. Five out of the six tombs of the Lower Cemetery (A1-A6), also included burials of the LH IIIA2 period, while the sixth tomb appears to have been used as an ossuary, since it included many disarticulated skeletons and scattered pottery dated to the LH IIIA-LH IIIC periods, probably from tombs that had been cleared out to receive new burials.
The cemeteries of Apatheia supplement the overall picture of Mycenaean Troezen, illustrated in all its splendor by the excavations at Megale Magoula and at the same time provide us with the opportunity to compare the burials of the elites with the contemporary burials of the common people. Of special interest are certain burial practices attested in the chamber tombs of Apatheia (libations inside the burial chamber, the sacrifice of a dog, burial after a gruesome death etc.).