Andong (Corée du Sud): 500 Year-Old Love Letter Found Buried with Mummy
Andong (Corée du Sud): 500 Year-Old Love Letter Found Buried with Mummy
Sanskrity Sinha
Source - http://www.ibtimes.co.uk/articles/524368/20131122/eung-tae-mummy-love-letter-andong-south.htm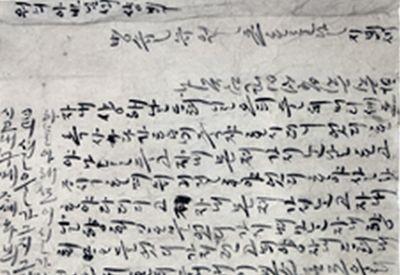 The love letter found on the chest of 16th century mummy of Eung-tae, a member of Korea's ancient Goseong Yi clan. (Photo Courtesy: Andong National University)
A poetic love letter written by a mourning Korean wife that was found beside the mummified body of the woman's husband has grabbed the limelight many a time since its discovery more than a decade ago.
Archaeologists at Andong National University found a 16th century male mummy in Andong City in South Korea in 2000. Along with it was a heart-rending letter written by the dead man's pregnant wife who poured out her grief into what has become a testament of loss, lamentation and berievement.
The 5-feet-9-inches mummy was identified as that of Eung-tae, after a total of 13 letters addressed to that name were found in the tomb.
But one letter, a love poem written by his wife in old Latin and addressed to "Won's Father", depict the state of a love-lorn widow left in the world alone with a child in the womb. She had placed the letter on the dead man's chest, asking him in tear-tinged sweetness to "look closely at this letter and come to me in my dreams and show yourself in detail."
The letter dates to 1568 AD, about 30 years before Shakespeare penned his eternal love tragedy Romeo and Juliet -- For never was a story of more woe -- and paints a tragedy of similar magnitude.
In the letter, the woman asks her dead husband why he left her alone and tells him she wants to see him and listen to him in her dreams. She confesses that now that he has gone, she cannot live without him.
"I just cannot live without you. I just want to go to you. Please take me to where you are. My feelings toward you I cannot forget in this world and my sorrow knows no limit," Eung-tae's wife, whose identity remains a mystery, wrote.
Mummy's inspiring love life 
Eung-tae was a tall man, much taller than the average Koreans and his skin and beard were well-preserved.
"The dark mustache made me feel that he must have had a charming appearance," Se-kwon Yim, former director of the Andong National University Museum, was quoted as saying by the Archaeology journal.
Eung-tae apparently had a love life that is moving hearts even 445 years after his death. The love letter written by his wife has inspired novels, a feature film and an opera.
The love eulogy of the woman did not end with her love poems, as next to Eung-tae's head the archaeologists discovered a paper parcel that contained slippers made from her hair. Writings on the wrapping paper read: "with my hair I weave this" and "before you were even able to wear it."
"There are references in Korean literature to the tradition of making shoes with human hair as a symbol of love or hope for recovery from an illness," Yim said.
According to Chris Scarre, head of archaeology department at the University of Durham, in medieval Korea certain burials were sealed in concrete, resulting in the exceptional preservation of organic materials, including written documents as in Eung-tae's case.
These documents provide an insight into the emotional relationships of people in the medieval times.
"As well as studying changes in rank and ideology, archaeologists who investigate tombs are often moved to wonder about the character of the deceased, the thoughts of the mourners and their hopes and fears on the passing of a person dear to them. In this extraordinary burial from Korea, we hear these voices directly," Scarre wrote in the Antiquity journal.
A widow's love eulogy
The full transcript of the letter is below (Courtesy Andong National University).
"To Won's Father
June 1, 1586
You always said, "Dear, let's live together until our hair turns grey and die on the same day. How could you pass away without me? Who should I and our little boy listen to and how should we live? How could you go ahead of me?
How did you bring your heart to me and how did I bring my heart to you? Whenever we lay down together you always told me, "Dear, do other people cherish and love each other like we do? Are they really like us?" How could you leave all that behind and go ahead of me?
I just cannot live without you. I just want to go to you. Please take me to where you are. My feelings toward you I cannot forget in this world and my sorrow knows no limit. Where would I put my heart in now and how can I live with the child missing you?
Please look at this letter and tell me in detail in my dreams. Because I want to listen to your saying in detail in my dreams I write this letter and put it in. Look closely and talk to me.
When I give birth to the child in me, who should it call father? Can anyone fathom how I feel? There is no tragedy like this under the sky.
You are just in another place, and not in such a deep grief as I am. There is no limit and end [to my sorrows] that I write roughly. Please look closely at this letter and come to me in my dreams and show yourself in detail and tell me. I believe I can see you in my dreams. Come to me secretly and show yourself. There is no limit to what I want to say and I stop here."