Anavarza  (Turquie): Archaeologists uncover classical era's first two-lane road
Anavarza  (Turquie): Archaeologists uncover classical era's first two-lane road
Source - http://national.bgnnews.com/archaeologists-in-turkey-uncover-classical-eras-first-two-lane-road-haberi/4678
A 34 meter wide, 2,700 meter long two-lane road has been unearthed from the ruins of the ancient city of Anavarza in Adana province, with archaeologists noting that it is the oldest and largest main avenue of the classical era to have been uncovered so far.
An ancient two-lane avenue divided by a row of columns has been uncovered in the ruins of the ancient city of Anavarza, an important center of the ancient land of Cilicia, in today's southern Turkish province of Adana.
The columned avenue spans 34 meters across and stands at 2,700 meters long. So far only a 250 meter stretch has been unearthed, notes Çukurova University Archaeology Faculty Assistant Professor Fatih Gülşen, the scientific consultant for the archaeological dig, "but our scientific analysis of its dimensions reveals that this is the first and largest main avenue of the classical world that has been uncovered so far."
The median strip of the road bears 1,360 Corinthian columns at intervals of 2.15 meters each, with Gülşen adding that the plan is to restore the columns and pavement stones of the 250 meters unearthed so far, "with the raising of the columns, one of the world's most magnificent ancient cities will be brought back to life." He notes that they expect the road to be opened for tourism in three to four years.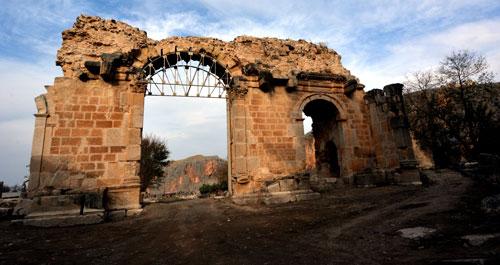 The Anavarza ruins, located near Dilekkaya village in Adana province, are believed to have been founded by Assyrians in the 9th century B.C. The city peaked between the 3rd and 5th centuries A.D., serving as one of the most important Roman military centers in the eastern Mediterranean; however Gülşen notes it contains cultural traces not just from the Hellenic and Roman civilizations but also from the Byzantine, Sassanian, Armenian and Ottoman civilizations.
The ongoing archaeological dig at Anavarza is being conducted with a team of 50, including 20 technical staff, and a budget of TRY 1 million from the Turkish Ministry of Culture and Tourism.