Amphipolis (Grèce): the burial monument was erected in honour of Hephaestion
Amphipolis (Grèce): the burial monument was erected in honour of Hephaestion
The excavators claim
Source - http://www.archaeology.wiki/blog/2015/10/02/amphipolis-monument-erected-honour-hephaestion/
The burial monument of Amphipolis was commissioned and funded by Alexander the Great in honour of his beloved friend Hephaestion. It was designed by Dinocrates of Rhodes or Stesicrates and built by Antigonus I Monophthalmus (Antigonus the One-eyed) at the end of the 4th c. BC.
The excavators and researchers who have studied the monument announced their new assumptions (based also on recent finds). They have come to those by "decoding" three building inscriptions which have recently been located, as they said, in the area where the Lion stands, a few kms south of the Amphipolis site.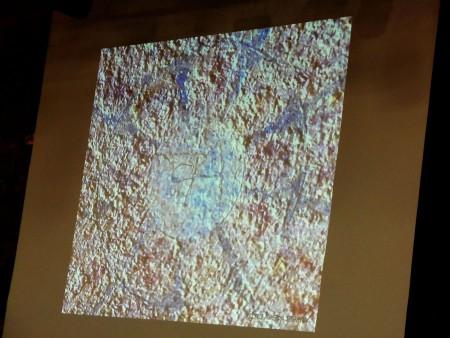 Inscription with the "signature" ANT. (Photo: ΑΠΕ-ΜΠΕ)
The sizeable inscriptions (approximately 25cm in height) with the "signature" ANT (a "signature" attributed to members of the Antigonid Dynasty, in this case to Antigonus I Monophthalmus, 323-318 BC) all contain the engraved word "PARELAVON" (received), while the complex of letters at the end forms the name "Hephaestionos" (genitive of Hephaestion), meaning "me, Antigonus, have received building material for the erection of the monument in honour of Hephaestion".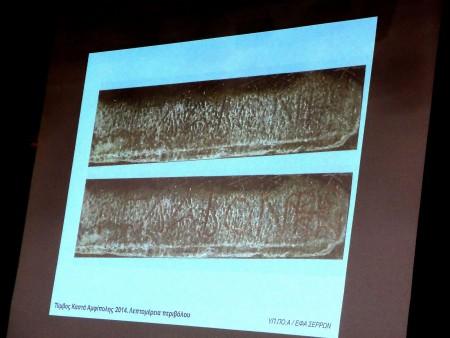 Kasta Tomb, Amphipolis 2014. Detail of the precinct. (Photo: ΑΠΕ-ΜΠΕ)
The new data was presented on Wednesday evening at the Aristotle University of Thessaloniki. The event was titled "Investigating the Kasta Tomb of Amphipolis: 2012-2014″.
The "Results of geophysical and geological surveys on Kasta hill" were presented by Katerina Peristeri (excavator of the Kasta Tomb of Amphipolis and Director of the Ephorate of Antiquities of Serres) and Professor Gregoris Tsokas (Director of the Geology School of the Aristotle University of Thessaloniki). The architect and member of the excavation team, Michalis Lefantzis also spoke presenting the new finds; namely the inscriptions and drawings of the construction complex (the burial monument). "The secret of the construction of the Amphipolis' monument lies on the top of the monument. There a wooden column was placed, in order to draw the circle of the building but also to 'support' the famous marble Lion".
Mrs. Peristeri presented in detail all the findings of the two-year excavations and insisted that the monument is dated back to the last quarter of the 4th c. BC. To back up her opinion she presented a series of similar finds (mosaics, sculptures, Sphinxes etc.) from other archaeological sites of the same period (the last quarter of the 4th c. BC) located in Macedonia and southern Greece, which have common features regarding the technique and aesthetics with the Amphipolis' finds.
The excavators also interpreted the painted frieze located in the interior of the burial monument, where a male figure is depicted, who appears on horseback with his armor or in a laying position on a couch at a funeral banquet (?) accompanied by Hypnos and Thanatos.