American River (USA) : Petroglyphs offer glimpse of early Native American life in the foothills and Sierra
American River (USA) : Petroglyphs offer glimpse of early Native American life in the foothills and Sierra
Petroglyphs offer glimpse of early Native American life in the foothills and Sierra
Gloria Young
Source - http://auburnjournal.com/detail/183215.html
Native American tribes that roamed this area millenniums ago left their mark for the modern world. Their petroglyphs — images carved or "pecked" on rocks — are scattered throughout the region.
U.S. Forest Service archeologist Nolan Smith, who is assigned to the Foresthill Ranger Station, manages the petroglyph sites in the American River ranger district.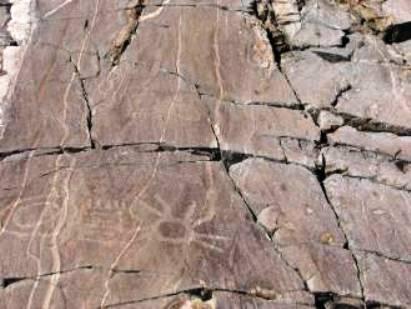 Courtesy/Nolan Smith -These petroglyphs appear in flat rock formations in a remote area of the American River ranger district
"We think they were made between 1,500 and 4,000 years ago and are associated with the Martis archeological complex," he said.
The Maidu and Nisenan tribes inhabited this area and the Miwoks lived farther to the south. The Washoe, from east of the Sierra, are believed to have created some of the sites, he said.
There's an array of designs.
"We get snake-like lines, sinuous-type lines, rakes, concentric circles, circles with lines radiating out like a sunburst or moon, bear paw drawings — all pecked in stone using other rocks," Smith said. "One thing we have not been able to find is any of the tools used to make the petroglyphs. The assumption is that they used a harder type of stone to make them."
In the area he oversees, the petroglyphs are located in remote areas.
"Usually they are pretty far back in the deep forest," he said.
The sites range from one or two drawings to hundreds of them. When new discoveries are made, which still happens, they're documented and photographed.
"We don't remove them because if we did, it would destroy them," Smith said.
Even left in place, the ancient drawings are at risk.
"You can have a freeze and thaw that causes breaking off," he said.
Humans, unfortunately, can also pose a threat.
"You can have vandalism and we're trying to track that," he said.
Because of the possibility of vandalism based on past experience, the sites aren't disclosed to the public.
For Smith, who has made some petrogylph finds, it's a little like putting together a jigsaw puzzle.
"I'm interested in the distribution of them — where they are located in the landscape and why," he said. "I'm interested in what other archeological sites are associated with them, like chipstone or flakestone sites. Most of the petroglyph sites are just petroglyphs but some also have chipstone. If you find (these other materials) they are little more complex and have a littler higher value in terms of research."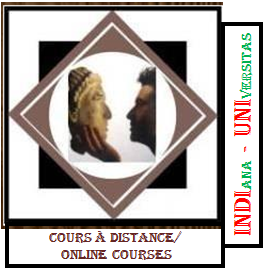 CIV 106 - 206 : Civilisations paléo-indiennes / Amerindians of North America
As part of his job, Smith gives talks to local groups on various aspects of his job.
"One of the things I emphasize is our archeological sites — petroglyphs and historic — are protected by the Protection Act of 1979 that prohibits removal or distribution of (the artifacts)," he said.
The protected designation covers anything 50 years old or older.
"As an archeologist, I'm also interested in receiving reports of damage on federal lands," he said. "We want people to respect the rich resources we have in the woods."
Although the location of most of the sites is not revealed to the public, there are places where petroglyphs are on view. One of those is the Maidu Museum and Historic Site in Roseville.
The museum includes a trail that gives visitors an up-close look at petroglyphs as well as grinding sites, all in the original spots where they were found.
According to Rick Adams, cultural representative at the museum, the Roseville sites are at least 4,000 years old.
"The petroglyphs are representative of a native culture that has been here for thousands of years," he said. "Once you see them, you see they were extremely important to native peoples."
The petroglyphs relate to medical practices of those times, he explained.
Interpreting the drawings is "almost unknown in modern society because the cultural practices have been nearly decimated," he said. "The people who practiced that type of medicine have almost disappeared. The understanding has to come through the native peoples who have had the culture handed down to them."