An archaeological burial from the Byzantine era was uncovered in al-Ruba village in Zighreen town, 30 km northeastern Hama, including a number of tombs inside which pottery, metal and glass findings and golden pieces were unearthed.

Abdul-Qader Farzat, Head of Hama Archaeology Department, told SANA that the burial comprises a 110 cm long and 60 cm wide entrance leading to a square surrounded by five chambers including three tombs each. The tombs are 175 cm long and 40 cm deep, separated by a 25 cm space.

The number of tombs found in the burial was 15. Some of the graves contained more than one burial covered with brick panels, while others however were covered with untrimmed natural basalt stone.

Farzat noted that the findings in the cemetery included 10 incomplete pottery jars, 5 metal and glass bracelets, 2 metal rings in a bad condition, 2 copper coins, 6 stone beads, 2 glass perfume bottles and 4 golden chips believed to be used to cover the eyes of the deceased during the burial.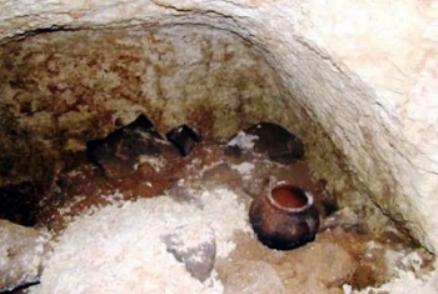 He added that 8 pottery lanterns were also found in the cemetery, along with a number of broken and worn-out shoes made of leather, which indicates that the tombs are for soldiers who used those shoes during the time of wars to protect their feet from any possible injuries.

Ali al-Qatlabi, supervising the excavation works in the burial, highlighted the importance of this discovery as it is one of the few cemeteries in the area which have not been subject to much damage or looting over time. (SANA)