AKRAGAS (Italie) : On quest for 2500-year-old lost Greek theatre
AKRAGAS (Italie) : On quest for 2500-year-old lost Greek theatre
Archaeologists to embark on quest for 2500-year-old lost Greek theatre
Italian archeologists are to embark on a quest for a long-lost, 2,500-year-old Greek theatre, nearly a century after the hunt cost a British adventurer his fortune and his sanity.
Nick Squires
Source : http://www.telegraph.co.uk/news/worldnews/europe/italy/8168380/Archaeologists-to-embark-on-quest-for-2500-year-old-lost-Greek-theatre.html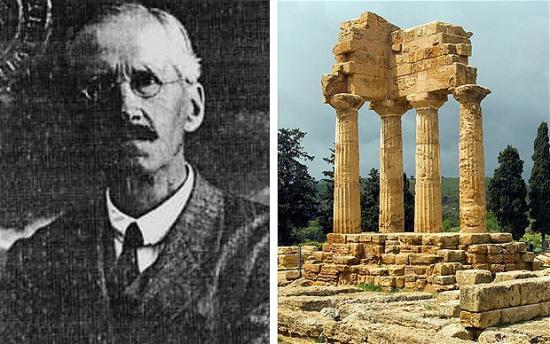 Alex Hardcastle and the ancient Greek Temple of Castor and Pollux in the Dioscuri Valley of the Temples, Sicily Photo: ALAMY
Alexander Hardcastle spent a decade searching for the fabled theatre, which is said to be buried beneath the remains of Akragas, a city established by Greek colonists six centuries before Christ on the southern coast of Sicily.
The World Heritage site is best known for the Valley of the Temples, a cluster of five Doric temples which draws tens of thousands of tourists each year.
Hardcastle, a former soldier who had served with the Royal Engineers in the Boer War, believed that remains of the stone-built theatre had survived, despite Akragas being shaken by earthquakes, sacked by the Carthaginians and plundered for its stone.
The Harrow-educated gentleman scholar, who was born in Belgravia, spent a fortune on the quest between 1920 and 1930, but lost all his money when his family's bank collapsed in the wake of the financial crash of 1929.
He died in poverty in a mental asylum in the town of Agrigento, which overlooks the ancient site, in 1933.
He had achieved a restoration of the city, partly rebuilding temples, uncovering perimeter walls and clearing ancient roads, but found no trace of the legendary theatre.
Now a team of archaeologists is to resume the hunt, embarking in the next few months on a dig that will be funded by a two million euro grant from the European Union.
The team will be led by Giuseppe Castellana, 64, the director of the Valley of the Temples Archeological Park.
"We want to resume the research started by Alexander Hardcastle in the coming months. It will be a way of honouring his memory," Prof Castellana, who has been involved in more than 80 digs over the last 30 years, told La Stampa newspaper.
"The discovery would go down in history and it would also benefit the modern city of Agrigento, which needs to survive on archaeological tourism but hasn't managed to make the most of its enormous potential," he added.
Akragas was described by the ancient Greek poet Pindar as "the most beautiful city in the world inhabited by mortals" and scholars think it highly likely that it would have boasted a theatre.
The archaeologists also hope to unearth evidence of a hippodrome, a stadium for horse and chariot racing.
Excavations were carried out at the site in the 1970s and 1980s but archaeologists found no evidence of the theatre or hippodrome.