Aduun Chuluu (chine): "Rows of Family Tombs" Found
Aduun Chuluu (chine): "Rows of Family Tombs" Found
Chinese Institute of Archaeology
Source - http://www.kaogu.cn/en/News/New_discoveries/2015/0327/49702.html
Aduun Chuluu site is located at about 41 km west of Wenquan County, Xinjiang and north bank of Bortala River. In Mongolian, Aduun Chuluu means "stones scattered like groups of horses".

"Rows of family tombs" and part remains of No.1 House Foundation have been cleared in the excavation carried out by Institute of Archaeology, Chinese Academy of Social Sciences from June to September in 2014. Meanwhile, surveying and mapping of key areas and remains of the Bortala River Region are continued by Aduun Chuluu Research Team, identifying several new sites. Through excavation, various kinds of artifacts, including pottery, stone artifacts and small bronze artifacts and so on are found. 
Panoramic view of the Aduun Chuluu site
According to initial survey, Aduun Chuluu site covers an area of about 7 square kilometers. Cultural remains concentrate around a hill in front of Alatau Mountain. 11 sets of stone-built buildings are discovered to spread around the hill. They all have double enclosing walls made of huge stones, often in square or irregularly square planes. Each side of the stone closures ranges from 8 to 22m long. Near the hill, there are still building remains with stone closures in other shapes.
In 2014, large building groups with stone closure named Complex 1 were cleared, which were situated at the south slope of the west hill. This complex can be divided into 4 levels of buildings along the landscape from the top to the foot of the hill, including 5 stone constructed buildings which are named after F1-F5. F1 is rectangular in plane with double stone enclosures and stone doorway. The remains within the building F1 symmetrically distributed in central axis, and divided into four units by double stone enclosures, which appear the different functional division.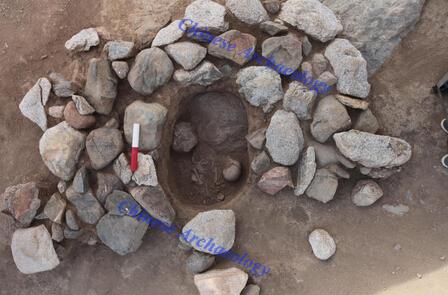 The burial found within the building foundation F1
2 children tombs, discovered in the southeast and northwest parts of F1 respectively through thorough observation, are both circular tombs with a stone mound and single wall with a diameter of 2.7-3.5m. Several small slabs are put on the shallow and vertical tomb pit as covering stones. Each tomb buried one child leaned on its side with flexed limbs.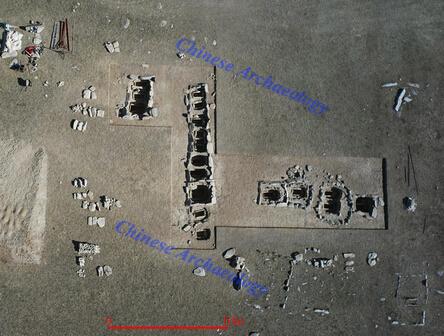 Photo of tomb SM36 and it's surrounding tombs
The cemetery is situated in the south part of the whole site, about 1,800m away from the hill where buildings are discovered. It is more than 500m long from south to north and can be divided into 3 sections (the north section, the middle section, the south section) according to the density of cemetery. Thus far, more than 60 tombs are identified. Some of them are stone slab tombs, others are stone mound tombs. The formers are stone coffin tombs usually made of square or rectangular stone slabs with one pit. The largest stone walls are about 9.9-10m long. However, some of the tombs have several grave-pits within rectangular stone closures.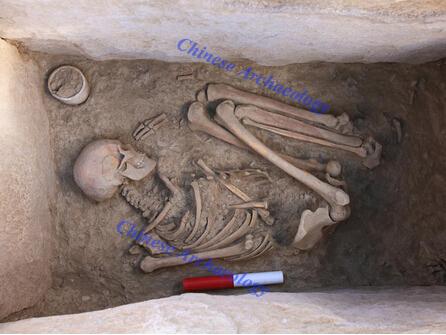 Fxed burial of SM36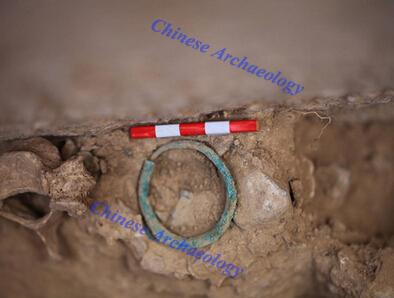 Unearthed bronze earring from SM36
Moreover, 5 tombs (SM35, SM36, SM37, SM48, SM49) have been cleared in 2014. But there are varied numbers of pits in each tomb, and each pit contains different numbers of coffins. Besides, 21 stone coffins have been uncovered in this season.
From north to south, the 5 tombs are arranged to be a closely related cemetery with SM36 as their center. Each tomb almost contains a pottery jar. Besides, bronze earrings, bronze mirror as well as other bronze decorations are found in the excavation, too.
Aduun Chuluu site and cemetery are important bronze period remains from 19-17 century BC found in Xinjiang recently. They are relatively earlier remains of Bronze period in West Tianshan Region. The excavation of "rows of tombs", such as SM36 and so on in 2014, provides significant materials for exploiting social structure of this region. The site might be central place of ritual activities, implying high degree of the civilization.     

(Translator: Ma Huanhuan)