NW Iowa (USA): A prehistoric day in the life
NW Iowa (USA): A prehistoric day in the life
Dana Larsen
Source - http://www.spencerdailyreporter.com/story/2164147.html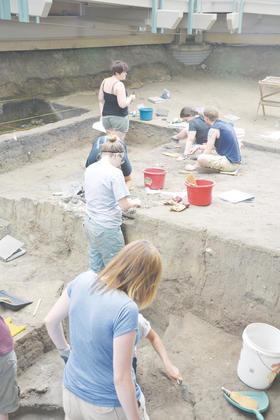 Students dig at a prehistoric village site in the region. (Photo submitted)
Take most of what you thought you knew about the prehistoric past of the place you call home, and bury it.
Dr. Landon Karr, an expert on prehistoric native American villages in the area, is working to paint a different picture of life 1,000 years ago.
"These were not simple, backwater people," the archeologist explains with infectious enthusiasm. "They were pretty cosmopolitan. They had great skill in agriculture hundreds of years before the first European arrived here. They had a tremendous understanding of their environment and a rather complex society."
Karr, who teaches at Augustana College, recently addressed a meeting of the Northwest Chapter of the Iowa Archaeological Society at the Sanford Museum in Cherokee, speaking about the Brewster dig site, just north of that town.
According to Karr, there could be a prehistoric village beneath your feet as you read this -- more still left to be discovered.
About 20 local village sites are known, belonging to what is known locally as the Mill Creek People, who thrived for a century or so, around 1100 AD, building elaborate fortified villages within a complex society, and then disappearing without a trace.
The Brewster site at Cherokee is one of several villages that sprung up along the Little Sioux River or Waterman Creek. The site was known for generations, and first excavated in the 1930s. A larger project took place there in the 1970s, underwritten by the Sanford and the University of Wisconsin -- Madison. Karr has recently given the site new study.
"What is revealed is a village site where people were probably living in semi-subterranean houses, probably with a wall and a ditch surrounding their village," he says. "They left behind a large number of points or arrowheads, ceramic pots of pieces of pottery, bone tools, shells and more."
The animal bones intrigue Karr, as prehistoric animals are a specialty of his. The local village yielded a large amount of bones left behind -- basically the garbage of a civilization.
From it, he can reassemble information on how the people lived, and what was on their menu.
"I wanted to take a look again at the bones that were excavated in 1970. There were three boxes of bones that had been stored at the University of Iowa, and I wanted to get them restored to Cherokee, so they could be there forever."
For prehistoric people, fat drawn from inside bones of animals like bison was a staple of the diet. "Today we view fat as a bad thing, but for these people it was a critical part of their diet, they were always looking for ways to get more fat. Of course, they were hunters and gatherers who worked very hard and used a lot of energy," Karr says.
He also oversees excavation at the Mitchell village site in South Dakota. There, he finds that bones were broken into tiny fragments to get at all the food. "Brewster is more confusing. It's clear there was a different strategy, they were not exploiting bone fat the same way as I've seen at other sites. In short, I'd say they were living a little higher on the hog.
"The takeaway is being slowly able to use information we are learning to reconstruct how people lived their lives on the northern plains 1,000 years ago."
There has been precious little information about the prehistory of this region.
"It's really overlooked history. We have a poorly-conceived notion that we were the first settlers here, and that it was a vast, empty, unpopulated space until Europeans arrived. The fact of the matter is very different. These people at the Brewster site were some of the first corn farmers in the region. They had a very advanced agriculture system and an incredible understanding of weather patterns. Northern Iowa is not an easy place to live, as we've learned this week. It can be very hot and dry in the summer, bitter cold with vast amounts of snow in the winter. Wind, rain, tornadoes, deluge rain. These people didn't have protection from the elements like we do; they had to devise very adaptive strategies to survive."
The people were artistic, etching faces and animals into bone, and patterns often based on triangle symbols and sometimes animal footprints into their pottery, but no evidence of a written language has been unearthed. "They had their way of leaving their mark behind."
These people were part of a vast trading system. Local villages have yielded shells from the Gulf Coast and Pacific Ocean, obsidian that only exists in the Yellowstone Park area, copper from the Great Lakes region. "I can tell you it wasn't a guy from Cherokee walking all that way. Those pieces passed through many, many hands to get here. They had relationships on many different levels, and one would have to assume that they must have found ways to deal with language barriers they must have encountered as people and goods moved around."
Karr said that when he grew up in northwest Iowa, it was nearly on top of prehistoric village sites that he was never aware existed.
"When I went to school, there was no time for prehistory. You would have thought that the history of our continent began with the colonists and World War II." It was only after beginning a college career that he got involved in a dig and decided to make archaeology a career. A stint in the Peace Corps living with natives in Honduras gave him an appreciation of more ancient ways, and he later made his way to Europe to study archaeology, then returning to his home region to study the prehistoric villages he had missed earlier in life.
"It's a fascinating story to me, and to be able to do it close to home is that much better. People in Iowa and South Dakota are pretty curious about who was here before them, and I enjoy working with students and giving public talks about it."
At the recent Cherokee meeting, 40-50 people turned out on a frigid night to hear him "drone on," he laughs.
In many cases, prehistoric sites are only studied when they are about to be wiped out, such as the damming of rivers in the '50s and '60s, according to Karr. Northwest Iowa is blessed in that almost all of its known sites are still here to be studied in the future.
Most of the sites were discovered by farmers who turned up some artifact while plowing or cultivating. While farming has destroyed anything in the first food of topsoil, sites like Brewster are six or seven feet below the surface, and have actually been preserved, undisturbed by the agricultural use of the landscape.
Many of the local sites were found shortly after 1900, when there was a flurry of interest in native American history.
Viewed as a pattern, the villages in the Storm Lake, Cherokee and Sioux City regions connect with others in South Dakota, North Dakota, southern Minnesota and eastern Nebraska to form a huge cultural network and complex society.
If you're out to discover a prehistoric village, you need to think like the prehistoric residents here did. They needed access to fresh water, so tended to be near rivers or larger creeks fed by rivers. There would need to be a flat area for farming, and areas where wildlife would have been abundant.
"No doubt there are villages of this nature still to find. I know of about 20 in your neck of the woods, some of them still under farm fields. It is very possible that more will be found," Karr says.
There is more to this study than history.
"What I do is a science -- it is easy to forget that it is also human. It is easy to think of what you find as just pieces of data. But when you realize that something that is passing through your hands is a product of human lives nearly a thousand years ago, you have to be honored.
"For me it is an everyday thing, but I wish more people in our area could have that experience at least once in their lives."
Asked about human bones in these villages, Karr is clearly less comfortable.
There are often burial mounds at the edge of a village, and some still exist undisturbed in the Storm Lake region, but he says he does not dig there. "Most archaeologists these days don't go looking for human bones, and if you do find them, there is a federal protocol for returning them to native American tribes. We wouldn't appreciate it much if someone dug our grandparents out of the cemetery and put them in a museum," Karr says.
One reason to study prehistoric people in the area, he says, is to solve the mystery of what happened to them.
His theory is that climate change drove the Mill Creek people away.
Their villages thrived during a time of warm, wet conditions -- ideal for the farming they had developed. After a hundred years or so, the climate grew colder and more dry for a time. "Life was becoming harder in northwest Iowa. They didn't all just die off in a year, they probably just stopped building new villages, and gradually drifted off."
There are no signs of great warfare that would have driven them away, in fact, it appears that these people lived rather peaceful lives coexisting with other groups.
The fact that three tribes of North Dakota native Americans have been found to use similar tools and pottery techniques some 50 generations later is a good clue that at least some of the Mill Creek people moved that direction, he believes.
"For over a hundred years we had bunches of villages springing up in northwest Iowa, and then, they just were not there any more. It has never been exactly clear where the people went," Karr adds.
He says he is always asked to name the favorite artifact that he has found.
"I don't even know how to answer that. The way I approach it is as a science, not about finding something spectacular or valuable. What we are really looking for are patterns. The thing is trying to piece all that evidence from around the world together to understand the past, like an incredibly complex puzzle with millions and millions of pieces that don't look like they go together.
"I don't go to bed at night dreaming of finding crystal skulls or piles of gold," he laughs.
Instead, the payoff is the delight among his students, and the visitors that come around his dig site, as each find adds a slight something to the cache of knowledge.
"To really understand the world you live in, you have to know where you come from, who lived here before you, those are virtuous things," Karr says. "The more you know about the past, the better you appreciate the world we live in and the environment around us."
If you would like to get in on a discovery, Karr has an open invitation for local residents. From mid-June to mid-July, he will be leading a prehistoric village dig at Mitchell, South Dakota, and the process will be open to visitors.