31 DECEMBRE 2011 NEWS : Xi'an - Jérusalem - Sheboygan - Rome - San Francisco - Lewes - Menez Dregan - -
31 DECEMBRE 2011 NEWS : Xi'an - Jérusalem - Sheboygan - Rome - San Francisco - Lewes - Menez Dregan - -
31 DECEMBRE
INDI-UNI : ANTHROPOLOGY - ARCHAEOLOGY
INSCRIPTION 2012 COURS A DISTANCE
REGISTRATION 2012 ONLINE COURSES
CHINE – Xi'an - Recently the Xi'an Cultural Relics Protection Institute excavated a tomb complex in a western suburb of Xi'an, capital of Shaanxi Province, and ancient capital of China.
VIDEO = http://www.youtube.com/watch?v=1bUjQ5jAEsQ
ISRAEL –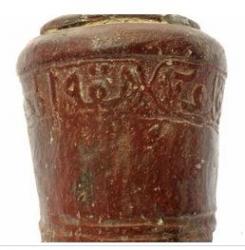 Jérusalem - An archaeological excavation in the Jewish Quarter of Jerusalem has uncovered a centuries-old clay pipe inscribed with the phrase "Love is the language for lovers." Literally translated, the inscription reads "Heart is language for the lover." And, not surprisingly, it was most likely a gift to a lover, according to Shahar Puni, of the Israel Antiquities Authority. "Clay pipes of this kind were very common in the Ottoman period, were mostly used for smoking tobacco, and some were even used to smoke hashish," Puni said in a statement. Hashish comes from the cannabis plant, like marijuana. During this period, from the 16th to the 19th century, Jerusalem was part of the vastOttoman Empire, a Turkish state that reached into Asia, Africa and Europe. "The Ottoman authorities tried to combat this practice [smoking] but failed when it became clear that smoking was firmly entrenched in all levels of society. Pipes were also used as a piece of jewelry that could be worn on a garment, and smoking itself was popular amongst both men and women," Puni said. Jerusalemite women are shown smoking clay pipes similar to this one in 19th-century drawings. Smoking was often done in cafes and with groups of friends, according to the Israel Antiquities Authority.
http://www.livescience.com/17672-jerusalem-lovers-pipe-hashish.html
USA –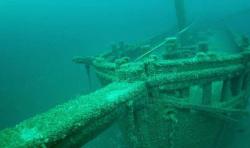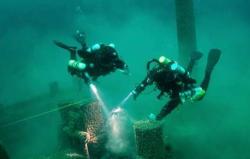 Sheboygan - A vessel lying on the floor of Lake Michigan and considered one of the best-preserved Great Lakes shipwreck has been named to the National Register of Historic Places. The canaller Walter B. Allen, which sank in a storm in April 1880, lies upright and intact in about 170 feet of water seven miles northeast of Sheboygan. During a storm on a Chicago-to-Buffalo run, loaded with 19,000 bushels of grain, the Walter B. Allen ran aground on April 11, 1880, on South Manitou Island at the north end of Lake Michigan. It lost its large anchor and mainsail. A tug from Manistee, Mich., came to the rescue and placed a steam pump on the ship's deck to tow it to Milwaukee for repairs. But a snowstorm picked up as the ship was being towed, pushing waves over the Walter B. Allen and extinguishing the steam pump's fire. The ship sank within 20 minutes. All on board were rescued. Because the Walter B. Allen sank slowly and landed on its bottom in deep water, the ship and its contents were left almost completely intact, "making it a virtual time capsule of 1880 shipboard life," website says. "Its depth also placed it down below the wave action and ice that breaks up shallower wrecks," Draeger said. "And until recently, it also has been less accessible to salvagers and looters."
http://www.postcrescent.com/article/20111230/APC0101/112300504/Shipwreck-one-history-books?odyssey=mod%7Cdefcon%7Ctext%7CAPC-News
ITALIE –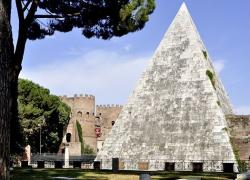 Rome - As the Colosseum 'crumbles' and awaits a £22 million restoration, a Japanese tycoon has stepped forward to spruce up another of Rome's ancient treasures: a massive stone pyramid built as a mausoleum for a Roman dignitary. The marble pyramid, which dates from 12BC and adds an incongruous touch of ancient Egypt to the Italian capital, is grimy from traffic fumes and festooned with weeds and bushes growing from the cracks between its enormous stone blocks. The project will include efforts to determine whether, as legend has it, there are secret chambers built into the pyramid. The unusual monument was constructed of brick and marble following Rome's conquest of Egypt, which initiated a fashion for all things Egyptian. It was a must-see sight during the Grand Tour and inspired Shelley and, a century later, Thomas Hardy. Yuzo Yagi, the owner of a fashion business, has agreed to donate one million euros for the restoration of the 2,000-year-old monument, which forms part of Rome's ancient walls and overlooks the Protestant Cemetery, the burial place of Shelley and Keats.
http://www.telegraph.co.uk/news/worldnews/europe/italy/8983766/Japanese-tycoon-steps-in-to-restore-dilapidated-treasure-in-Rome.html
USA – San Francisco - Gold rush artifacts from the 1850s, including many pieces owned by Irish laborers, have been discovered in San Francisco during the building of a new transportation terminal. The 70 artifacts discovered to date have archaeologists excited about what potentially lies underneath the site in the Financial district near downtown San Francisco.

http://www.irishcentral.com/news/Irish-San-Francisco-gold-rush--artifacts-found-in-archaeology-dig--136220798.html#ixzz1i2bxLBbl

ISRAEL –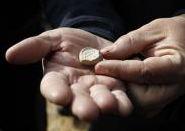 Jérusalem - Israeli archaeologists said on Sunday they had found a 2,000-year-old clay seal near Jerusalem's Western Wall, confirming written accounts of ritual practices in the biblical Jewish Temple. The button-shaped object bears the Aramaic words "pure for God," suggesting it was used to certify food and animals used in sacrificial ceremonies. The Western Wall is part of the compound revered by Jews as the Temple Mount, where Islam's al-Aqsa mosque and Dome of the Rock shrine now stand in a holy complex Muslims call the Noble Sanctuary. "It seems that the inscribed object was used to mark products or objects that were brought to the Temple, and it was imperative they be ritually pure," the Israel Antiquities Authority said in a statement announcing the find. The authority said it believed it was the first time such a seal had been excavated, providing direct archaeological evidence of ritual activity in the temple described in ancient texts.
http://mobile.reuters.com/article/scienceNews/idUSTRE7BO07O20111225?irpc=932
ROYAUME UNI –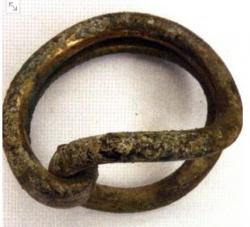 Lewes - Some exciting finds are made in East Sussex soil but the news rarely sees the light of day in the press. Rouser is glad to set the record straight, thanks to the finds liaison officer of the Sussex Archaeological Society, Stephanie Smith, writing currently in the society's journal Sussex Past and Present. She says: 'I am delighted to mention the discovery near Lewes of a Middle Bronze Age hoard (c. 1,500 –1,100 BC). It consists of a large earthenware vessel filled with purposefully broken items of adornment and three palstave axes. 'Among the assemblage, items of great local importance, such as a Sussex loop bracelet [pictured], are deposited with rare items imported from the Baltic, France and Germany. 'Careful recovery of the hoard and subsequent excavations will help archaeologists better understand the people and landscape of Sussex more than 3,000 years ago.' A portion of the hoard has been been on display at the British Museum. The Barbican House Museum in Lewes hopes eventually to acquire the hoard and will be raising funds for that purpose.
http://www.sussexexpress.co.uk/community/nostalgia/lost_treasure_found_near_lewes_1_3362106
FRANCE - Menez-Dregan - Fouillée depuis près de 20 ans, la grotte de Menez-Dregan (Plouhinec, Finistère) atteste de l'occupation humaine sur la péninsule armoricaine vers -500 000 ans. Les foyers découverts sont parmi les plus anciens de l'utilisation du feu par l'homme.
http://ille-et-vilaine.foxoo.com/video,rencontres-musee-grotte-menez-dregan,rennes,nx1112301140337690.html