INSTITUT SUPERIEUR D'ANTHROPOLOGIE
INSTITUTE OF ANTHROPOLOGY
ONLINE COURSES / COURS A DISTANCE
WINTER TERM : JANUARY 2016
REGISTER NOW
USA –
Wisconsin - Thanks to seeds discovered in an ancient pot, students at Winnipeg's Canadian Mennonite University have helped to revive an extinct variety of squash, reports APTN National News. The seeds, which reportedly carbon-date to 850 years ago, had been lost for generations, but were luckily still viable. During a dig on First Nation's land in Wisconsin, archaeologists allegedly discovered the forgotten heirloom seeds inside "a clay vessel about the size of a tennis ball," Brian Etkin, Garden of Learning coordinator, told APTN. After careful cultivation, the students have been able to regrown the once-lost vegetable, using it to prepare a harvest feast. The squash's scientific name is cucurbita maxima, but it has been dubbed Gete Okosomin, which means "cool old squash" in Anishinaabe, an indigenous Canadian language. The seeds were originally found on the Menominee Reservation near Green Bay, Wisconsin, in 2008,
https://news.artnet.com/art-world/extinct-squash-revived-370727?
CHYPRE –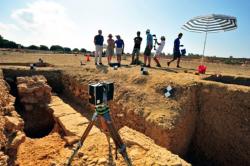 Paphos - The fifth season of excavations at the Paphos Agora, carried out by the Department of Classical Archaeology of the Institute of Archaeology, Jagiellonian University in Kraków, Poland, have been completed, the Antiquities Department said on Thursday. The project aims to explore and study the agora of the ancient city of Nea Paphos, the capital of Cyprus in the Hellenistic and Roman periods. Approximately 95 per cent of the site remains unexcavated. The team is attempting to reconstruct the manner in which the public area functioned, its appearance and life span. One of the aims is to apply non-invasive (geophysical) methods in order to investigate the economic infrastructure of ancient Paphos and specifically, the area within the Archaeological Park. Excavations this year took place in all three already existing trenches that have been opened in the agora, as well as in a new one traced at the south-eastern corner of the agora square.
http://cyprus-mail.com/2015/11/27/polish-archaeot-paphos-agora/?
ROYAUME UNI –
Stratford - SHAKESPEARE'S kitchen has been unearthed by archaeologists working at the playwright's final home in Stratford. The discovery, including the playwright's 'oven' and 'fridge', at New Place has prompted much excitement among Shakespearean scholars. The 'kitchen' not only had the 'oven' (or fire hearth) and 'fridge' (or cold storage pit), but the team also found evidence of the brew house where small beer was made (drunk instead of unsafe water) and where pickling and salting took place. Fragments of plates, cups and other cookware were also found. The discovery of the cooking areas, brew house, pantry and cold storage pit, combined with the scale of the house, all point to New Place as a working home as well as a house of high social status.
http://stratfordobserver.co.uk/news/important-discovery-unearthed-shakespeares-final-stratford-home/?
INDE –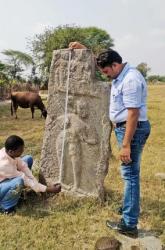 Kolanupaka - The Department of Archaeology in Nalgonda district has identified as many as 70 sculptures which includes three inscriptions lying in agriculture fields around the historical Kolanupaka village in a 5-km radius. The sculptures include those of Lord Ganesha, Mahisasura Mardini and Lord Anjaneya. Apart from these, a number of sculptures of Verudu, Veragal, Nandi, Panavattam, Sivalingas, Naga, Nagadevtha and other Jain sculptures were found. A beheaded sculpture of Lord Vishnu was also found. Speaking to The Hindu , Assistant Director of Archaeology and Museums, P. Nagaraju, said that most of the sculptures belong to 8th Century AD to 13th Century. Rastrakutas, Western Chalukyas and Kakatiyas had ruled Kolanupaka during this period and were responsible for raising many religious structures in the area. Since Kolanupaka is also known as famous Jain pilgrimage centre in India from 10th Century AD, Mr. Nagaraju said that they have found a good number of Jain sculptures too, which include couple of inscriptions.
http://www.thehindu.com/news/national/telangana/history-lies-scattered-at-kolanupaka/article7921765.ece
CHINE - Guangdong - Chinese archaeologists have found over 50 ancient tombs in the country's southern Guangdong Province, authorities said today. The complex, discovered three months ago, is believed to have been built during the Spring and Autumn Period (770 BC - 476 BC), according to Guangzhou institute of cultural relics and archaeology. The complex covers about 2,000 square metres, and all tombs are rectangular form, Zhang Qianglu, an official of the institute said. "Archaeologists have found plenty of ceramics and porcelain, alongside some bronze axes and arrowheads. The relics found there show that the tombs' occupants should all be civilians, probably belonging to the same clan, he said. Zhang said the well-preserved tombs are of great value to the study of ancient culture and customs in China's Pearl River Delta, state-run Xinhua news agency reported. In another discovery, a tomb dating back some 2,000 years has been found in northwest China's Qinghai Province. The tomb was discovered by a construction team on November 23 in a village of Datong Hui and Tu Autonomous County, according to Chen Rong, deputy head of the county's cultural relic management bureau. The occupant of the tomb was confirmed as a male around 50 years old.
http://www.business-standard.com/article/pti-stories/ancient-tomb-complex-unearthed-in-china-115112601196_1.html
INDE –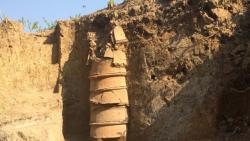 Anuppur - Archaeologists have dug up Neolithic stone tools dating back to nearly 5,000 years in Madhya Pradesh's Anuppur district, throwing new light on a human settlement which is believed to have survived till the Gupta age in the 6th AD. The archeological find is considered significant as the settlement is among the very few to have been excavated in the eastern part of a state where the sub-continent's oldest human remains, named the Hathnora skull, was discovered in 1982. Madhya Pradesh is also home to the World Heritage Site of Bhimbetka rock shelter which houses paintings drawn by earliest human beings dating back nearly 25,000 years. Experts found the Anuppur remains at the banks of river Kewai – a tributary of Son – located around 650 km from capital Bhopal. The excavations were carried out in the month of September and October by a team led by erstwhile deputy director (excavation) DK Mathur.
http://www.hindustantimes.com/bhopal/remains-of-5-000-year-old-civilisation-discovered-in-mp-s-anuppur/story-NVlNbitqUTjkXSn3GHBxmO.html
EGYPTE –
Vallée des Rois - There is a 90 percent chance a hidden chamber lies behind King Tutankhamun's tomb in the Valley of the Kings, Egypt's Minister of Antiquities Mamdouh Damaty announced at a Saturday press conference in Luxor. According to Damaty, the scans, conducted by Japanese radar specialist Hirokatsu Watanabu, covered the southern, western and northern sides of the pharaoh's burial chamber. "The primary results of the scan gave us very positive results, very good results," Damaty said. "We have here something behind the west and the north walls…We believe that there could be another chamber." However, these findings are only preliminary and need more work to yield accurate results, the minister stressed. Damaty said the scans will be sent to Japan for further analysis, which will take around one month to complete.
http://egyptianstreets.com/2015/11/28/90-percent-chance-king-tutankhamuns-tomb-holds-a-hidden-chamber-egypts-antiquities-minister/
IRLANDE –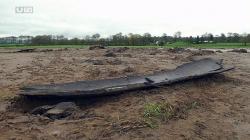 Clady - Flooding which hit the Co Tyrone village of Clady recently has unearthed an ancient log boat. A dugout boat, possibly thousands of years old, has been unearthed along the banks of the River Finn. When the overflowing waters from the river subsided a few weeks ago, they revealed the ancient archaeological treasure. It is though the boat remained hidden in the ground for centuries, only to be unearthed when the River Finn burst a huge hole in the bank. Fragments of the vessel are scattered all around among the debris. In the wood there are score marks where whoever made the boat – possibly thousands of years ago - carved the boat out of oak. Ronan McHugh from the Environment Agency said: "We are talking about something that is significant today and would have been significant when it was built too. We do know log boats are one of the most durable objects in Irish archaeology. "They were first used in prehistoric times but they continued to be used up until the 18th Century." The old vessel has now begun a new journey as it has been removed from its burial site and now will be carbon dated, to pin point how old it is.
http://www.u.tv/News/2015/11/27/Tyrone-flooding-unearths-ancient-log-boat-49669