30 MAI 2015 NEWS: Kerman - Mauxi - Kombaikadu - Lassithi - Susam - Las Vegas -
30 MAI 2015 NEWS: Kerman - Mauxi - Kombaikadu - Lassithi - Susam - Las Vegas -
INSTITUT SUPERIEUR D'ANTHROPOLOGIE
INSTITUTE OF ANTHROPOLOGY
ONLINE COURSES / COURS A DISTANCE
FALL TERM : OCTOBER 2015
REGISTER NOW
IRAN –
Kerman - Archeologists have found over 40 ancient mounds in Iran's southeastern province of Kerman. Archeologists from Germany's Tubingen University and the Iranian Research Center for Cultural Heritage and Tourism discovered 42 ancient mounds near the city of Faryab. "The mounds are scattered in an area of 8,000 kilometers and date back to the period of time between the pre-Neolithic and Islamic eras," said head of the Iranian archeology team Nader Alidad-Soleimani. The mounds were discovered during the first phase of archeological excavations in the area. The project was conducted over the past three months with the aim of studying the cultural exchange between Mesopotamia and the southeastern areas of ancient Persia during the Bronze Age. Archeologists used drones to take aerial photos, three dimensional pictures and topographic maps of the excavation site. The next phase of archeological excavations in the area will begin in March 2016.
http://www.presstv.ir/Detail/2015/05/27/413138/Iran-Kerman-mounds-Bronze-Age-Faryab-Tubingen-University-Jiroft-Mesopotamia
INDE – Mauxi - The excavation carried out for the second day by villagers of Mauxi brought to light few more spherical-shaped pits in the area of the prehistoric rock carving site on Thursday. On Wednesday, the excavation had helped unearth seven spherical, oval and irregular shaped pits. Dnyaneshwar Gaonkar's endeavor was to carried out excavation for hidden treasure but he found unusual pits instead. All 10 pits discovered are not uniform in size, shape and depth. Some have more depth whereas others are shallow. Prakashchandra Shirodkar, former director of archaeology said, "There is a need to study whether the discovered pits were used to store grains or were used as burial pits." Devidas Gaonkar from Mauxi said, "We found some stones inside these pits which appear to be stone tools and implements and also a piece of china clay utensil. Each of these discovered pits carry engraved markings inside."
http://timesofindia.indiatimes.com/city/goa/Day-2-of-excavation-at-Mauxi-finds-more-spherical-pits/articleshow/47463038.cms
INDE –
Kombaikadu - Ancient rock paintings dating back to several centuries have been discovered in a cave, located at Kombaikadu village here, archaeologists said. A three-member team of archaelogical experts, who discovered the paintings in a tribal habitat, said red vegetable dye had been used to draw the figures. The paintings dating back to several centuries had faded due to the vagaries of the weather and some had been completely destroyed, they said. Meanwhile, a square depicted the damaged picture of a man riding on an animal and of a man riding on another person's shoulders. Yet another painting shows a person holding an axe in his hand and a dead body at his feet. The officials said only the side portions of the cave existed as the main parts were demolished to lay the Palani-Kodaikanal Ghat road.
http://www.thestatesman.com/news/india/rock-paintings-dating-back-centuries-found/66128.html?#PaD67R6KpHwuT11q.99
GRECE –
Lassithi - An ancient figurine dating back to the Middle-Minoan period and depicting a Kouros, extremely valuable, as its peculiar features make it a unique find of its kind, was found in the possession of looters in the Municipality of Lassithi, who were about to sell the artifact. According to an archaeologist of the Ephorate of Antiquities of Lassithi, the bronze figurine bronze - of 30 cm heigh - dates back to the 16th-15th c. BC, depicting a Kouros with both arms bent and fists at the chest, a gesture signifying worship. The figurine has long hair, a gilded loin and remains of golden leaves on its legs and the left knee.
http://www.archaeology.wiki/blog/2015/05/29/invaluable-middle-minoan-kouros-found-hands-looters/
BULGARIE –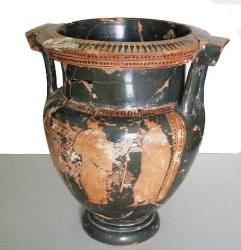 Susam - Bulgarian police officers have confiscated a unique 5th century BC Ancient Thracian krater, a specialvessel for mixing wine (and water) used in Ancient Greece and Thrace, from a treasure hunter from the southern town of Susam, Haskovo District. The ceramic vessel features a ritual scene from the Ancient Greek and Thracian mythology. Ancient vessels of its kind are usually discovered in the burial mound tombs of Ancient Thracian aristocrats.
http://archaeologyinbulgaria.com/2015/05/29/bulgarian-police-seize-rare-5th-century-bc-ancient-thracian-krater-from-treasure-hunter/
USA –
Las Vegas - Team of undergraduate researchers from Ithaca College traveled to Las Vegas to scan for subsurface cultural features at the Larder Site—an archaeological site occupied by Native Americans nearly 2,000 years ago —as part of a preservation project along the Las Vegas Wash. The team conducted a geophysical survey of the prehistoric site using ground-penetrating radar and a magnetometry. Ground-penetrating radar detects reflected signals from subsurface structures and plots data as profiles, maps or 3D models. A magnetometer recognizes unique magnetic properties and detects disturbances of the Earth's magnetic field. Using the two types of sensing equipment, the team found signals that resembled what could have been semi-subterranean dwellings, referred to as pit-houses, and an excavation team on site confirmed this the following day. Using the two types of sensing equipment, the team found signals that resembled what could have been semi-subterranean dwellings, referred to as pit-houses, and an excavation team on site confirmed this the following day. Michael Rogers, associate professor in the Department of Physics and Astronomy at Ithaca College led the team of researchers in their discovery. "For our team, this was really exciting because within two days of work we identified two houses at the site, which now changes our understanding of it," said Rogers. Previous archeology work at the site discovered food storage pits, but no evidence of habitations at the site. The discovery of the houses confirmed that people did live at the site.
VIDEO = http://phys.org/news/2015-05-subsurface-prehistoric-archaeological-site.html