30 JUIN 2015 NEWS: Indiana - Big Belt - Bincknoll - Milas -
30 JUIN 2015 NEWS: Indiana - Big Belt - Bincknoll - Milas -
INSTITUT SUPERIEUR D'ANTHROPOLOGIE
INSTITUTE OF ANTHROPOLOGY
ONLINE COURSES / COURS A DISTANCE
FALL TERM : OCTOBER 2015
REGISTER NOW
USA –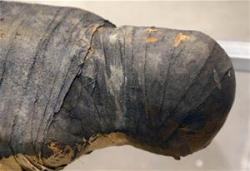 Indiana - Workers exploring the site of an intended quarry in rural Indiana stumbled upon a mummified body that experts say could be anywhere from 500 to 2,000 years old, the Times of Northwest Indiana reports. "They could distinguish a head and a torso," says a local sheriff. "It could be a Native American burial ground."
http://www.newser.com/story/209012/mummified-remains-found-in-indiana-quarry.html
USA –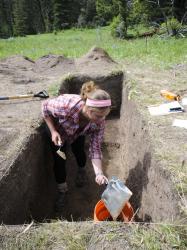 Big Belt Mountains - One of the sharp projectile points discovered last week by a team of Carroll College students in the Big Belt Mountains could have been used as far back as 8,000 years ago. The excavation responsible for the finding was the latest in a seven-year partnership between the Helena National Forest and Carroll College. Each summer, anthropology professor Lauri Travis leads a team of students into the Big Belts for 10 days to unearth artifacts that help weave a history of the region. "What we're really looking at is change in climate and how people adapted to that climate," she said. So far, they've found repeated evidence of a dry period that occurred about 2,000 years ago. It's a finding consistent with arid periods identified in Europe and Africa, but is relatively new Montana knowledge, Travis said. As far as she knows, the only other time it's been found in Montana was during a study in Yellowstone National Park. Artifacts suggest indigenous people had to alter their diets during the dry spell from subsisting on big game to targeting smaller animals like grouse -- possibly because the parched ecosystem couldn't sustain the big game it carried through wetter years, Travis said.
http://helenair.com/news/education/unearthing-years-of-history-students-find-ancient-artifacts-in-the/article_5b0b5e61-1132-5401-bf9d-f8c646f91713.html
ROYAUME UNI –
Bincknoll - There has been much local interest in an archaeological dig at Bincknoll, near Royal Wootton Bassett, where teams of volunteers, working under expert supervision during many weekends, have discovered the site of an ancient chapel that is known to have existed in 1209. The last weekend dig delighted the team, as it finally established the outline of the ancient structure, aligned perfectly east-west. Mr Clarke said: "There may have been an early cell around which a larger structure was built later. We found fragments of painted plaster from the building's interior, painted red lines depicting borders, pinks and green and black possibly from wall paintings. The excavation and post-ex work has taken about 18 months so far and we are now pretty convinced this was the lost chapel of Bincknoll, of which the last recorded mention was in the early 17th century." The remains of a small inner wall is thought to be of late Saxon origin, which is surrounded by a later massive Norman structure. The clearly defined site, with the remains of substantial walls almost a metre wide with foundations over a metre deep, internally the building measures 4.4 metres by 13 metres and would have been an impressive sight when still standing. Nearer to the surface of the site the team discovered the remains of two cows and a pig, buried in later years over the ruined building.
http://www.gazetteandherald.co.uk/news/13358076.Ancient_chapel_found_in_Bincknoll_garden/
TURQUIE –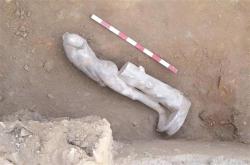 Milas - A Roman-era athlete and a hand holding a ball have been found during the foundation excavation of a construction in the western province of Muğla's Milas district. Historical artifacts were unearthed last year in a third degree archaeological site on Atatürk Boulevard. Then salvage excavations initiated by the Milas Museum revealed sculptures underground. In the style of famous Greek sculptor Lysoppos, the 1.43 meter marble sculpture was missing a head, right leg and arms. It is estimated that it was produced in the end of 4th century B.C. or the beginning of 3rd century B.C. An official statement said, "The muscular and more detailed nude male sculptures produced in the 5th century B.C. by Polykleitos were the basic sources of inspiration for the ones produced in the early years of the Hellenistic era. But this newly discovered sculpture in Milas has a softer, more natural style, unlike the hard style of the Classical era. This sculpture looks like an athlete sculpture produced by Lysippos towards the end of the 4th century B.C. Consequently, we can say that this thin, tall important sculpture is a Roman copy of the Hellenistic era." The excavations continue and it is estimated that the missing parts of the sculpture will be found as well.
http://www.hurriyetdailynews.com/roman-era-athlete-found-in-turkeys-west.aspx?pageID=238&nid=84656