INSTITUT SUPERIEUR D'ANTHROPOLOGIE
INSTITUTE OF ANTHROPOLOGY
ONLINE COURSES / COURS A DISTANCE
FALL TERM : OCTOBER 2014
REGISTER NOW
CHINE –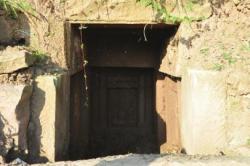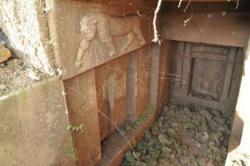 Naxi Workers excavating land as part of the new road construction unearth a tomb of a couple inNaxi village, Luzhou, Sichuan province.Sixteen pieces of carved stone were unearthed after archaeological workers arrived at thesite. Two human skeletons and the coffins have rotted inside the tomb. After inspection,they found that the tomb belongs to a man and his wife.The tomb is 3.5 meters long and 1.2 meters high. The cultural relics unearthed provideimportant information for studying people's beliefs and funeral customs in Song Dynasty.
http://english.peopledaily.com.cn/n/2014/0731/c98649-8763037.html?
USA –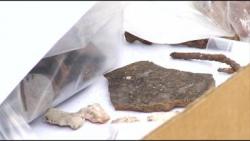 Onalaska - The highway 35 area south of Main St in Onalaska is known for it's rich archaeological history.  "We knew that there was going to be material in the area," said Connie Arzigian, Senior Research Associate with the Mississippi Valley Archaeological Center. "We didn't know how much. But even since the 1800's people have been reporting finds of artifacts."The demolition process started on Monday, and since then a large number of artifacts have been found. 
"We found pieces if pottery and we've got a number of projectile points, a lot of the chips from their making the stone tools," said Arzigian. "And there were also some human remains which we were anticipating might be in this area." These artifacts came from a prehistoric village that was inhabited hundreds of years ago. "It was a large village," said Arzigian. "We know that these people were living here between about 1300 and 1600 AD. And they were agriculturalists. They were growing corn, beans, and squash." Most of the artifacts came from the Oneota people, but one piece of pottery dates back even further.
http://www.wxow.com/story/26157586/2014/07/31/artifacts-found-at-onalaska-building-demolition-site
GRECE –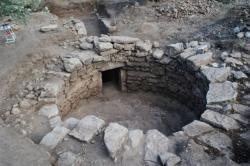 Amifissa- A Mycenaean vaulted tomb has been discovered near Amfissa in central Greece during the course of an irrigation project. The tomb presents all the features typical of this type of structure: a long dromos 9 metres in length with stone-built sides,  a deep prothalamos or vestibule and a circular burial chamber which has a maximum internal diameter of 5.90 metres. Although the superstructure of the dome had collapsed, the walls of the chamber maintain a height of almost three metres. The tomb has not been looted and the offerings found scattered on its floor date the tomb's use from the 14th until the end of the 12th centuries BC. Among the grave goods retrieved by the archaeologists are 44 vases with painted decoration, two bronze vases, gold and bronze rings, one of which has an engraved decoration on its bevel, buttons made of semi-precious stones, two bronze daggers, female and zoomorphic figurines and a large number of sealstones with animal, floral and linear motifs. Numerous drinking vessels, craters, urns and amphorae were also found deposited at the end of the dromos and appear to have been part of the funerary feast. The vaulted tomb at Amfissa is unique, being the first of its kind found in Phocis and one of the few in Central Greece. The find is expected to provide important information for the historical development of the region, which includes the sanctuary of Delphi. The excavation was held in the presence of the local ephorate of antiquities and police in order to protect the precious archaeological findings.
http://prehistoricarch.blogspot.fr/2014/07/mycenaean-vaulted-tomb-unearthed-in.html
ROYAUME UNI – 
 Cheshunt - A 500-year-old summer house that may have once hosted royalty has been uncovered in Cheshunt. Enfield Archaeological Society found the remains of the 16th century loggia as it returned to Cedars Park. The park once formed the grounds of Theobald's Palace, James I's favourite residence. A loggia was a summer house, which was a popular feature of Renaissance gardens. Other artefacts uncovered included a 17th century spur buckle and fragments of salt glazed stoneware.
http://www.hertfordshiremercury.co.uk/Cheshunt-and-Waltham/Remains-of-royal-gardens-unearthed-in-Cheshunt-20140730112100.htm
NEPAL – Pashupati - An archaeological excavation of Bhandarkhal, an open space in the north of Pashupatinath Temple, has discovered two inscribed fragments of pottery along with a coin-all dating back to the seventh century. The items were dug out on the northern and eastern sides of the trenches of a pond-like structure referred to as 'tank' in archeological terms, which is around 35 metres in length and approximately eight metre deep. The first sherd is a closed storage vessel with a partial inscribed stamp. It depicts a trident and the front half of a reclined bull with a partial inscription under it. The second sherd depicts a standing bull or a 'kamadhenu' with two visible characters. Meanwhile, the coin has 'Pashupati' inscribed on it. All three items seem to belong to the second half of the Lichchhavi period, according to the excavation team led by Durham University Professor Robin Coningham. Further inspection of the 'tank' could reveal characteristics of the little known lifestyle of the people living at that time, said Kosh Raj Acarya, executive director of the Pashupati Area Development Trust.
http://www.ekantipur.com/2014/07/30/capital/archaeologists-dig-out-7th-century-items/392886.html
USA –
 Crownsville - When archaeologists began digging around Rockbridge Academy in May, they expected to find the place where the Comte de Rochambeau camped in September 1781 on the way to Yorktown and the final major battle of the Revolutionary War. Instead, they stumbled upon something very different. Slave barracks bigger than ever found before in Anne Arundel County. Maryland Archaeology announced the discovery of slave barracks at Scott's Plantation. County Archaeologist Al Luckenbach said the finding differs from other known slave quarters. "It's a very unusual size for a slave quarter," Luckenbach said. "Most slave quarters are small things. This is more like a dormitory." Luckenbach said slave quarters were typically 20 by 16 feet or even 20 by 12 feet, about the size of a large shed or single-car garage. The slave quarters found at Scott's Plantation were more than twice that size: 34 by 34 feet. "The foundation of this thing is so massive, we strongly suspect it had two stories," Luckenbach said. Other discoveries beneath the dirt included a stirrup, a button from a 19th-century Navy uniform, a 19th-century ring, an 18th-century tin glazed pottery shard, a piece of a blue transfer print teacup, wine bottle bases, several other buttons, and porcelain and glass fragments.
http://www.capitalgazette.com/news/archaeological-dig-finds-massive-slave-quarters-in-crownsville/article_b00e7332-11e3-5f62-b2dd-a579d6397821.html
GRECE –
 Kifisia - A wine-cup believed to belong to ancient Greek politician Pericles was discovered on Wednesday in an ancient tomb, in Kifisia, northern Athens, Greece. The ancient tomb came to light during excavations for the foundations of a new building. The wine-cup, measuring 8 centimeters in height, was found shattered into 12 pieces. After the archeologists put the pieces together, they were surprised to find the name "Pericles" engraved under one handle, along with the names of five other men, Aristides, Diodotos, Daesimos, Ariphron and Efkritos. Archaeologists are "99 percent" sure that the cup was used by the Athenian politician and that Ariphron was Pericles' elder brother. "The name Ariphron is extremely rare. Having it listed above that of Pericles makes us 99 percent sure that these are the two brothers," Angelos Matthaiou, secretary of the Greek Epigraphic Society, told newspaper Ta Nea. The cup was likely used in a wine symposium when Pericles was twenty years old and the six men who drank from it engraved their names as a memento, Matthaiou said. According to archaeologist Galini Daskalaki, the cup was then given as a gift to another man named Drapetis (escapee in Greek) who was possibly a slave servant or the owner of the tavern. This rare and important finding will be displayed in the autumn at the Epigraphical Museum in Athens. Pericles was born in Athens in 495 BC. He was one of the most eminent and revered figures of ancient Greece as he reigned during the Golden Age of Athens. He died of the plague in 429 BC during a Spartan siege.
http://greece.greekreporter.com/2014/07/30/wine-cup-belonging-to-pericles-discovered/?