30 DECEMBRE 2015 NEWS: Cwmcelyn - Kadirli - Iksan - Erzurum -
30 DECEMBRE 2015 NEWS: Cwmcelyn - Kadirli - Iksan - Erzurum -
INSTITUT SUPERIEUR D'ANTHROPOLOGIE
INSTITUTE OF ANTHROPOLOGY
ONLINE COURSES / COURS A DISTANCE
WINTER TERM : JANUARY 2016
REGISTER NOW
ROYAUME UNI –
Cwmcelyn - Remains of an ancient shepherd's hut dating from the Bronze Age – around 4,500 years ago – have been discovered in a Blaenau Gwent valley. The prehistoric hut was discovered on a private farm at the top of the Cwmcelyn valley, near Blaina, and is the first Bronze Age hut to be found in Blaenau Gwent. The site is a circular platform cut into the side of the hill and would once have been a small house home to prehistoric shepherds or farmers. It is believed the farmers would have used the huts in summer when they brought their sheep and cattle onto the top of the hills for summer grazing. Mr Fewings said the owner of the land, Anthony Price, knew the site was there but had been told it was from where sheep feeders were put on the ground. Mr Fewings said: "Mr Price also found some flint on the site dating from the Neolithic period which was 9,000 years ago so we know people have been using this valley for 9,000 years."
http://www.southwalesargus.co.uk/news/14172305.Ancient_shepherd_s_hut_dating_from_more_than_4_500_years_ago_discovered_by_chance/
TURQUIE -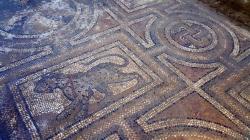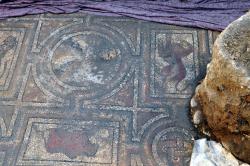 Kadirli - Ruins of a Roman-era bath and a floor mosaic have been discovered while drilling at a third degree archaeological site in the central Anatolian Osmaniye's district of Kadirli. A construction company that wanted to build a structure on the Dere neighborhood Şehit İsmail Işıkbol Avenue asked the Osmaniye Museum Directorate to make drilling work. Then the museum has initiated works in the field and found the ruins of a bath, which is believed to date back to the Roman era. Next to the ruins were floor mosaics featuring bull, deer and lion motifs. The area of the historical ruins was put under protection and the museum has reported that the archaeological excavations would begin its search for other ruins.
VIDEO = http://www.hurriyetdailynews.com/historic-bath-and-mosaics-found-in-central-anatolia-.aspx?pageID=238&nid=93063
COREE DU SUD -
Iksan - Restoring the seventh-century Baekje-era stone pagoda at the UNESCO-registered Mireuksa Temple site in Iksan, North Jeolla Province, has been a daunting task for archaeologists. There were no proven historical records that could guide experts to recreate the original form of the ancient Buddhist pagoda. n 1999, the Korean government decided to restore the 1,300-year-old pagoda, which was showing severe signs of instability and decay. It took a decade to disassemble. Along the way, archaeologists found sariras and other artifacts, which revealed the pagoda's original construction year. Built in A.D. 639, the Mireuksa temple was a symbol of spiritual guidance and support for Baekje in its final years, amid growing threats from neighboring kingdoms. Baekje dissolved 21 years later, when it was defeated by an alliance between the Silla Kingdom and the Tang Dynasty of China. Over the centuries, the pagoda observed the collapse of 700-year-old Baekje Kingdom and the rise of three new kingdoms afterward. It slowly deteriorated until it partially collapsed in the 18th century. A Joseon-era document depicted the pagoda standing seven stories tall, with piles of bricks supporting the pagoda to prevent its collapse. The pagoda decayed further to near collapse in the early 1900s. The destruction was shabbily prevented by covering the back of the pagoda with 185 tons of concrete during the Japanese colonial period.
http://www.koreaherald.com/view.php?ud=20151229001028
TURQUIE –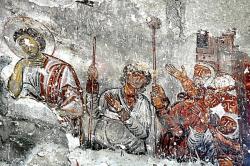 Erzurum - The Osvank Church, which was built nearly 1,000 years ago in the eastern province of Erzurum, is ready for restoration but still waiting for steps to be taken by Georgian officials before work can begin. The largest church in the region, Osvank was built by the sons of a Georgian king, Bagrat and Davit, in the second half of the 10th century. For the restoration of the church, which is at risk of collapsing, Turkey and Georgia signed a protocol and reached a verbal agreement. In accordance with the protocol, the Georgian side should start the restoration of a Turkish mosque in their country.
http://www.hurriyetdailynews.com/diplomatic-delay-in-historic-churchs-restoration-.aspx?pageID=238&nid=93180