30 AVRIL 2013 NEWS: Con Co Ngua - Miami - Carr's Fort - Lewes - Chitral -
30 AVRIL 2013 NEWS: Con Co Ngua - Miami - Carr's Fort - Lewes - Chitral -
INSTITUT SUPERIEUR D'ANTHROPOLOGIE
INSTITUTE OF ANTHROPOLOGY
ONLINE COURSES / COURS A DISTANCE
SUMMER SESSION : JULY 2013
REGISTER NOW 
VIET NAM –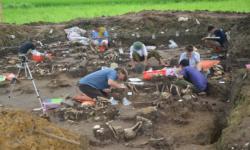 Con Co Ngua - An archaeological dig led by Dr Marc Oxenham from The Australian National University's School of Archaeology and Anthropology has uncovered possibly the earliest cemetery site in Southeast Asia. More than 140 ancient burials including men, women, teenagers and children have been recovered from the site in the Thanh Hoa province in Northern Vietnam. The burial site, known as Con Co Ngua, is believed to have existed sometime between 5,000 and 6,000 years ago. Rising sea levels helped preserve the site under a thick cap of marine clay. "Archaeological cemeteries and living sites of such antiquity are all but unknown in the region, with only a handful of burials from a number of cave sites previously known," Dr Oxenham said. Most of the bodies from the site were buried in a squatting position with their hands clasped in their laps and chins resting on their knees. Further research revealed the bodies were most likely wrapped tightly prior to burial and placed in circular earth pits with perishable items such as cuts of meat from buffalo or deer. "The significance of this discovery - apart from its great age, size, plethora of artifacts and amazing level of preservation - is that it represents a crucial period in the archaeology of Southeast Asia," Dr Oxenham said. The discovery tells us that the Con Co Ngua people are likely descendants of the original colonisers of Southeast Asia and Australia. In fact, putting flesh back on their bones would reveal people that looked a lot like modern day indigenous Australians and Melanesians.
http://sciencealert.com.au/news/20130105-24317.html 
USA –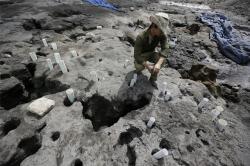 Miami - Here are three smooth concrete steps leading down to a tiled floor, a remnant of industrialist Henry Flagler's grand Royal Palm Hotel, which gave birth to modern Miami and its tourism industry. There are the brick bases of the columns that once held up the hotel's famed veranda. A few more steps bring you to a pattern of ancient postholes bored in the bedrock, likely for Tequesta Indian village structures and likely well more than 1,000 years old. And then perhaps the most remarkable find: the worn limestone of the original shoreline at the confluence of the Miami River and Biscayne Bay, long ago covered with fill as Flagler and his successors extended the downtown land mass for development. Carr, who discovered the Miami Circle on the south bank of the river's mouth in 1998, says he now believes the Tequesta settlement extended to both sides of the river, and may have reached as far west as Miami Avenue and as far north as present Flagler Street. It was long known that the Tequestas, a tribe of hunters and fishermen, thrived on the north bank of the river for some 2,500 years before European disease wiped them out in the 1700s. To build his hotel, Flagler's engineers flattened and removed a Tequesta burial mound; those remains are probably buried under a nearby office building, Carr believes. An Indian midden, or refuse mound, is preserved beneath the pool deck of the Hyatt hotel nearby.
http://www.miamiherald.com/2013/04/30/3373443/archeologists-find-ancient-indian.html 
USA – Carr's Fort - Archaeologists with the LAMAR Institute discovered the location of Carr's Fort, a significant frontier fortification that was attacked on February 10, 1779. The month-long search by a team of six researchers encompassed more than 2,700 wooded acres of the Beaverdam Creek watershed. Battlefield archaeology at Carrâ's Fort yielded about a dozen fired musket balls, several musket parts and several hundred iron and brass items from the 18th century. Robert Carr was a Captain in the Georgia Patriot militia and by 1778 his frontier home became a fort for more than 100 soldiers. In late 1778, the British launched a campaign to reclaim the southern colonies, which included a major recruitment effort among the frontier settlers. On February 10, Carr's Fort was occupied by 80 Loyalists (Tories) led by captains John Hamilton and Dougald Campbell. Almost immediately, 200 Georgia and South Carolina Patriot militia, who had been hot on the trail of the Loyalists, laid siege to the fort in an attempt to take it back. An intense fire fight raged for several hours, in which more than a dozen were killed or wounded on each side. Patriot forces, commanded by Colonel Andrew Pickens, were ordered to break off the siege after he received word of that larger party of 750 Loyalists advancing from the Carolinas. The Patriots rode off taking the Loyalist's horses and baggage with them. The Loyalists marched several hundred miles back south to rejoin the main British invasion force. Several weeks later, Captain Carr was killed at his home by a raiding party of Loyalist Creek Indians, while his wife and children escaped.
http://www.thecoastalsource.com/2013/04/30/archaeologists-discover-revolutionary-war-fort/ 
ROYAUME UNI –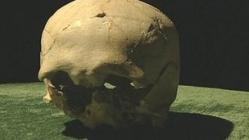 Lewes - Tests are under way on a skeleton found in an East Sussex town to find out if it could be a casualty of the 1264 Battle of Lewes. Edwina Livesey, from the society, said the remains were found years ago when a school was demolished in Lewes. She said that at the time archaeologists excavated a medieval cemetery containing a number of skeletons, of which Skeleton 180 was one. This particular skeleton had a skull showing sword wounds and a large number of blows to the head, and the site would have been in the centre of the battlefield, she added. But she said: "The question is, why is he in this cemetery? Because the other victims were all slung into a pit." Ms Livesey said carbon testing could establish its age to within about 65 years, but from looking at the skeleton the body was that of a man, aged 35 to 40, and a "big powerful bloke very much in the prime of his life". She said the skull also showed severe tooth decay, which would have been the result of gritty bread made in medieval times that took several minutes to chew. But she said if the skeleton was found to be from the Battle of Lewes, then he would "absolutely" have a starring role. The society has described the clash between the armies of King Henry III and rebel baron Simon de Montfort - which saw the king's defeat and the summoning of England's first representative parliament - as an "early struggle for democracy".
http://www.bbc.co.uk/news/uk-england-sussex-22357869 
PAKISTAN –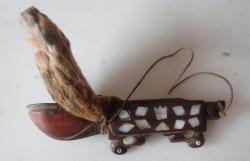 Chitral - The wooden spoon depicted above comes from the culture of the Kalash, a tribe living in Chitral, Pakistan, often seen as descended from Alexander the Great's troops.  This spoon, covered with hare skin, was used during rites associated with fertility of the soil, during which the Kalash were planting seeds in order to raise good crops. The spoon handle was tied by a cord which had to be tied around the cult performer's wrist, so that the spoon won't fall down -as every wrong move is considered a bad auspice in such kind of rites. The handle also bears a relief decoration of two hares. This decorative pattern, alongside the use of hare skin, is associated with the fertility of hares who give birth to many offspring at once and many times. Through ritual, this fertility was passing to the soil.
http://www.archaiologia.gr/en/blog/2013/04/30/a-spoonful-of-fertility/