Rany Mostafa
Source - http://www.thecairopost.com/news/165374/culture/3500-yr-old-egyptian-mummy-shows-earliest-death-of-heart-failure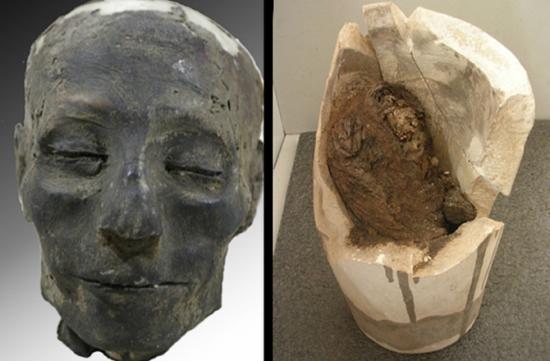 Nebiri's mummified head at left and, at right, the broken canopic jar containing Nebiri's lungs. FONDAZIONE MUSEO DELLE ANTICHITÀ EGIZIE/RAFFAELLA BIANUCCI
Remains of internal organs of a 3,500-year-old Egyptian mummy have revealed he died of acute heart failure, according to the Archaeology Magazine.
The remains, which belong to Nebiri; the "Chief of Stables" during the reign of the 18th Dynasty Pharaoh Thutmoses III (1479B.C-1424B.C.,) "represents the evidence for the earliest chronic heart failure in mummified remains and the oldest example of a man to have died out of such disease," Raffaella Bianucci, an anthropologist in the legal medicine section at the University of Turin announced during the 11th International Congress of Egyptology held in Florence Aug. 23-30, 2015.
Bianucci, along with a team of researchers from the Universities of Turin, Munich and York told the Archaeology Magazine they have detected "evidence of calcification in the right internal carotid artery, consistent with a mild atherosclerosis."
The remains; namely the mummy's head along with its lungs stored in one of four canopic jars used to store the deceased's inner organs, were found in Nebiri's disturbed tomb excavated by the Italian Egyptologist Ernesto Schiaparelli in 1904 in the Valley of the Queens, west of Luxor. The remains are currently at the Egyptian Museum in Turin, Italy.
"When the heart is not able to pump efficiently, blood can back up into the veins that take it through the lungs. As the pressure increases, fluid is pushed into the air spaces in the lungs," Archaeology Magazine quoted Bianucci while detailing the findings at the conference.
According to ancient Egyptian mythology, a well-preserved body was important so that the person's soul could recognize the body when they were resurrected.
The process of mummification, which took 70 days, is based on two stages: the embalming of the body through dehydration and its wrapping with linen and textile bandages.
"Nebiri was middle aged — 45 to 60 years old — when he died. He was affected by a severe periodontal disease with massive abscesses, as revealed by Multidetector Computed Tomography (MDCT) and three-dimensional-skull reconstruction," Bianucci said.