29 OCTOBRE 2015 NEWS: Omø - Fourni- Mooghane -
29 OCTOBRE 2015 NEWS: Omø - Fourni- Mooghane -
INSTITUT SUPERIEUR D'ANTHROPOLOGIE
INSTITUTE OF ANTHROPOLOGY
ONLINE COURSES / COURS A DISTANCE
WINTER TERM : JANUARY 2016
REGISTER NOW
DANEMARK –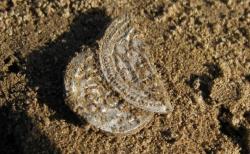 Omø - A Danish amateur archaeologist has made a stunning find on the island of Omø just off the coast of southern Zealand. The discovery – which consists of rare silver treasure dating back to the Viking era – was made when Robert Hemming Poulsen paid a work trip to Omø to lay fibre optic cables. He brought his metal detector along and hunted for buried treasure after work. "A treasure like this is found once every 10-15 years," said Hugo Hvid Sørensen, a curator from Museum Vestsjælland, where the treasure is now on display. "It contains many items and is extremely well kept because it has been buried in sandy earth. Poulsen made the original find back in September, after which Museum Vestsjælland was authorised by the culture authority Kulturstyrelsen to handle the excavation of the site, which was completed yesterday. Sørensen contended that the find was important as it will enlighten experts about one of Denmark's earliest periods. "It's very rare to have found so many Harald Blåtand [Harald Bluetooth] coins – one of the earliest coins of that era," said Sørensen.
http://cphpost.dk/news/amateur-archaeologist-finds-viking-treasure-on-danish-island.html
GRECE –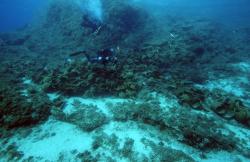 Fourni - Archaeologists doing an underwater survey in the Aegean Sea in Greek territorial waters have found an amazing 22 shipwrecks of merchant vessels that sank between 700 BC and the 16th century AD. The researchers have surveyed just 5 percent of the coasts of the Fourni archipelago and expect to find many more shipwrecks there when they return to continue their survey. The Fourni archipelago covers an area of 17 square miles (44 square kilometers) between the islands of Icaria and Samos and is right in the middle of an ancient east-west trade route and another route running north to south that connected the Aegean and Black Sea area to the Levant of the eastern Mediterranean.
http://www.ancient-origins.net/news-history-archaeology/22-shipwrecks-spanning-ancient-era-renaissance-discovered-aegean-020597
IRLANDE –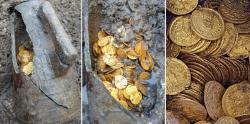 Mooghane - A hoard of elaborate gold ornaments was discovered by workmen engaged in building the railway line from Limerick to Ennis near Newmarket-on-Fergus in March of 1854. The discovery was made when a number of labourers digging near the railway bridge in Mooghane North undermined a box made of rough stones which contained a mass of gold ornament – armlets with cup-ends, thin gorgets, many circular fibulae, large bracelets with cup – shaped hollowed ends, a gold crown with ten points, a gold ring, and a splendid crescent collar of sheet gold and some ingots of gold of the purest description. A later study of these objects show that they all belong to the latter period of the Bronze Age and all appear to have been personal ornaments. Unfortunately following the excitement and the scramble resulting from such a discovery many of the objects were sold for trifling sums and many more were melted down for the value of the metal. If the Clare find had been preserved in its entirety it would have proved to be the largest collection of gold objects ever discovered in Europe. Casts were made of several objects and these have been preserved in the Royal Irish Academy. Mooghane is the most extensive hillfort in the county, with several acres of ground encompassed within its treble walls. It is located about 1.5 miles east of Newmarket and adjacent to the parklands on the Dromoland Castle estate.The Mooghane (Mooghaun) hoard, c.800BC is on display at the National Museum of Ireland – Archaeology, Kildare Street, Dublin 2.
http://clareherald.com/2015/10/clare-facts-the-mooghane-gold-discovery-056/