29 NOVEMBRE 2011 NEWS
29 NOVEMBRE
INDI-UNI : ANTHROPOLOGY - ARCHAEOLOGY
INSCRIPTION 2012 COURS A DISTANCE
REGISTRATION 2012 ONLINE COURSES
ISLANDE –
Þegjandadalur - Archeological research of pagan graves in the valley Þegjandadalur in Suður-Þingeyjasýsla county in northeast Iceland support the theory that ritual human sacrifice was practiced during paganism in Iceland. An L-shaped turf wall was discovered in Þegjandadalur, which is believed to have been constructed before Icelanders converted to Christianity in 1000 AD, Morgunblaðið reports. In a large hole in the wall fractions of a human skull were found, a jawbone of a cat and various other animal bones, including a sheep jawbone and a several cattle bones. In a small grave up against the turf wall bones of a newborn baby in their original resting place were discovered. The discovery was reported on in the journal of Urðarbrunnur, the science association at Laugar in the rural district Þingeyjarsveit. The association's chairman, Unnsteinn Ingason, described it as very interesting and strange. "What gives the imagination free rein is the combination of bones," he said. "Remains of bones in a hole are not peculiar as such, it could, for example, have been a garbage hole, but cannibalism was not practiced and cats have never been eaten in Iceland so these bones shouldn't belong together in a garbage hole," he reasoned. Archeologist Lilja Pálsdóttir, who participated in the excavation, said it cannot be confirmed with any certainty that this is evidence of ritual human sacrifice. "It is a known phenomenon to place sacrifices in a hole in the wall—the Romans did it when they built houses and often used the bones of newborns," she said. "I wouldn't say that one can confirm anything about human sacrifices, although the combination of bones is interesting. We don't know whether it indicates a ritual sacrifice as not much is known about sacrifices in Iceland at this time," Lilja concluded.
http://www.icelandreview.com/icelandreview/daily_news/Archeological_Discovery_Indicates_Human_Sacrifice_0_384946.news.aspx
NIGERIA - In January 1974, the natural history museum was established as an autonomous unit, starting with the collection of the exhibits of the Zoology Department of the university. In the 1990/91 academic session, the Department of Archaeology in the university was merged with the Natural History Museum, thus expanding its scope of activities to include Archaeology and Cultural Anthropology. And in 1992, the NHM was upgraded to the status of an autonomous institute, while the plan for a permanent building for the museum was still a work in progress. Some of the (scientific) researches conducted were in the areas of Characterisation of glass and bead making tradition of the Yoruba. This has been adjudged the most comprehensive research on ancient glass chemistry in Africa. •Provenance studies on soapstone statues in an archaeological context. •Provenance studies and materials characterisation of ancient ceramic objects. •Technological evaluation of ancient metallurgical advances of the Yoruba of South-western Nigeria. •Archaeological /Anthropological survey of natural, cultural and historical sites for tourism development in Nigeria. •Inventory of geological, biological, anthropological and archaeological diversity of Idanre Hills, Ondo State of Nigeria. •Multidisciplinary survey of Igbo-Oje abandoned settlement in Ogbomoso South Local Government area of Oyo State of Nigeria. The archaeological exhibition : This consists of replicas of the famous Ife potsherd pavements, traditional Iron smelting techniques, stone artifacts, and ritual objects. It also includes the photographic exhibition of tourism sites In Nigeria and glass beads artifacts from Ile-lfe and Neollithic stone axes from Nsukka, Nigeria.
http://tribune.com.ng/index.php/tourism/32027-home-of-african-heritageharbours-20000-plant-spacimensadjudged-most-comprehensive-research-of-glass-chemistry-in-africa
AUSTRALIE –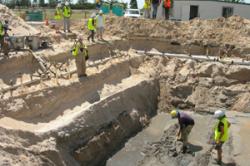 Bunbury - Both The City of Bunbury and Museum of WA have labelled the excavation of a carpark on Koombana Drive worthwhile due to the public interest it generated. The search for two American whaling ships ended on Monday after the eight-day dig. Wooden structures and iron pieces were found at the site although WA Museum Department of Maritime Archaeology curator Ross Anderson was hesitant to name whether the finds were in fact the Samuel Wright or North America. Mr Anderson said that the project had brought important pieces of local history into the spotlight. Mr Anderson said three prospective sites had been discovered.
http://www.bunburymail.com.au/news/local/news/general/excavation-worthwhile-city-of-bunbury/2375157.aspx
USA – Alaska - A Purdue University professor of archaeology plans to study copper tool use among ancient Ahtna people in Alaska's Copper River basin, according to an article at spacemart.com. The effort, funded by the National Science Foundation, involves helping area Alaska Native youth understand how their ancestors once made tools. Native copper from the region can be worked without smelting or melting and is thought to have been used in tools in North America and the Near East thousands of years ago. H. Kory Cooper and his team will replicate tools found at an archaeological site near the Ahtna village of Gulkana, believed to exist around A.D. 900-1200. Using native copper nuggets and traditional techniques, they'll make an awl, a common tool used to punch holes in leather for sewing, among other things. Cooper's collaborators on this project include the Ahtna Heritage Foundation and the University of Alaska Museum of the North at the University of Alaska Fairbanks.
http://www.alaskadispatch.com/article/copper-tool-use-among-ahtna-people-subject-study
USA - Rogers Island - They ranged in age from 20 to 45, stood between just over 5 feet 3 inches to 5 feet 9 inches tall, and most of them were male and intact, except for the one missing its skull. Five years after human skeletons were uncovered on a historic island in the upper Hudson River by a husband-and-wife team of amateur archaeologists, New York state officials are revealing what professional archaeologists learned from the remains. Evidence found in seven unmarked graves unearthed on Rogers Island in 2006 suggests the site was a military cemetery during the French and Indian War, according to archaeologists at the New York State Museum. Christina Rieth, the state's chief archaeologist, believes the site in the village of Fort Edward likely contains a large cemetery dating back to the 1750s, when Britain established its largest fortification in North America on the east bank of the upper Hudson, 45 miles north of Albany.
http://online.wsj.com/article/AP8327a78300a54104a1e4a0fb70117f0d.html