29 MARS 2016 NEWS: Thotlakonda - Bavikonda - Waterloo - Portsmouth - Londres - San Francisco - Kothaiyurumbu - Pazzur - Heraion Teikhos -
29 MARS 2016 NEWS: Thotlakonda - Bavikonda - Waterloo - Portsmouth - Londres - San Francisco - Kothaiyurumbu - Pazzur - Heraion Teikhos -
INSTITUT SUPERIEUR D'ANTHROPOLOGIE
INSTITUTE OF ANTHROPOLOGY
ONLINE COURSES / COURS A DISTANCE
SPRING TERM : APRIL 2016
REGISTER NOW
INDE –
Thotlakonda / Bavikonda - The treasure trove of Buddhist heritage sites, dating between 3rd century BC and 3rd century AD, located in the three north Andhra districts of Srikakulam, Vizianagaram, and Visakhapatnam, are a mute reminder of the popularity of Buddhism in the North Andhra region more than 2,000 years ago.nThe State Department of Archaeology and Museums took up restoration and reconstruction of the heritage structures of Thotlakonda and Bavikonda in a scientific manner and the sites are expected to regain their original shape by the end of this month. "The Mahastupam, along with its five parts, 11 votive stupas, and three circular chaityagrihas are some of the structures found here. The vruttakara chaityagriha, with two entrances, one on the East and the other on the West, is unique to this site and has features of Roman architecture," says Ch. Lakshmana, a tourist guide at Thotlakonda.
http://www.thehindu.com/news/cities/Visakhapatnam/restoration-work-apace-at-thotlakonda-bavikonda/article8392081.ece
CANADA –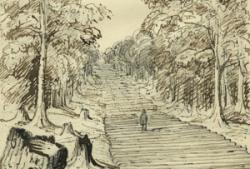 Waterloo - Construction crews working on King Street in Waterloo to make way for light rail transit have dug up a historic corduroy road. "Late yesterday it was identified that it was a corduroy road, so it is an archaeological feature that we need to get more information on, so we're still in the midst of that investigation," Avril Fisken, manager of communications for GrandLinq, told CBC News Tuesday morning. A corduroy road was paved with logs and sand, laid tightly together across the direction of travel in the same manner as railway ties. Although an improvement over traveling through mud or swamp, a pioneer's corduroy road could present a hazard to horses due to logs shifting beneath their feet. Kate Hagerman, a cultural heritage specialist with the Region of Waterloo, said corduroy roads would have been built in wet or swampy areas. "They would have put the trees down to help vehicles not get stuck in the mud," she said. The road likely dates back to before 1877, Hagerman said. "That's been a road for a long time, so there's layers and layers of what people have done to keep it and maintain it," she said. "It would have been from the earliest historic development of the region."
http://www.cbc.ca/news/canada/kitchener-waterloo/waterloo-corduroy-road-found-king-street-lrt-construction-1.3502375
ROYAUME UNI -
Portsmouth - The remains of two First World War German destroyers have been identified in Portsmouth Harbour. The ships, one of which fought at the Battle of Jutland 100 years ago, were taken as war trophies by Britain in 1919 and used for target practice before being sold for scrap.
http://www.portsmouth.co.uk/our-region/portsmouth/first-world-war-german-destroyers-found-in-portsmouth-harbour-1-7296572#ixzz43vqyVBuw
ROYAUME UNI –
Londres - A 4th century pottery piece which was overlooked during excavations on a London street in 1970 is a rare example of Christian symbolism from Roman Britain, according to archaeologists who say a monogram of the first two letters of the Greek Khristos Christ is etched into the shard. The Oxfordshire pottery was rediscovered among hundreds of fragments from digs at Brentford High Street – one of several carried out during a programme of rebuilding almost 50 years ago, when archaeologists discovered the line of the Roman road between Londinium and the west of Britain and the town developed from the construction of the road to Silchester. "At first we noticed there was some sort of mark on the pot and then quickly realised the significance of what we had", says Adam Corsini, the Archaeology Collections Manager for Museum of London Archaeology.
http://www.culture24.org.uk/history-and-heritage/archaeology/art549792-christian-symbol-roman-britain-greek-christ
USA –
San Francisco - Ninety-five years ago, the World War I era Navy tug vanished with 56 crewmembers aboard Today, NOAA and the U.S. Navy announced the discovery of the USS Conestoga (AT 54) in the Greater Farallones National Marine Sanctuary off San Francisco, 95 years after the Navy seagoing fleet tugboat disappeared with 56 officers and sailors aboard. The discovery solves one of the top maritime mysteries in U.S. Navy history. On March 25, 1921, Conestoga departed the Golden Gate en route to Tutuila, American Samoa via Pearl Harbor, Hawaii. When Conestoga failed to reach Hawaii by its anticipated arrival date the Navy mounted a massive air and sea search around the Hawaiian Islands, the tug's destination. Nearly two months later, on May 17, a merchant vessel found a battered lifeboat with the letter "C" on its bow off the Mexican coast leading to a search there. For months, the ship's mysterious disappearance gripped newspapers across the country. Unable to locate the ship or wreckage, the Navy declared Conestoga and its crew lost on June 30, 1921. This was the last U.S. Navy ship to be lost without a trace in peacetime.
http://sanctuaries.noaa.gov/news/press/2016/noaa-discovers-wreck-of-uss-conestoga.html
INDE –
Kothaiyurumbu - Several petroglyphs, which are engravings on rocks, have been found on a hill situated Kothaiyurumbu village, about 28 km from Dindigul in Tamil Nadu. Petroglyphs are a form of rock art. P. Murugan, who is doing his Ph.D. on the Archaeology of Dindigul district, discovered these petroglyphs on two rocks adjacent to a Murugan temple which is in ruins on top of the Kothaiyurumbu hill. He estimated that the engraving could be dated to Iron Age (circa 1,600 BCE to circa 600 BCE) because he found a lot of black and red ware, and iron slag scattered around the boulders with the petroglyphs. Murugan explained that black and red ware, and iron slag were associated with the Iron Age. "It is significant that petroglyphs, black and red ware and iron slag are found in the same place, close to one other," he said. The petroglyphs on the Kothaiyurumbu hill portray various patterns and they are deeply cut. Specialists in rock art in Tamil Nadu said the petroglyphs found on the Kothaiyurumbu hill constituted an "important discovery" and that they were similar to the petroglyphs found at Perumukkal village in Villupuram district. The engravings at Perumukkal have a remarkable resemblance to the petroglyphs found in the Edakkal caves in Wyanad in Kerala
http://www.thehindu.com/todays-paper/tp-features/tp-fridayreview/new-pointer-to-petroglyphs/article8394198.ece
INDE –
Pazzur - In a significant discovery, archaeologists excavating the early historic site located between Pazzur-Yarragaddaudem villages of Thipparthy mandal unearthed a huge 16-metre-long brick wall of a house that is believed to have been constructed some 1,800 years ago. Assistant Director P. Nagaraju said that the inhabitants of 2nd Century AD habitation had used light-weight bricks made in various sizes to construct their houses. The biggest brick was measuring 58 cm long, 28 cm wide and 9 cm high, the longest ever found in excavations in the past in Telangana and Andhra Pradesh. Earlier, the archaeologists had found 56-cm-long bricks at various early historic sites. The excavation is being continued at Pazzur site as they are yet to find the end of the brick wall. An horn of a deer was also unearthed at the site on Wednesday by the archaeologists, which proved that the inhabitants hunted wild animals for a living. Apart from it, a huge number of beads and bangles made of various kind of materials, terracotta toys, and pottery were also found at the site. Terracotta toys of animals such as dog, ram, pig, besides fossils of human legs and others were found. Ornamental beads made with terracotta, jasper, conch shell, glass, steatite, carnelian and others were also found.
http://www.thehindu.com/todays-paper/tp-national/early-historic-wall-surfaces-in-telangana/article8394924.ece
TURQUIE –
Heraion Teikhos - A large number of artifacts from the Thracian civilization have been unearthed during archaeological excavations which have been continuing for 16 years in the northwestern province of Tekirdağ. The Thracian people, who lived in Thrace, Bulgaria and Northern Greece in the ancient ages, were known as the world's most populous tribe after Hindus, according to Greek historian and ancient writer Heredot. The head of Namık Kemal University's Archaeology Faculty, Prof. Neşe Atik, said the civilization which gave its name to the Thrace region reached out to Bulgaria, Romania,Greece and western Anatolia Stating that the amount of research and excavations related to the history of the Thracian civilization was less than other civilizations, Atik added, "This is why the artifacts unearthed in the ancient city of Heraion Teikhos in Tekirdağ reveal facts about this civilization. The data we obtain in Tekirdağ is very important. The historical data about Thrace is displayed in the Tekirdağ Archaeology Museum. It is known that Turkey has many Thracian cities but Tekirdağ is the first city to be excavated." Atik said the Thracian people were warriors who lived in tribes, adding there were many aspects of this ancient civilization of various kingdoms which still needed to be brought to light. He said the archaeological findings from Tekirdağ drew great interest, particularly from abroad. "Excavations ongoing since 2000 have brought us a few important pieces of data. One of them is that the Thracian priests were doctor priests at the same time. We have found a holy field there. They believed in the god of health and the priests worked as operators just like today's doctors. We have found medical tools that are very similar to current ones. We have also found furnaces that served to produce medicine. But we were able to remove it as a whole. There was medicine in it, too," he said.
http://www.hurriyetdailynews.com/northwestern-city-sheds-light-on-thracian-mystery-.aspx?pageID=238&nID=96866&NewsCatID=375