29 MARS 2012 NEWS : Naxos - Marlow - Petersfield - Sacilis Marcialis - Saint Lizier -
29 MARS 2012 NEWS : Naxos - Marlow - Petersfield - Sacilis Marcialis - Saint Lizier -
INSTITUT SUPERIEUR D'ANTHROPOLOGIE
 INSTITUTE OF ANTHROPOLOGY
ONLINE COURSES / COURS A DISTANCE  
 INSCRIPTION  2012 /  Session III : Juillet 2012
   REGISTRATION 2012 /  Term III : July 2012
GRECE –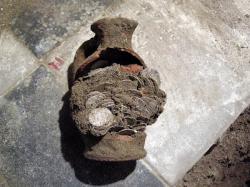 Naxos -  Archaeologists in Greece have found over fifty Venetian silver coins dating to the 14th century AD, hidden in a Renaissance-era piggy bank, the culture ministry said on Tuesday. The 54 silver coins known as grossi were found at a coastal village on the Aegean island of Naxos next to a shattered clay jar containing additional coins. They bear the likeness of at least three doges, the elected leaders of the Republic of Venice which was one of the maritime superpowers of the Renaissance period. Archaeologists have identified doges Bartolomeo Gradenigo, Giovanni Soranzo and Andrea Dandolo, who successively ruled the republic from 1329 to 1354, the ministry said. Naxos was among many Greek islands ruled by Venice from the 15th century to the early 18th century during a long struggle for supremacy in the eastern Mediterranean against the Ottoman Turks.
http://www.ekathimerini.com/4dcgi/_w_articles_wsite1_1_27/03/2012_434995
ROYAUME UNI –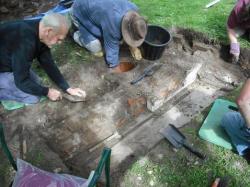 Marlow - Historical detectives may have uncovered evidence of a 16th century chapel at a public park in Marlow. Members of the Marlow Archaeological Society, excavating Rookery Park, have found a chalk block wall at the site which may date back to the 1500s. The group set out primarily to find out more about a 'significant' 18th century farm – which may actually date back much further – and a house built in 1850 and demolished in the 1960s. But the time sleuths appear to be on the trail of a much older discovery.
http://www.bucksfreepress.co.uk/news/localnews/marlow/9621008.Archaeologists_find_possible_16th_century_chapel/
ROYAUME UNI –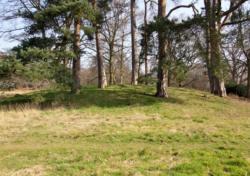 Petersfield – Petersfield Heath is set to become the focus of a high tech archaeological dig. The 21 Bronze Age burial barrows on the heath are "unique" say experts and should be painstakingly investigated. Once that is done, the next step could be a careful excavation of some. One enthusiastic supporter is Petersfield Museum acting curator Victoria Guest. She said: "The barrows haven't been properly studied, surveyed and excavated. "They are thought to be unique in Great Britain, in number and layout, and should be properly documented and recorded. They were inexpertly excavated many years ago, but with the advances in modern surveying technology we could learn an immense amount from them now." The project timetable suggests work should begin with an assessment of how the barrows fit into pre-history, and to try to understand their importance. Then the whole heath will be carefully surveyed to pinpoint the precise position of each mound, and to ensure none have been overlooked. Then a geophysical survey of each barrow, and the ground between them, will be carried out and may show where huts, cattle pens or field walls once were. A high tech aerial survey will produce pictures of the heath without vegetation and could reveal bigger settlements used by Bronze Age people 3,000 years ago. It is also hoped areas suitable for excavation will be identified.
http://www.petersfieldpost.co.uk/lifestyle/entertainments/days-out/mysteries-of-heath-barrows-are-about-to-be-revealed-1-3674352
ESPAGNE –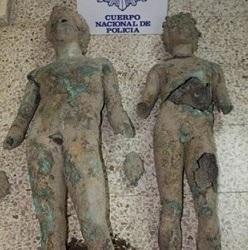 Sacilis Marcialis - A pair of first century bronze statues about to be sold on the black market have been recovered by police in Jaen.  The Roman figures, valued at six million euros each, were taken from the ancient Roman site of Sacilis Marcialis and are believed to form part of the Castor and Polix sculpture in Cordoba.  The statues, 1.50m and 1.30m in size, depict two naked males, with each piece weighing about 30 kilos and in a good state of conservation, although one has lost part of his chest and the other his genitals.
http://www.theolivepress.es/spain-news/2012/03/28/roman-statues-rescued-in-spain/
FRANCE - Saint-Lizier - Depuis le 19 mars, une campagne de fouilles préventives a démarré sur le terrain de Saint-Lizier, face à la zone commerciale des Trois Vallées. À ce jour, trois tranchées de 70 centimètres de profondeur y ont été creusées par les archéologues de l'entreprise grenobloise Paléotime. « Nous avons bon espoir de trouver à Saint-Lizier des traces de la fin du paléolithique supérieur (soit 12 000 ans avant J.-C., NDLR) », indique Pascal Tallet, le responsable du chantier.  Pour l'heure, il est encore trop tôt pour confirmer ou infirmer cette hypothèse.
http://www.sudouest.fr/2012/03/29/fouilles-tous-azimuts-672647-1733.php