INSTITUT SUPERIEUR D'ANTHROPOLOGIE
INSTITUTE OF ANTHROPOLOGY
ONLINE COURSES / COURS A DISTANCE
SUMMER TERM : JULY 2014
REGISTER NOW
INDE –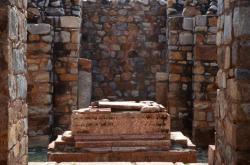 Mehrauli - Emperor Ghiyas ud din Balban's tomb is in a dilapidated state. An eerie silence greets one while approaching the ruins of the Balban Tomb situated in the middle of the sprawling Mehrauli Archaeological Park behind the towering Qutub Minar. Ghiyas ud din Balban (1200-1287) was a Turkish ruler of the Delhi Sultanate. He epitomised indomitable resilience and courage. Though Balban was captured by the mighty Mongols when he was a mere lad and sold as slave at Ghazni, he was able to resurrect himself. If the ugly site of garbage adds insult to the memory of Balban, the fact that not a single representative from the Archaeological Survey of India is present at the site makesone both angry and disappointed. The tomb is certainly not a visitor-friendly place and tourist can be waylaid easily. Therefore it is best to visit the tomb during the daytime with a group of friends.
http://www.thehindu.com/features/metroplus/society/balbans-tomb-lying-in-ruins/article6065322.ece?utm_source=RSS_Feed&utm_medium=RSS&utm_campaign=RSS_Syndication 
ROYAUME UNI –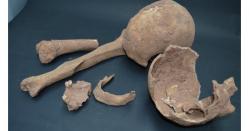 Coventry - Skull fragments have been found during a restoration of a 12th Century building in the city centre. Bones believed to be either leg or arm fragments were also found during the restoration and are thought to be dated back to between the 12th and 16th centuries. The building, located on Hales Street was undergoing a restoration as part of a multi million pound investment scheme to restore the building to an education and exhibition space.  Dr Cathy Coutts, senior archaeologist with Archaeology Warwickshire, said the dig had also revealed evidence about the building's use as a school. "Between the floorboards, we found bits of quills, cigarette packets and part of an old chess piece," she said. "This is a Grade I listed building that's been in use for hundreds of years. There were quite a lot of bones and skulls, including a long bone which you can see has been broken. "The building was in use between the 12th and 16th Century as a hospital, so we suspect a lot of the bones came from that time." It is hoped the finds will go on display in the building when the work is completed yet this is unclear at the moment. 
http://www.coventrynewsandsport.co.uk/index.php/news/1121-human-remains-found-in-old-school
ROYAUME UNI –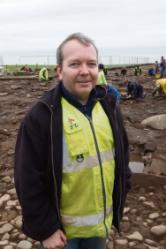 Maryport - An archaeologist has dismissed as nonsense reports suggesting that a Roman harbour has been found in Maryport.John Zant, site director, said that many interesting finds had been made, but a Roman harbour was not one of them. He said: "The idea that we have found a harbour is complete nonsense. It's the least likely place to find a harbour. "Certainly there was a Roman harbour in Maryport, but it has never been found. That has been a theory kicking about for the last 15 years. "We are digging alongside a road that could have possibly led to a harbour." Artefacts found this year include fragments of tableware imported from Gaul and the Rhineland, storage vessels, fragments of fine glass vessels and several items of jewellery, including a jet finger-ring and part of a decorated glass bangle. The remains of a stone building have been removed, revealing earlier Roman remains beneath. One pit has yielded a Samian ware cup in a style that had fallen out of fashion by the early years of the second century AD. The find, with a late first century Samian vessel recovered last year, could mean that the settlement was occupied before the reign of the emperor Hadrian and suggests that there was an earlier Roman fort at Maryport.
http://www.timesandstar.co.uk/news/other/maryport-dig-boss-dismisses-roman-harbour-reports-1.1139516
ROYAUME UNI –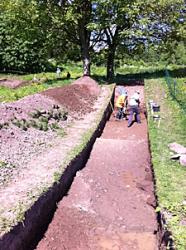 Holt Castle - Archaeologists say new excavations on the flank of a former castle which could have been one of the strongest in Wales should reveal towering artefacts. A mysterious crumbled castle, built by the Earl of Surrey following the defeat of the Prince of Wales in Wrexham in 1282 but abandoned during the mid-17th century, is being investigated by archaeologists who believe they could find the remains of five huge round towers which once surrounded the site. Only the central courtyard remains at Holt Castle, a pentagonal structure designed by John de Warenne and later used as a stone quarry. Experts discovered the foundations of one of the towers, to the west of the courtyard, alongside traces of the entrance tower and a rock-cut ditch during a dig last year. "All the evidence suggests that Holt Castle was once one of the strongest castles in the country," says Stephen Gunter, the Heritage Service Manager for Wrexham Castle.
http://www.culture24.org.uk/history-and-heritage/archaeology/art482871-Archaeologists-investigate-east-side-of-once-mighty-13th-century-Welsh-castle
USA - 
 Connie Bean -  An archaeological salvage dig at the site of the former Connie Bean gymnasium has unearthed a privy, or outhouse, from the mid-1700s. Within the privy were dozens of pieces of broken glassware, many from wine or case bottles used to transport liquor.Kate McCourt, a volunteer with Independent Archeological Consulting LLC, said it is common to find bottles and pieces of pipes in privies. "A lot of drinking and smoking goes on in the bathroom," she said. Privies also served as trash cans, with people tossing all kinds of broken materials into them. "Privies are some of archaeologists' treasure troves," she said, showing the broken pieces of creamware ceramics and glass bottles they found during the dig Thursday. The archaeologists will take their finds back to the lab to be cleaned, processed and researched. McCourt said nothing about the privy's history or its contents can really be said with any certainty at this time. The glass and ceramic pieces will help them date the privy and who may have used it. Located across the street from the Jonathan Warner House on Daniel Street, the site was also under his ownership in the mid-1700s. Some of the recovered ceramic shards also display signs of having been burnt, leading McCourt to wonder if they are survivors of the Great Fire of Portsmouth in 1813.
http://www.seacoastonline.com/articles/20140529-NEWS-140529662
MALTE - Żejtun - A Roman villa is being excavated by University of Malta archaeologists in the village of Żejtun. Uncovered in the 1960s, the Villa has given up some great secrets about Roman and Punic life. The villa was equivalent to an ancient olive oil factory. To survive summer, water was zealously collected and stored underground, while the residents practised intricate religious rituals. Researchers are using sound waves to clean food. The sound forms bubbles which implode killing the bacteria off food. You might think this is science fiction but local researchers are developing this experimental technique to clean food using fewer chemicals and less waste.; Einstein had a problem: gravity. While undoubtedly a genius, his theory of relativity can only explain gravity, which keeps our feet on the ground, by introducing dark energy and dark matter. They are called dark because they have never been seen. Local researchers are trying to find solutions that do not need these dark properties.
http://www.independent.com.mt/articles/2013-06-16/books/a-roman-villa-depression-clean-food-and-einsteins-enigma-1823997956/
ROYAUME UNI –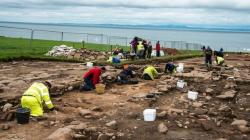 Maryport -A team of archaeologists and volunteers unearthed the remains of what is believed to be a Roman fort and harbor on the coast of northwest England Tuesday. While excavating the remains of a known Roman fort in the town of Maryport in Cumbria, England, the Oxford Archaeology North team, an independent archaeology and heritage practice in Europe, discovered a new fort that might predate the original Maryport one, as well as a harbor north of the site. There is currently no information about the new fort and harbor.Archaeologists and historians believe that the known Maryport Roman fort was originally built before 120 AD, and was an "integral part" of the Romans' coastal defenses extending down the coast of Cumbria as a part of Hadrian's Wall, an 80-mile long wall built in 122 AD to protect the Roman Empire. Funded by philanthropist Christian Levett, the Oxford Archaeology team has been exploring and excavating the known Maryport Roman fort's civilian settlement — northeast of the fort — to understand the daily life of ancient Romans. Site director John Zant told BBC News that the team is now trying to "piece together the complex story" of the Maryport Roman fort. "We're concentrating on a building plot on the west side of the road," Zant said. "It's possible the road linked the fort with a Roman harbor. If this were the case, the road would have been a bustling thoroughfare along which most of the people and goods arriving at Maryport would have travelled." This civilian settlement, in particular, is believed to be the largest along Hadrian's Wall, and is rich with artifacts. The team has found tableware, fragments of glass vessels, storage vessels that contained Spanish olive oil and Gallic wines, as well as jewelry, including the remains of a glass bangle and a ring believed to be worn by "quite well-off women" according to Zant. With more excavations set to start in different areas around the known Maryport Roman fort, the site is becoming key to understanding ancient Roman life in Britannia (Roman Britain).
http://mashable.com/2014/05/28/roman-fort-harbor/
USA –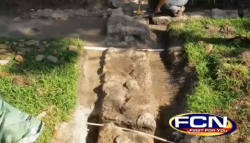 St Augustine - Archaeologists are excited about rock at the Mission of Nombre de Dios is St. Augustine. They're working on a dig to know more about what is believed to be the first stone church in St. Augustine and possibly in Florida. Just feet away from the Great Cross in St. Augustine, stone foundations of walls are visible on the dig site. The church was built in 1677 by the Spanish. No one really knows what it looked like. Linda Chandler, a University of Florida Archaeology Tech, explained all the excitement boils down to construction materials. In a time when most other buildings in the area were made of wood, the crew is finding these church walls and foundation were made of tabby (which is a manmade construction material made of natural ingredients) and of coquina (stone) that the Castillo de San Marcos fort would eventually be made of.
http://www.firstcoastnews.com/story/news/local/st-augustine/2014/05/28/archaeological-treasure/9692875/