INSTITUT SUPERIEUR D'ANTHROPOLOGIE
INSTITUTE OF ANTHROPOLOGY
ONLINE COURSES / COURS A DISTANCE
SUMMER TERM : JULY 2014
REGISTER NOW
USA –
 Lac Huron - Deep below the surface of Lake Huron, scuba-diving researchers have found an elaborate network of hunting blinds and animal-herding structures dating back roughly 9,000 years. Lake levels of the day were some 250 feet lower, exposing a narrow bridge of land running from one side of Huron to the other. Prehistoric people evidently thought this isthmus was a perfect place to intercept caribou on their seasonal migrations. The hunting site they built, now inundated, opens a window onto prehistoric America and provides valuable evidence in a region where such artifacts are practically non-existent.With the help of sonar, a remote-controlled underwater vehicle and scuba divers, O'Shea's team eventually found a complicated system of submerged structures at a point where the caribou's spring and fall migration paths would've crossed. In the fall, caribou heading south along the land bridge would've made their way straight into a simple cluster of stone hunting blinds. But animals heading north in the spring marched into a much more systematic form of ambush. The site's architects carefully placed two parallel lines of boulders to outline a path 26 feet wide and 100 feet long. Caribou naturally follow lines, O'Shea says, so they would've walked along this "drive lane" only to hit a dead end created by a natural stone wall. Meanwhile hunters could hide in another clutch of stone hunting blinds built along the lane. The ground here was littered with debris from the manufacture or repair of stone tools, probably spear points, the researchers say in this week's issue of theProceedings of the National Academy of Sciences. The site speaks to the seasonal pattern of the earliest Americans' lives, O'Shea says. People probably didn't live on the isthmus. But in the spring, numerous families would've congregated at the drive lane, which required perhaps 15 or 16 hunters to operate.
http://www.theleafchronicle.com/usatoday/article/8113975
PORTUGAL –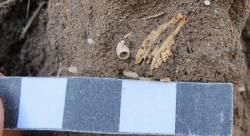 Madere - According to the results, published in the Proceedings of the Royal Society B journal, house mice may have landed on the island before 1036, most likely transported by a ship. The article suggests that the introduction of this species would result in an ecological disaster. Until now, the arrival of the man to Macaronesia was documented in two waves: one being aboriginal, limited to the Canary Islands about two millenniums ago; and the other colonial, from the 14th century onwards, which took place in every island of the archipelago. According to historical data, the Portuguese took official possession of Madeira in 1949, when the colonization was started. The team of researchers, which is also composed of scientists from Germany and the University of La Laguna (Canary Islands, Spain), has analyzed two samples of bones found in Ponta de São Lourenço. The tiny size of the first sample has made impossible to date it, but the second sample has been dated between 900 and 1030, which leads to the earliest evidence for the presence of mice on Madeira Island.
http://www.heritagedaily.com/2014/04/man-landing-on-madeira-could-be-4-centuries-prior-to-its-colonization-by-the-portuguese/102913?
DANEMARK –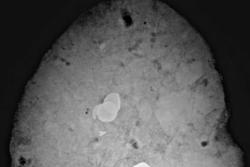 Bornholm - After hours of searching through the mud with metal detectors, amateur archaeologists Frank Pelle and Bent Gregersen made the discovery of their lives on a ploughed field in Bornholm earlier in April. The two lucky gold-diggers found an ancient Viking gold treasure hidden in the ground. "It was an amazing feeling, for we had searched for hundreds of hours without luck," Pelle told Ekstra Bladet.After studying x-rays of collected earth samples, Bornholms Museum, the local archaeological museum, estimated that the treasure of 250 gold and silver coins was buried in the ground in the 1080s. Some of the coins were brought to Denmark from Egypt and Tunisia and are extremely unique. "That includes two Arabic gold dinars minted in 1040 in Egypt and in 1060 in Tunisia during the Fatimid dynasty respectively," said René Laursen from Bornholms Museum. "Both are unique discoveries. We've never found Arabic gold dinar in a Viking treasure in Denmark." The gold coins, which mostly remain in a clod of earth, are currently on display on Bornholm, but will soon be moved to the National Museum in Copenhagen to be totally extracted from the dirt and cleaned.
http://cphpost.dk/news/amateur-archaeologists-unearth-viking-gold.9374.html?
ROYAUME UNI - Crieff -Archaeologists are ecstatic after uncovering a "really significant" Bronze Age burial site in Perthshire. Arrowheads believed to date back to between 2,500BC and 800BC have already been found at the site of the new Crieff Primary School, and experts hope to unearth more historic items. One "definite" prehistoric burial site, known as a cursus — a Bronze Age ceremonial monument walkway — has been identified and archaeologists are hopeful there will be more finds to come. Sarah Malone, a heritage officer with Perth and Kinross Heritage Trust, said archaeologists had been at the Crieff site since last year. "We have identified one definite prehistoric Bronze Age burial site here," she added. "Last year we discovered Bronze Age arrowheads and some kists." Ms Malone said that archaeologists were still excavating at the Crieff site and confirmed it is part of a "Bronze Age landscape". Local historian Colin Mayall said: "That whole area is a site of great historical interest. It is the site of more than one cursus, which can date back some 6,000 years. "Cursus are now regarded as a type of sacred walkway, with earthen walls which could have extended for miles." Perth and Kinross Council confirmed that excavations are currently taking place.
http://www.eveningtelegraph.co.uk/news/local/archaeologists-ecstatic-over-bronze-age-finds-in-perthshire-1.340999?
JAPON –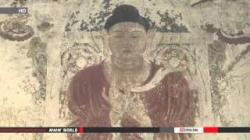 Horyuji  -A group of experts has recreated Japan's oldest Buddhist wall paintings with cutting-edge digital technology. The paintings were lost in a fire 65 years ago. The group led by Professor Masaaki Miyasako at the graduate school of Tokyo University of the Arts reconstructed 12 murals at Horyuji Temple's Kondo, or main hall, in Nara Prefecture. The paintings dated back to the late seventh century, but a fire destroyed most of them in 1949. The group used photos taken before the fire and the salvaged murals to produce the digital images. They were printed on sheets of paper whose surface is made uneven with fine seashell powder. One of the paintings measures three meters long and two and a half meters wide. It shows the Amitabha Buddha and various images in bright red and green. Professor Miyasako says the group hopes to use the technology to preserve other cultural assets.
VIDEO = http://youtu.be/yICnEqLFj8g
http://heritageofjapan.wordpress.com/
PAKISTAN –
 Sirkap - Despite being protected under the Antiquities Act and listed in Unesco's "world cultural heritage site," Sirkap, the second ancient city of Taxila, is in a shambles owing to the apathy of the archaeology department.The signboards for tourists' information are almost unreadable, and if tourists visit the area they are greeted by wild grass and broken benches. A large number of local and foreign tourists visit the ruins of this important city of the ancient Taxila civilisation.However, they are stunned to see the poor condition of the site and lack of tourist facilities as almost 70 per cent of the ruins are covered with wild grass and bushes. Two boards have been installed at the site for the information of the tourists.One of the boards shows the map plan of the city and the other, written in both English and Urdu languages, mentions the historical background of the remains.However, even these two boards have not been maintained and have become unreadable.Another information board on Pena flex is also in tatters and needs urgent repair.It may be mentioned that the remains of Sirkap belonged to four distinct periods of pre-Greek, Greeks, Scythians and Parthians. The city was founded approximately in the first quarter of the 2nd century BC by the Bactrian Greek king Menander.The city was well planned and fortified. The builders introduced their ionic and Corinthian orders of architecture at Sirkap. The Greek influence enhanced further under their successors Scythians and Parthians.
http://gulftoday.ae/portal/522cf68a-ea71-420d-a082-48e9aee801f8.aspx