INSTITUT SUPERIEUR D'ANTHROPOLOGIE
INSTITUTE OF ANTHROPOLOGY
ONLINE COURSES / COURS A DISTANCE
FALL TERM : OCTOBER 2013
REGISTER NOW 
CHINE – Baoji - A rare jade statue was unearthed for the first time from a nearly 2,000-year-old burial site in northwest China's Shaanxi province. The statue was discovered in a tomb in Maying Town of Baoji City by archaeologists from Shaanxi Provincial Institute of Archaeology (SPIA). The team was called in to perform a rescue excavation when relics were discovered on the construction site of a high-speed rail station. The flat, 12 cm long jade statue is engraved with shallow concave lines in the shape of a male figure. The piece outlines a man's head without the body. The figure has closed eyes, a round nose and a wide mouth. He wears his hair in an ancient conical updo, and has a mustache and a beard divided into three sections. Archaeologists estimate that the tomb where the statue was buried was owned by a man of the lowest noble title living in the early Eastern Han Dynasty (25-220 A.D.) Statues of a similar pattern have rarely been found in China, according to Xu Weihong, an archaeologist with SPIA. "So far, such statues have only been discovered in a few places, like the northern suburbs of Xi'an, capital city of Shaanxi province, and Lixian County in neighboring Gansu province," he said, adding that most of the jade statues were originally made in pairs. The SPIA team speculated that the jade statues served as sacrifices in the ancient feudal state of Qin (778-207 B.C.) Historical records show that Baoji City was a major site for sacrificial ceremonies at that time. Archaeologists said ancient people buried jade along with the deceased because they believed it could exorcise evil spirits near the tomb. Archaeologists also discovered seven other tombs in the excavation site, estimated to be from middle and late West Han Dynasty (206 B.C.- 24 A.D.) A total of 70 pieces of relics were unearthed.
http://www.globaltimes.cn/content/807330.shtml#.Uh91BxsvWcY
ROYAUME  UNI -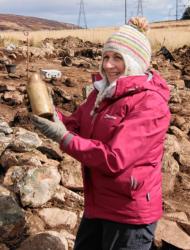 Loch Buidhe - Twelve archaeology enthusiasts working with historians near Loch Buidhe, north of Bonar Bridge, are delighted to have unearthed a 43 metre longhouse, a long narrow stone-built dwelling with a turf roof. It appears to be the most common longhouse layout, a building divided into two halves, one half being used as a dwelling and the other as a byre.  The byre end of the building was often set at a lower elevation to the dwelling so that any effluent drained away from the inhabitants. Notable finds so far include ceramics, an iron cauldron and a number of brass buttons.  It is believed the house was developed in three phases, with the original structure thought to date from the late eighteenth century.  Experts at Historic Scotland have helped make a connection with documents from an 1815 land dispute, which suggest that the building may have been known as Wester Torbreck and was, at the time, the property of 'H Houston Esqr of Creech'.  On the basis of the domestic objects found during the dig, archaeologists think that occupation of the building is likely to have ended around the middle of the nineteenth century.
http://www.northern-times.co.uk/News/Exciting-longhouse-find-at-Loch-Buidhe-29082013.htm
ROYAUME  UNI – Eckington - Martin Evans from Drakes Broughton was walking his dogs near the River Avon in Eckington in March when he uncovered a human skull. He called police who referred the find to Worcestershire Archaeology, who began an investigation. After a single bone sample was extracted from the right parietal bone by the Scottish Universities Environmental Research Centre's radiocarbon dating laboratory, the skull – which appears to be from a female due to its shape – was traced back to between 3338 and 3025 BC, the Middle Neolithic period. Neolithic human remains have only been found in Worcestershire once before, during excavations at Wormington Farm near Aston Somerville, but this is not the first skull to have been found on the banks of the River Avon – another was found near Nafford Weir after a flood.
http://www.worcesternews.co.uk/news/10642863.Human_skull_dating_back_5_000_years_found_in_Worcestershire/ 
TURQUIE –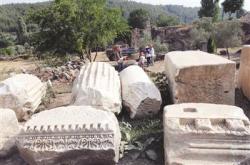 Stratonikeia - Roman baths in the ancient city of Stratonikeia in the southwestern province of Muğla's Yatağan district are being unearthed using a unique 3D method.  "We have made the plan of the Roman baths in the ancient city. When the works are done, I hope that we will see all objects and in the baths," said the head of the excavations, Pamukkale University's Bilal Söğüt. The academic said the works were continuing to revive important structures in the city and that they had found important data in every season. There are three big Roman baths in the ancient city, he said. "One of them is a women's bath. We are now cleaning it. We have also determined the existence of two other baths." Söğüt said the baths were not only places that were used to clean oneself but also places where people had spent time and relaxed.
http://www.hurriyetdailynews.com/historical-roman-baths-come-to-light.aspx?pageID=238&nID=53471&NewsCatID=375 
ROYAUME UNI–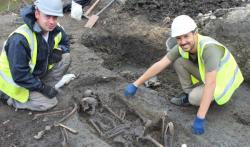 Gloucester - More than 100 skeletons have now been discovered at the old media college site in Gloucester. Nine skeletons were uncovered initially back in July. Then at the start of August it emerged that more than 40 skeletons had been dug up from a Roman cemetery. Now, 105 skeletons have been found with a few more expected to be dug up over the coming weeks. Site manager Stuart Joyce, from Cotswold Archaeology, admitted more skeletons had been discovered than they expected. He said: "We knew we were going to find some skeletons here, but there have been more than we anticipated. "We have had finds of all ages, from babies to people in their 40s and 50s. "They have been preserved remarkably well considering they have been in the ground for 1,600 years." Whole skeletons, including all of their teeth, have been pulled out of the ground on an almost daily basis over the past two months. Some were complete with injuries which may well have been the cause of their deaths. "We have had all sorts; broken arms and legs," added Mr Joyce. "One skeleton we found the other day had clearly broken his femur and the bone had slipped four to five inches, which he would have lost in height on that one side."However, the bone had healed and fused back together like that, so he must have lived that way for some time before his death." The skeletons are taken out of the ground, then passed on to an expert who determines their age and sex. They are then passed to Gloucester Museum.
http://www.southwestbusiness.co.uk/news/29082013075356-linden-homes-development-unearths-more-than-100-skeletons-at-old-media-college-site-in-gloucester/
TURQUIE –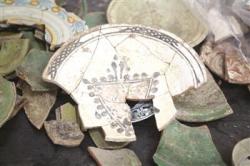 Izmir - New excavations in the ancient Agora in İzmir's city center have revealed ceramic artifacts from the Ottoman period. The excavation area has been enlarged with the demolition of surrounding buildings, and ceramic pots and pans used by people living there in the 17th, 18th and 19th centuries were found during the most recent excavations.  Ege University Associate Professor Sevinç Gök has been working on the ceramics, and says they were used in the houses of Levantine families.  "We see that particularly foreigners lived in the Agora area in the 17th century and Turks lived in the skirts of Kadifekale. Later on, they moved to coastal areas. In the end of 17th century, Levantines mostly lived in the Alsancak and Karşıyaka neighborhoods. As a result, these ceramics were used in these people's houses. Currently, we are removing ceramic tools from the Ottoman era. We have found many of them," Gök said, adding that those ceramics provided information about the socio-economic situation of people living in the region.
http://www.hurriyetdailynews.com/ottoman-ceramics-found-in-izmir-agora.aspx?pageID=238&nid=53392&NewsCatID=375
IRLANDE – Kells - A circular fort 100 metres in diameter on the top of the Hill of Loyd, which would have dominated the skyline at Kells, has been discovered by archaeologists from the Discovery Programme, who have carried out a geophysical survey of the area. What is believed to be an early iron age or late bronze age fort was well fortified with a circular ditch, a bank and large palisade fencing, but archaeologists do not know if this was for defence purposes or just an ostentatious display of wealth. The entrance to the structure is facing east towards the town of Kells. Archaeologist, Dr Ger Dowling, says the site would have been a significant structure from 1000BC to 500AD and is a very important discovery for Kells and the region. The fort is in a spectacular setting with views of Tara, Skryne, Teltown, Sleachta on the Hill of Ward and Lough Crew and would have overlooked important routes from the north and west to Tara.  "We believe it was an important site and that it is no co-incidence that the early Christian monastery was founded at the bottom of the hill," Dr Dowling said. "This may have been a place of burial or of ceremonial or religious significance and may also have been a settlement," he said.
http://www.meathchronicle.ie/news/roundup/articles/2013/08/29/4017371-major-archaeological-find-at-kells/ 
AUTRICHE –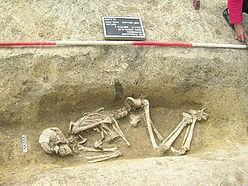 Roseldorf - Archaeologists at the Celtic Research Centre in Roseldorf, Lower Austria made a spectacular find when they uncovered a skeleton which is over 2,300 years old. The skeleton was found during the last days of the two week dig - it was then brought to Vienna. Buried just above the skeleton was a spearhead. The skeleton was photographed, measured and documented before it was carefully taken out of the ground.It is not yet known whether it was a man or a woman. This will be confirmed by experts. The skeleton is reported to be in a good condition with well-preserved teeth. The skeleton is currently being cleaned and reconstructed at the Natural History Museum in Vienna.
http://austriantimes.at/news/General_News/2013-08-28/49774/2300_year_old_well_preserved_skeleton_found_in_historical_dig_
USA –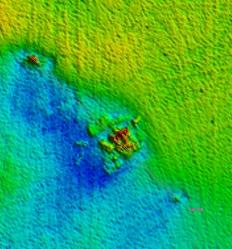 Absecon Lighthouse - A 19th-century steamer that sank beneath the waves after a violent crash off the New Jersey coast has now been found. The Robert J. Walker, a pre-Civil-War-era ship that surveyed the Gulf Coast, wrecked in 1860 after being struck by a commercial ship. Divers discovered the shipwreck site in the 1970s, but the ship's identity has been shrouded in mystery until now. Scientists used the wreck's location and unique features to make the positive identification.
VIDEOS = http://www.livescience.com/39213-new-jersey-shipwreck-identified.html