29-30 MARS 2015 NEWS: Gobindapur - Thyckal - Linlithgow - Hainan - Kedarnath - Dehli - Varna - Tel Aviv -
29-30 MARS 2015 NEWS: Gobindapur - Thyckal - Linlithgow - Hainan - Kedarnath - Dehli - Varna - Tel Aviv -
INSTITUT SUPERIEUR D'ANTHROPOLOGIE
INSTITUTE OF ANTHROPOLOGY
ONLINE COURSES / COURS A DISTANCE
SPRING TERM : APRIL 2015
REGISTER NOW
INDE –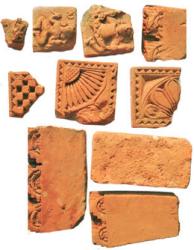 Gobindapur - Relics of centuries-old decorated terracotta plaques, believed to be parts of a temple that existed at the site about 1,300 or 1,400 years back, have been found at Gobindapur on the western fringe of Goalpara town, leading to the belief that a site of historical importance is lying buried under an earthen mound there. Talking to this correspondent, Dev Choudhury said the site is located on a high mound and it is now popularly known as Karabalapur. Remnants of many idols of gods and goddesses have been collected from the site by many people of Goalpara town and they are now worshipping those idols at their houses, he said. The broken pieces of the terracotta plaques found so far at the site suggest that around 7th to 8th century AD, there was a temple and the plaques were used to decorate the walls of that temple. One of the plaques has a male figure, while another has a female figure. Both the figures are in dancing postures. Some of the plaques do not have anything depicted on them. The sculptures found at this site have no link with those of the Bhaitbari site, which is located near Phulbari area in Garo Hills district of Meghalaya.
http://www.assamtribune.com/scripts/detailsnew.asp?id=mar2915/at055
INDE –
 Thyckal - The Archaeology Department's initiative to protect the remnants of the centuries-old wind-powered ship excavated at Thyckal in Kadakkarappally panchayat near Cherthala remains a non-starter. The Department purchased more than one-acre land from a private owner where the ship was spotted.  The partially excavated ship is covered with weed and shrub and will slowly be buried in the depths of oblivion if the Department continues to soft-pedal and doesn't take immediate measures to preserve it. The Department constructed an iron fencing around the compound decades after its excavation. The declaration of the Department to convert the excavation site into a 'museum site' is a promise that still remains on paper.The Department initiated steps for preserving the 1000-year-old ship, which was spotted by local agrarians in 1994 when they were working on the marshy land. Later in 2002, large-scale excavation work was carried out by the  Archeological Survey of India (ASI) and a carbon dating test detected that the ship was about 1000 years old. The ship spotted about 2 kms away from Thyckal beach became a subject of interest for archaeologists to learn more about the origin and history of the coastal areas of the district.
http://www.newindianexpress.com/states/kerala/Excavation-Plan-to-Protect-Remnants-of-Centuries-old-Ship-in-the-Doldrums/2015/03/28/article2734103.ece
ROYAUME UNI –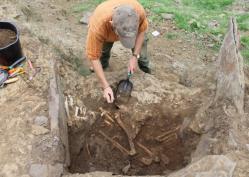 Linlithgow - Archaeologists have uncovered a 2000-year-old tomb believed to contain a wealthy father and son who were artisan weavers by trade and walked with the same "pigeon-toed" feet. The men were laid to rest in an Iron Age stone cist close to the National Trust for Scotland's (NTS) House of the Binns near Linlithgow. One skeleton belonged to a man aged around 40 when he died between 92BC-65AD, while his relative was around 20 when he died some time later, 44BC-79AD, and his body was pushed in alongside him.Skeletal analysis shows both men stood around 5ft 5in tall and suffered from worn teeth associated with weaving. They also shared an unusual anomaly of the muscle attachment in the upper leg, which would have caused their legs to rotate inwards and made them walk with their toes turned in – pigeon-toed. The older man was buried clutching an oval-shaped iron brooch to his left shoulder. Experts say it showed "incredibly rare" evidence of thread from his cloak. NTS archaeologist Daniel Rhodes said: "The first skeleton was an adult male, aged around 40 years, with wear on his teeth which suggests he may have been a weaver. "The younger man was around 20 years old. They were intentionally buried in the same place and when you look at the date range they could be father and son. "The younger man also suffered from worn teeth, and they both shared the same family leg deformity. There is no sign of disease so it probably didn't cause severe damage or disability in life, but they may have been pigeon-toed." The House of the Binns is a 17th-century laird's house overlooking the Forth, and home to the Dalyell family for 400 years. The house was built in 1612 by Thomas Dalyell, an Edinburgh merchant who made his fortune at the court of King James VI and I in London. The Dalyell family gifted the house and surrounding parkland to the NTS in 1944, retaining the right of the family to live there.
http://www.edinburghnews.scotsman.com/news/together-for-2000-years-father-and-son-in-grave-1-3731848
CHINE –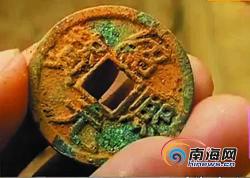 Hainan - Two full pots of antique coins, weighing more than 130 kilograms, were unearthed in a township in South China's Hainan province. A farmer surnamed Chen and his wife discovered and excavated the coins and their containers in their home yard. All the coins are copper money that date back to the Song Dynasty (960-1279). The coins aren't worth much – at least not as much as the two jars they're contained in. However, according to local archeological official Wang Mingzhong, the antiques are still valuable in cultural and historical research. Antique coins were no stranger to Chen's family as they had excavated 170 kilos in 1987 in the same field.
http://www.china.org.cn/china/2015-03/29/content_35186489.htm?
INDE –
 Kedarnath - The Himalayan shrine of Kedarnath which was marred by devastating deluge in 2013 is stable and its foundation was not damaged, an IIT expert team from Chennai has found. The experts, who were asked by the Archaeological Survey of India (ASI) to examine the condition of the foundation in wake of the floods have also arrived at the conclusion that there was no major danger to the temple, according to ASI officials. According to the official website of Sri Badarinath-Sri Kedarnath Temple Committee, the present temple was built in the 8th century A.D. Kedarnath is the highest among the 12 Jyotirlingas.
http://www.thestatesman.com/news/india/no-major-danger-to-kedarnath-shrine-iit-experts/54695.html?
INDE –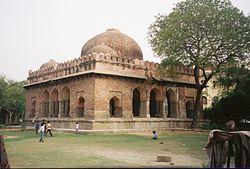 Dehli -  After a year-long restoration work, the Barah Khamba Tomb in the Nizamuddin heritage area was thrown open to tourists on Saturday.The 16th century tomb has 12 pillars and three arched openings on each face. The passage, laid around the central chamber, has four domed apartments at each corner. The structure is located in a park on Lodhi Road, near Humayun's Tomb, a World Heritage Site."This is a rare Lodhi era monument and the only one with five domes. We have fixed the damaged boundary and installed have made proper entry and exit gates. 
http://timesofindia.indiatimes.com/city/delhi/Barah-Khamba-Tomb-restored-for-visitors/articleshow/46731350.cms
BULGARIE -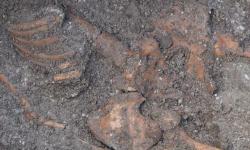 Varna - Archaeologists carrying out rescue excavations in the Ancient Thracian, Greek, and Roman city of Odessos, today's Black Sea city of Varna, have discovered three more skeletons in what essentially appears to be an ancient necropolis, lead archaeologist Prof. Dr. Valeri Yotov has announced. On March 17, 2015, during excavations of the so called Varna Largo near the St. Nikolay Church, the Bulgarian archaeologists stumbled upon a man's skeleton described by some researchers, passers-by, and the local media as "tall" or even "giant". The discoveries of more skeletons have changed radically the working hypothesis of the archaeologists from the Varna Museum of Archaeology, who previously believed that the man in question, whose skeleton is dated back to the late 4th century or early 5th century, was probably a construction worker who died during the construction of the Odessos (Odessus) fortress wall, possibly from a work-related incident, and was buried right on the spot, in a deeper pit dug up for construction purposes. Now, Yotov says that he and his colleagues might have discovered an ancient necropolis which, according to initial estimates, is older than the Late Antiquity fortress wall of Odessos / Odessusunder which it has been found. However, the Director of the Varna Museum of Archaeology, Prof. Dr. Valentin Pletnyov, has urged caution regarding the necropolis hypothesis. Speaking in a media interview later on Saturday, he has pointed out that the discovery of the human skeletons does not mean yet that they were buried in a necropolis. He has pointed to the fact that no additional artifacts have been found in the graves yet, Top Novini Varna reports.
http://archaeologyinbulgaria.com/2015/03/28/archaeologists-in-bulgarias-varna-unearth-3-more-skeletons-identify-necropolis-under-fortress-wall-of-ancient-odessos/
ISRAEL –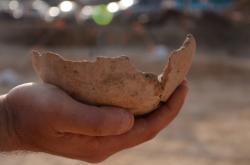 Tel Aviv -Fragments of ancient beer-brewing basins unearthed in Tel Aviv indicate that Egyptians more than 5,000 years ago had settled farther north than previously known and were imbibing in what is now Israel's most hard-partying city. Israel's Antiquities Authority said on Sunday the ceramic vessels, crafted in an Egyptian method that differed from local pottery-making at the time, would have held a thick, partially baked barley and water mixture left to ferment in the sun. The shards were found under an office construction site in downtown Tel Aviv in 17 pits used to store agricultural produce in the Early Bronze Age (3500-3000 BC), the Antiquities Authority said in a statement. The discovery suggested that Egyptians settled further north during that era than once believed. Archaeologists in Israel have found evidence of Egyptian communities to the south, in the Negev and along its Mediterranean coast.
http://www.reuters.com/article/2015/03/29/israel-egypt-beer-idUSL6N0WV0CE20150329?rpc=401