INSTITUT SUPERIEUR D'ANTHROPOLOGIE
 INSTITUTE OF ANTHROPOLOGY
ONLINE COURSES / COURS A DISTANCE
 INSCRIPTION  2012 /  Session III : Juillet 2012
   REGISTRATION 2012 /  Term III : July 2012
AZERBAIDJAN –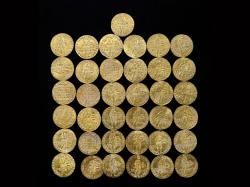 Aghsu - Ancient treasure was found in Azerbaijan's Aghsu region. Chief of Aghsu archeological expedition of the Institute of Archeology and Ethnography of the Azerbaijani National Academy of Sciences Gafar Jabiyev told APA that a treasure consisting of gold coin examples were found during digging work on June 22. Total number of coins is 37. One of them was minted in 1781, one – in 1786, three – in 1787, one – in 1796, 31 – in 1800. All coins are in good condition.  The coins are gold ducats of Dutch production. Alloy of the coins is 986, diameter – 21.8mm, thickness – 1.3mm, legal weight -3.49gr, shape – round, edge – milled. Obverse: Within ornamental square tablet the Latin legend - MO:ORD PROVIN FOEDER BELG.AD LEG.IMP expands to MOneta ORDinum PROVINciarum FOEDERatorum BELGicarum AD LEGem IMPerii which translates as "Coin of government of the provincial federation of Belgium Conforming with the law of the Imperial". Reverse: A Knight facing right standing in armor with a sword in right hand and a bundle of arrows in the left divide the year of issue 17 52. Along periphery the Latin legend CONCORDIA.RES PAR.CRES.HOL expands to CONCORDIA RES PARvae CREScunt HOLlandiae which translates as "Through concord little things grow - Holland" (Union is strength). The extensive influence of Provinces of the Netherlands in commerce of the 18th century made these gold coins the International standard of World trade similar to the acceptance of the US$ in the late 20th Century.  Completing necessary research works within two weeks expedition surrendered the treasure to the National History Museum of Azerbaijan on June 25 with advice of the Institute of Archaeology and Ethnography. Aghsu Archaeological Expedition is continuing researches on the treasure. 
http://en.apa.az/news.php?id=174571
BULGARIE –
  Veliko Tarnovo - Archaeologists have uncovered new finds from a monastery dating back to the 13th century, i.e. the apex of the Second Bulgarian Empire. The team of archaeologists Prof. Nikolay Ovcharov and Prof. Hitko Vachev, who have been exploring sites at Veliko Tarnovo, the capital of the Second Bulgarian Empire, have found a number of artifacts, and have uncovered the walls of a medieval church, which was part of the St. Peter and St. Paul Monastery complex in the Middle Ages. It is more precisely associated with the rule of Bulgarian Tsar Ivan Asen II (1218-1241 AD). "The walls that we have uncovered date back to the first half of the 13th century. Part of the architectural remains have turned out to be ruined by construction in the past 30 years. We have also found a second wall dating back to the 14-15th century which is a testimony as to how the monastery was transformed. In the western section of the temple we even found evidence of a third renovation from the 18-19th century," Prof. Ovcharov explained, as cited by Darik Radio. In the yard of the St. Peter and St. Paul Church, which is part of the wider monastery complex, the archaeologists already found 10 funerals, one of them turning out to be that of a man treated against vampirism after his death. Unlike another medieval "vampire", whose grave was recently found in Sozopol on the Black Sea making global headlines, and whose skeleton has been taken to Bulgaria's National History Museum in Sofia
http://www.novinite.com/view_news.php?id=140728
MYANMAR –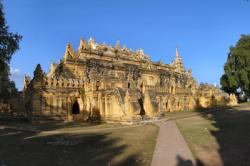 - According to a report in Myanmar Times, yesterday, the Ministry of Culture's Department of Archaeology, National Museum and Libraries will restore three historical sites in collaboration with local companies. The sites are: Inwa, a former royal capital in Tada Oo township in Mandalay Region; Pakangyi at Yesagyo in Magwe Region; Padalin Cave in Shan State's Taunggyi township. The department is improving three Pyu-era sites to meet the standards of the World Heritage Convention  to improve their chances of inclusion in the next update of the World Heritage List. It also plans to push for the listing of Bagan and Mrauk-U in the future. The department lists 37 cultural sites of historical and archaeological value throughout the country. Last month, it announced that five sites – Myaung Mya ancient city in Ayeyarwady Region; Myo Haung village in Launglon, Tanintharyi Region; and Wethali and Tharlarwati in Mrauk-U township and Danyawati in Kyauktaw township, Rakhine State – would also be listed as cultural sites. 
http://www.ttrweekly.com/site/2012/06/myanmar-spruces-up-heritage-sites/
INDE – Hottal - Archaeologists have successfully restored the 11th century temples at Hottal in Nanded district of Maharashtra, dating back to the Kalyani-Chalukya era. The Siddheshwar temple has been completely restored to its original form, while the work of Mahadeva temple is in final stage of completion," he said.
http://www.thehindubusinessline.com/features/article3581295.ece
PALESTINE –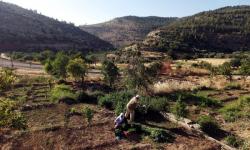 Battir - In this scenic Palestinian village in the West Bank hills near Bethlehem, just south of Jerusalem, a week is said to last eight days, not seven. That is because Battir's eight extended families take daily turns watering their crops from the natural springs that feed their ancient agricultural terraces, a practice they say has worked for centuries. The water flows through a Roman-era irrigation system down into a deep valley where a railway track — a section of the Jaffa-Jerusalem railway built in Ottoman times — roughly marks the 1949 armistice line between the West Bank and Israel. The area is dotted with tombs and ruins upon ruins of bygone civilizations. When the World Heritage Committee  of Unesco — the United Nations Educational, Scientific and Cultural Organization — meets in St. Petersburg, Russia, over the next two weeks, this pastoral area will be thrust into the spotlight at least momentarily as the villagers and conservation experts fight to save what they say is a unique living cultural and historical landscape. Still, experts in the Palestinian territories say Battir is in more urgent need of protection. "If Battir is submitted only next year, it may be too late," said Giovanni Fontana Antonelli, the cultural heritage program specialist at the Unesco office in Ramallah, in the West Bank. "If the wall goes through the valley, it will totally destroy the integrity of the site," he added. Noting that the terraces are supported by dry stone walls made up of many millions of stones, Mr. Fontana characterized the valley as "not monumental but historical, an example of outstanding engineering." "The work of human beings there needs to be valued," he said. "It is the work of centuries."
http://www.nytimes.com/2012/06/26/world/middleeast/palestinian-village-tries-to-protect-landmark.html?_r=2&pagewanted=all
USA – Phoenix - Archeologists said they've found ancient artifacts that could date back to before the Hohokams in dirt removed from the downtown Phoenix construction site. In May, shovels hit an archeological jackpot at the site at Sixth Avenue and Madison Street when workers unearthed remnants of graves that local preservation experts said traced back to Arizona's pioneers who died in the mid- to late-1800s. The findings were sparse, but coffin handles, wood slivers, and some human remains were discovered, suggesting an incomplete job of moving pioneer remains from the city's first cemetery to the later-constructed Pioneer and Military Memorial Park, an 1881 editorial in the Phoenix Herald and local experts suggest. But the grindstones and pottery fragments more recently found have been buried for even longer, possibly as far back as 1,600 years ago, experts said. Mark Hackbarth, an archeologist with Logan Simpson Design Inc., the firm contracted with the county to examine any archeological finds during construction, said the finds date to the Red Mountain Phase, which predates the Hohokam period. The possibility of an additional Red Mountain Phase archeological site is exciting, said Laurene Montero, city of Phoenix archeologist at the Pueblo Grande Museum, where the grindstones and pottery will eventually find a home, per federal law.  "It's an early phase we don't see too much of. There are only a handful of sites we've identified that date from roughly 1 to 300 A.D.," Montero said. "When they find it, it's pretty interesting."
http://tucsoncitizen.com/arizona-news/2012/06/27/ancient-artifacts-found-at-phoenix-build-site/
LIBAN –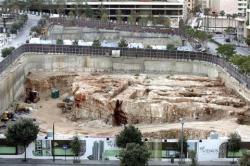 Beyrouth - Culture Minister Gaby Layyoun defended Thursday his decision to allow a construction firm to proceed in building skyscrapers on the alleged site of a former Phoenician port, denying that the ruins are of historical significance. "There is a conviction that there is no Phoenician port in Minet al-Hosn," Layyoun told OTV in an interview Thursday, adding that what was found on the site is devoid of historical value. Archaeologists and maritime historians hired by the firm say that the site's distance from the Mediterranean shore and the nature of the findings indicate that it could not have functioned as a port or a shipyard.

http://www.dailystar.com.lb/News/Local-News/2012/Jun-28/178594-layyoun-defends-construction-on-site-of-alleged-phoenician-port.ashx#axzz1z6XezjEq
ARMENIE –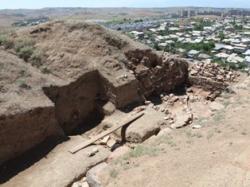 Yerevan - The Armenian-French archaeological cooperation, which commenced in 2008 at the ancient Erebuni Fortress located in Armenia's capital city Yerevan, will continue until 2015.   And the Armenian and French archaeologists will continue revealing the still-unknown pages of this Urartian city-fortress, the "Erebuni" Historical & Archaeological Museum-Reserve informed Armenian News-NEWS.am.   First phase of the archaeological diggings, which had resumed at the Fortress on June 5, will come to an end on Saturday.