28 FEVRIER 2015 NEWS: York - Fort Atkinson - Norfolk -
28 FEVRIER 2015 NEWS: York - Fort Atkinson - Norfolk -
INSTITUT SUPERIEUR D'ANTHROPOLOGIE
INSTITUTE OF ANTHROPOLOGY
ONLINE COURSES / COURS A DISTANCE
SPRING TERM : APRIL 2015
REGISTER NOW
ROYAUME UNI –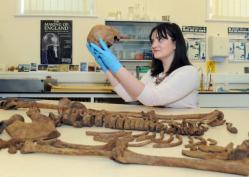 York - A team of archaeologists was brought in after contractors working for Northern Powergrid discovered the bones at the site on the Knavesmire, on Tadcaster Road, in November 2013. The workers were renewing and replacing more than 4,062 miles of underground cable as part of a £7 million investment project in York's power network. The skeletons are male and were aged between 25 and 40 at the time of their death. Archaeologists believe they could have been professional soldiers who were executed and buried near gallows in a non-Christian grave. Analysis of two of the skeletons found that they could be dated to around the 1460s. The skeletons have been handed to the York Archaeological Trust to protect and preserve and arrangements are under way to exhibit some of the remains as part of the city's Richard III experience.
VIDEO = http://www.yorkshirepost.co.uk/news/main-topics/general-news/power-workers-dig-up-12-medieval-skeletons-in-york-1-7129845
USA -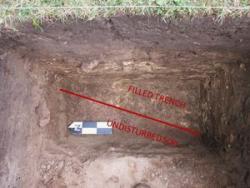 Fort Atkinson - Where was original Fort Koshkonong?Historical markers locate the alleged site of the city's namesake stockade as having been near the intersection of Milwaukee and Roland avenues. One was placed in 1908 by the Daughters of the American Revolution and a second in 1966 by the Wisconsin Historical Society. However, despite at least two more serious attempts in 1958 and 1983, no one has been able to find an actual remnant of Fort Koshkonong. The purpose of the latest study is to try to determine where the fort actually was sited. For this search for Fort Koshkonong, the first survey took place on June 28, 2014, when volunteer archaeologists measured and mapped three contiguous private properties on the north side of East Milwaukee Avenue. Properties in the 400 and 500 block of East Milwaukee Avenue owned by Paul and Lisa Kotz, Nicholas and Carole Collins and Richard and Elizabeth Meier each were reviewed. Core samples of soil below the sod were taken and analyzed and metal detectors were employed. "One of the things we do in archaeology is we look at soil, so we're looking for disturbances in the soil," Killoran said. "You expect a disturbed area, but it was really irregular." Several artifacts that were found, but they were from the wrong timeframe. The metal detector survey turned up plenty of late 19th- and early 20th-century items probably associated with the people who lived in the houses along Milwaukee Avenue, as well as quite a few modern coins. Killoran noted that none of the material can be linked definitively to the early 19th-century presence at Fort Koshkonong, but the metal detectors found several pieces of deformed/melted lead that might be from the 1830s military. Similar to the metal detector, the soil coring efforts were ambiguous. "We identified what we think are a series of irregular subsurface features filled with a heavy clay soil, and these stand out from the surrounding 'natural' soil that is a much more loose, silty to sandy texture," Killoran said. "We couldn't identify a distinct pattern or alignment (like the line of a wall trench from an 1830s stockade) to these clay zones, based on the limited testing we were able to accomplish."Prehistoric Native American stone tool-making debris — more like 500 to more than 1,000 years old, which would have predated the fort were located. Piecing together their findings, the results of the metal-detecting survey and soil sampling were added to the map. Shovel tests were completed in some locations, resulting in more items recovered. Indicators from the first survey warranted enough curiosity to return on Aug. 17 with a ground-penetrating radar machine on loan from the Kenosha Public Museum and its director, Dan Joyce. Efforts with the ground-penetrating radar did not net the results for which the two were hoping. Analysis of the survey done with the ground penetrating radar revealed no clear evidence of the fort's stockade wall trenches. However, one of the three property owners agreed to allow the team to open an excavation dig about 3-by-3 feet to get a better sense of what was there based on the initial finding.
http://www.dailyunion.com/news/article_6e540e7c-be95-11e4-ab2f-db28075b6c66.html
ROYAUME UNI –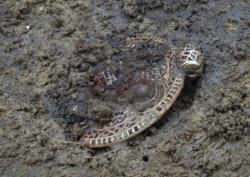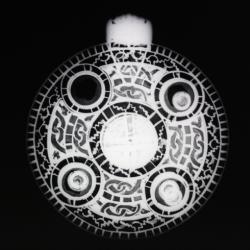 Norfolk - It was a discovery most archaeologists could only dream of making once in their career. For Tom Lucking, it came during the first year of his undergraduate course at the UEA. The 23-year-old, who lives in Bowthorpe, had been a metal detector enthusiast for 12 years, and had been investigating the south Norfolk farm with a friend since securing permission from its owner in 2012. Their efforts had turned up Medieval coins, Roman brooches and an early Bronze Age flat axe, but all of those would be put in the shade when he realised a bowl whose edges he was carefully uncovering was something special that required professional expertise.
http://www.edp24.co.uk/norfolk-life/uea_archaeology_student_unearths_anglo_saxon_pendant_worth_an_estimated_50_000_1_3972731