INSTITUT SUPERIEUR D'ANTHROPOLOGIE
INSTITUTE OF ANTHROPOLOGY
ONLINE COURSES / COURS A DISTANCE
FALL TERM : OCTOBER 2013 
REGISTER NOW
KOSOVO –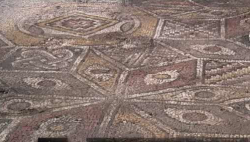 Dresnik - Dans le petit village de Dresnik, dans le Nord Ouest du Kosovo, des fouilles ont dévoilé un site datant de l'époque romaine, du deuxième ou troisième siècle, recouvert de mosaïques multicolores. C'est la découverte archéologique la plus importante faite dans ce pays depuis 40 ans. Les recherches sur le terrain ont débuté en septembre 2012 sous l'égide de l'archéologue en chef Masar Valla. Selon lui, le site s'étendrait sur 50 hectares. L'une des parcelle semblerait être le rez-de-chaussée d'un ancien bâtiment public ou d'une villa urbaine.  "La mosaïque a des formes géométriques, elle est multicolore. Pour l'instant, nous avons détecté sept couleurs. C'est l'une des plus belles mosaïques découvertes au Kosovo. Nous pensons en trouver bien plus encore quand nous poursuivrons nos recherches en octobre", précise Masar Valla. Pour l'instant, les archéologues ont découvert quatre sites, tous avec des mosaïques au sol. Il est probable qu'ils se trouvent sur le passage d'une ancienne voie romaine, la "Via Lissus-Naissus' qui reliait la ville de Lezhe en Albanie et la ville de Nis en Serbie. Cette mosaïque n'est donc qu'un début, et présage de belles découvertes lors de de futures fouilles.
VIDEO = http://fr.euronews.com/2013/08/28/des-mosaiques-romaines-decouvertes-au-kosovo/
BULGARIE –
 Aquae Calidae - Bulgarian archaeologists discovered a cold pool or the so-called frigidarium of the Roman Baths (II AD) during the latest dig at the Aquae Calidae in the mineral baths in the Bulgarian coastal city of Burgas, the press office of Burgas Municipality announced. Long steps of perfect rectangular shape, revetted with luxurious marble, emerged from the mud during the archaeological works. The archaeological studies are part of Burgas Municipality's project for preservation, restoration and socialization of the ancient and medieval town of Aquae Calidae-Thermopolis. The frigidarium is a large cold pool of the Roman baths where the ancient Romans entered after the rest of the procedures at the baths.  It is disclosed at 4.6 m depth from the modern level. It is well-preserved – 6.4 m wide, and with so far discovered length of 6.8 m.
http://www.focus-fen.net/index.php?id=n313732
ISRAEL -
  Tel Rechesh - An archaeological discovery in the Tel Rechesh excavations at the Tabor River Reserve in northern Israel: a joint archaeological expedition, which included researchers from the University of Tenri, Japan, and the Institute of Archaeology of Galilee Kinneret Academic College, have unearthed a Canaanite cult altar. The excavations in this area have been going on for six years now. The same excavations also revealed large parts of a Jewish farmhouse dating back to the Second Temple. Researchers were able to establish that this was a place of Jewish dwellers based on typical stone tools, oil lamps and coins minted in the city of Tiberias. "The diggers received a big surprise," said Chairman of the Institute of Archaeology of Galilee Kinneret Academic College Dr. Mrdechai Avi'am. "In the ruins of the second floor of the farmhouse, they discovered a Canaanite cult statue, similar to a statue that stood in the sanctuary of a temple which is yet to be located." "Similar stones have been discovered in a number of Canaanite sites, such as Hazor," Dr. Avi'am said. "The same stone was later used as part of a doorframe in one of the rooms of the Jewish structure. This is the unique development of archaeological hills in Israel, where successive generations mingle ritual objects on their way from the world of the Canaanite mythology to monotheism."
http://www.jewishpress.com/news/breaking-news/canaanite-altar-discovered-in-northern-israel/2013/08/28/
ROYAUME UNI –
 Bridge Farm - The Culver Archaeological Project (CAP) excavations at Bridge Farm, near Barcombe Mills, unearthed a pottery vessel containing flecks of charcoal and burnt bone. It was taken to the AOC Archaeology headquarters in Twickenham for specialist laboratory excavation by osteoarchaeologist Rachel Ives who analysed the contents. This revealed a large quantity of burnt bone weighing 652 grams, close to the average weight of an adult cremation. The bone was well oxidised and white in colour, indicating an efficient cremation pyre had been constructed and reached a high temperature of more than 600 degrees. The burnt bone had survived in relatively large fragments allowing identification of specific elements as from an adult human, including fragments of a left and right elbow, pieces of the wrist, vertebrae from the neck region and several tooth roots. There was no duplication of any identified elements so it seems likely that one adult individual was cremated and the burnt remains placed in the vessel before deliberate burial at Bridge Farm.  There were six fragments of metal in the fill of the vessel, several of which seem blackened and burnt. They may represent clothing fixtures worn on the body at the time of cremation. The actual date of the cremation has yet to be determined although its situation at the top of the Roman occupation layer on the site would seem to suggest a late or even slightly post-Roman origin as would the fact that it was located within the enclosure ditches of the settlement rather than outside as was required under Roman law.
http://www.sussexexpress.co.uk/news/local/human-cremation-urn-found-at-roman-dig-near-barcombe-mills-1-5421140 
ISRAËL – Hippos - The cap for a bottle of Tuborg beer was discovered in a archeological excavation conducted by Haifa University. On Wednesday archaeologists from the Institute of Archaeology at the University of Haifa announcement they found the contemporary item discarded inside ancient stone architecture.  It was discovered in Hippos, a Roman city that once existed near the Sea of Galilee. It was known in Aramaic and Hebrew as Sussita. Archeologists are not sure how the beer cap ended up in what ostensibly was a sealed location for the past 2,000 years. They believe the beer cap possibly floated into the ruins of a drainage canal during a period when water still flowed. Tuborg is a common brand of beer distributed in Israel.
http://www.israelnationalnews.com/News/Flash.aspx/275338#.Uh4fRBsvWcY
TURQUIE –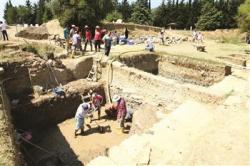 Klaros - A 10-meter column, which was ordered 2,200 years ago for the construction of a temple in one of the three most important oracle centers in antiquity, Klaros, but went down when the cargo ship sank in Çeşme Kızılburun, will finally be delivered to its address. The column was discovered in 1993 by researcher and writer Cemal Pulak, and removed in 2007 by six archaeologists under the coordination of the U.S-based Underwater Archaeology Institute. Research revealed that the column was carried for the Apollo Temple in Klaros, in İzmir's Menderes district.  The head of the excavations in the ancient center, Professor Nurdan Şahin, said that a team from the Texas A&M University had carried out works to determine the place of the column and found out that it was the sixth column of the Apollo Temple in Klaros Oracle Center. "For the first time in the world, the address of a sunken ship was found. Following the cleaning process, the plan was to display the column in Çeşme Museum but we said that it would be more truthful to display it in its original place, Klaros," she said.
http://www.hurriyetdailynews.com/oracle-center-in-aegean-province-of-izmir-to-receive-its-delayed-cargo.aspx?pageID=238&nID=53319&NewsCatID=375
ROYAUME UNI –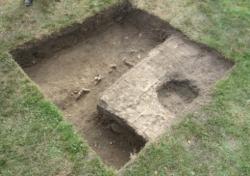 Rainham Hall - An archaeological dig at Rainham Hall has revealed clues about the building's history dating back to the early 18th century. Among their most unusual finds was a plant border made from animal bones in the garden. Original owner Captain John Harle had many staff onsite because his personal and commercial exploits were conducted in close quarters, as was common at the time. Mr Langridge suggested the bones, believed to be from sheep and cattle, could have been leftovers of meat cooked in large quantities to sustain the workers. However National Trust archaeologist Gary Marshall, one of the co-ordinators of the dig, had an alternative theory. He said there would likely have been abattoirs in the vicinity around this time, which could have saved up the bones for the house. Mr Marshall said he had never seen bones used in this way before. The team was hoping to find trace of an outbuilding that was demolished in the 1920s. Rainham Hall programme manager Emily Gillespie, who was also co-ordinating the dig, said fragmentary evidence of what was probably one of its side walls was uncovered. Also found during the dig, which took place over the weekend of August 17 and 18, were pieces of ceramic and glass. A near-complete brass oil lamp wick holder was unearthed as well.
http://www.romfordrecorder.co.uk/news/fence_made_of_animal_bones_among_artefacts_uncovered_at_rainham_hall_archaeological_dig_1_2356508