INSTITUT SUPERIEUR D'ANTHROPOLOGIE
INSTITUTE OF ANTHROPOLOGY
ONLINE COURSES / COURS A DISTANCE
FALL TERM : OCTOBER 2015
REGISTER NOW
GUAM –
Ritidian Point - A recent rediscovery of an ancient village has drawn American and international anthropology students to Guam's Ritidian area to search for more clues about what life might have been like in that place hundreds of years ago. Remnants of at least 15 ancient homes are part of the ancien village said Mike Carson, an associate professor of archaeology and anthropology at the University of Guam. The remnants of this ancient village, which may have hosted a few generations of earlier Guam settlers in the mid-1600s or earlier, are also in relatively good condition, making it easy to see their original shapes, Carson said. The ancient homes are called latte. Hunting and food preparation tools made of bones or coral, fishing hooks and pieces of beads and pottery have been found at the site.
http://www.washingtontimes.com/news/2015/jun/27/researchers-rediscover-ancient-chamorro-village-in/?
INDE –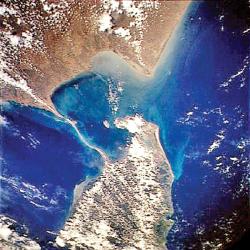 Dwarka / Rama Setu - The defunct underwater wing of the Archaeological Survey of India (ASI) is set for a revival with the Rashtriya Swayamsevak Sangh (RSS) and the government keen to establish the scientific veracity of Dwarka, the mythological submerged capital of Lord Krishna's kingdom, and the Rama Setu, a set of limestone shoals believed to date back to the Ramayana. Both Dwarka and Rama Setu have a deep connect with Hindu mythology. While the submerged city of Dwarka in the west is believed by some to be the lost city of Krishna, Rama Setu, or Adam's Bridge, the limestone shoals from Rameswaram in Tamil Nadu to the northern coast of Sri Lanka, is taken by a section of Hindu devotees to be the bridge that Rama crossed to bring Sita back from the clutches of the demon king Ravana.
http://www.dnaindia.com/india/report-prompted-by-rss-asi-to-revive-dwarka-rama-setu-underwater-excavations-2099543
USA –
Lake County - Land surveyors discovered a mummy that could be 2,000 years old on the site of the controversial Singleton Stone quarry in south Lake County, and archaeologists will investigate whether they stumbled onto a Native American burial ground. A team of archaeologists at the site found what appeared to be mummified human remains that have been there for hundreds of years. "They're saying it could be 500 to 2,000 years old," Lake County Sheriff John Buncich said. "They could distinguish a head and a torso. It could be a Native American burial ground."
http://www.nwitimes.com/news/local/lake/ancient-burial-ground-mummy-found-in-lake-county-could-be/article_b0d49daf-769f-540f-9d8c-1b73a602bbdc.html
CAMBODGE –
Angkor Wat - A team excavating a dirt mound at Angkor Wat is hoping to shed light on one of the enduring blank spots in archeologists' understanding of the Angkorian empire: the lives of its common people. It's a fresh direction in the field of Angkorian archaeology, according to the leader of the dig, Alison Carter, 35, an Honorary Associate at the University of Sydney. "We've spent a lot of time focusing on the temples and inscriptions and the elite members of the society, but there's still so much that can be learned about the regular people who were contributing to the Angkorian empire. I hope that this project can spark some interest in those regular people," she said this week. Carter, an American who has been doing archaeology work in Cambodia for 10 years, said that her excavation was the first of its kind to focus directly on, what she believes to be, an Angkorian-era home. "This project is focused on excavating a house mound within the Angkor Wat enclosure. We're trying to do a horizontal excavation. We're not opening one huge trench but multiple trenches across this mound, and we're doing that to try to understand where and how people are living," Carter said. "You could [call this] groundbreaking, not just because it is a good archaeological pun, but also because it does signal a shift in how people have been studying Angkor since the French began their research here." Carter and her international team are looking for artefacts of daily life – pots, utensils, food remains, gardens – hoping to piece together a picture of what life was like for the non-elite during and after the reign of the Angkor empire from circa 802AD to about 1463AD.
http://www.phnompenhpost.com/post-weekend/archaeologists-digging-search-common-people
USA – Monticello - Archaeologists at Monticello are digging, sifting and sorting in search of the original foundation for Thomas Jefferson's Stone Stable. Researchers need to have a clear understanding of what the building looked like in President Jefferson's time before they can begin to restore it. The idea is to isolate the modern layers closer to the surface, so that they're better able to recognize layers from Jefferson's time. Ultimately, they hope to find the remains of the original structure. "So, figuring that out depends on being able to identify, you know, a change in the color or texture of the sediment that would demarcate where we have a deposit of dirt and then a later, different looking dirt on top of it," explained Director of Archaeology at Monticello Fraser D. Neiman. The project is one of several to restore a mountain-top area adjacent to the historic mansion, which was a street where Jefferson's slaves lived and worked. UVA archaeologists say they're working to make the landscape of slavery more visible and understandable.
http://www.nbc29.com/story/29390228/archaeologists-search-for-monticellos-stone-stables
CANADA –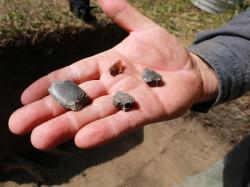 Bow River - A new archeological site along the Bow River has a checkered history with flooding. The teepee circle, a ring of sandstone blocks that mark the outline of a teepee, was covered by silt in a flood between 500 and 1,000 years ago, preserving the site. But after the Bow flooded in 2013, this bank in Fish Creek Park was eroded, washing away part of the site. A local archeologist was surveying the river bank after the devastation as part of a larger survey by Alberta Culture and Tourism to assess flood damage. He noticed sandstone blocks sticking out of the bank and recognized that they could be part of a historic aboriginal campsite. Excavation has revealed the circle, between 1,000 and 2,000 years old, as well as bison bones, and more recent flakes of Knife River flint and pottery fragments, around 500 years old. Although this site was first identified decades ago, only a few bison bones were visible on the riverbank and the site was assumed to be unimportant. After the 2013 flooding, Culture and Tourism launched its three-year survey of sites, now in its second year. Bereziuk said the survey has identified more than 100 new sites and assessed many others. Unfortunately, other sites like this one were washed away in the flooding.
http://calgaryherald.com/news/local-news/uncovering-history-along-the-eroding-bow-river
BULGARIE –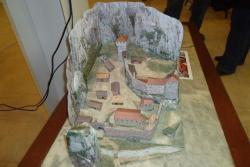 Gradishte - Archaeologists have launched excavations of the Ancient Thracian, Roman, Early Byzantineand medieval Bulgarian fortress known as Gradishte or Vratitsa near the northwestern city Vratsa. The 2015 summer excavations of Gradishte / Vratitsa will focus on digs at a spot located between anEarly Byzantine church and a medieval Bulgarian church, lead archaeologist Nartsis Torbov from the Vratsa Regional Museum of History has announced, as cited by local daily Konkurent. This means that Torbov's team will be looking for finds from Early Byzantium and the necropolis of the medieval Bulgarian city of Vratitsa where several graves have been found in the past few years of research. The fifth medieval grave was discovered in the summer of 2014; it was the grave of a big man with astone placed on his chest in order to "neutralize" him so that he would not rise from the grave. The discovery has led the Bulgarian media to term the buried man the "Vratsa Vampire".
http://archaeologyinbulgaria.com/2015/06/26/bulgarian-archaeologist-start-excavations-of-medieval-fortress-gradishte-near-vratsa/