28-29 DECEMBRE 2014 NEWS: Namaz - Nevşehir - Bhamala - Gogar - Leiston Abbey -
28-29 DECEMBRE 2014 NEWS: Namaz - Nevşehir - Bhamala - Gogar - Leiston Abbey -
INSTITUT SUPERIEUR D'ANTHROPOLOGIE
INSTITUTE OF ANTHROPOLOGY
ONLINE COURSES / COURS A DISTANCE
SPRING TERM : APRIL 2015
REGISTER NOW
IRAN –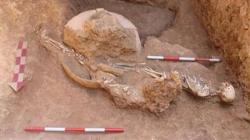 Namaz - Archeological explorations in Namaz historical hills in Gaz have uncovered earthen works belonging to Elamite and Sassanid era. Abbasali Ahmadi, the head of archeology group told Mehr News that an Islamic period cemetery had also been uncovered during explorations. "the earthen works are related to the reconstruction period of the mausoleum; explorations in Namaz ancient hills were started in late September and lasted until mid-October," he added. Namaz ancient hills of Gaz is located 18Km north of Isfahan and in the vicinity of city public part and Shah Nematollah Vali (a great Iranian Sufi) mausoleum. He pointed to 12 different workshops during explorations; "the cultural items of the exploration include clay belonging to Islamic and late Sassanid eras; they were found in the vicinity of earthen works of the same period," Ahmdi said. Ahmadi however said that to speculate the application of these earthen works and large volumes of clay in the site would require further studies; "in addition to broken pieces of pottery, two earthenware jars were uncovered fully in a Sassanid-era chamber," he added.,The head of exploration team asserted that the position of earthenware jars and their application would give rise to speculations which would require the next phase of explorations.
http://www.irna.ir/en/News/81440814/?
TURQUIE –
 Nevşehir- With 2014 soon coming to an end, potentially the year's biggest archeological discovery of an underground city has come from Turkey's Central Anatolian province of Nevşehir, which is known world-wide for its Fairy Chimneys rock formation.  The city was discovered by means of Turkey's Housing Development Administration's (TOKİ) urban transformation project. Some 1,500 buildings were destructed located in and around the Nevşehir fortress, and the underground city was discovered when the earthmoving to construct new buildings had started. TOKİ Head Mehmet Ergün Turan said the area where the discovery was made was announced as an archeological area to be preserved. "It is not a known underground city. Tunnel passages of seven kilometers are being discussed. We stopped the construction we were planning to do on these areas when an underground city was discovered," said Turan. The city is thought to date back 5,000 years and is located around the Nevşehir fortress. Escape galleries and hidden churches were discovered inside the underground city. The newly discovered underground city will be the biggest among the other underground cities in Nevşehir that have been discovered so far.
http://www.hurriyetdailynews.com/massive-ancient-underground-city-discovered-in-turkeys-nevsehir-.aspx?pageID=238&nID=76196&NewsCatID=375
PAKISTAN –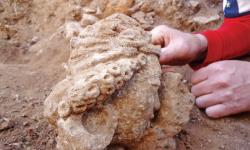 Bhamala - Khyber Pakhtunkhwa archaeology and museums directorate director Dr Abdul Samad on Friday said sculptures and heads dating back to second to fifth century AD had been discovered during excavation at Buddhist stupa known as Bhamala Buddhist Complex near Khanpur. He said during excavation, precious coins of Kushan period were also found around the stupa. Dr Samad said the Bhamala archaeological site had been declared national and world heritage site located near Khanpur dam. He said the ruins dated back to fourth century BC. "The ruins are situated near Khanpur dam. The stupa is cross-shaped and looks like an Aztec Pyramid," he said. The director said the Bhamala site was partially excavated in early 1930 by Jan Marshal. He said fresh excavation at the archeological site had been initiated by the Hazara University, Mansehra. Dr Samad said during excavation done by archaeologists, conservators, diggers, and treasury hunters, mostly terracotta sculptures had been discovered.
http://www.dawn.com/news/1153405
ROYAUME UNI –
 Gogar - Remains of one of Scotland's oldest farming communities have been unearthed by diggers working on the Capital's tram line. The archaeological gem – discovered on a narrow ridge near Edinburgh Airport – dates back almost 6000 years and contains traces of up to six different settlements. Council archaeology officer John Lawson revealed the tram works had allowed archaeologists to gain a "real slice through time." He said: "The excavations at Gogar have given us an important snapshot of how Edinburgh grew as it has given evidence from a wide range of periods, from early prehistoric Mesolithic hunter-gathering communities through to the medieval period. "Possibly the earliest evidence was pits containing hazelnut shells, which may be from Mesolithic hunter-gathers. "These were found alongside a range of pits and post-holes dating from around the start of the Neolithic period in Scotland around 3960BC, making it Edinburgh's – and one of Scotland's – first farming communities." Among the items discovered at the site are flint from the Neolithic period, small blades of Arran pitchstone, and small quantities of pottery from the Neolithic to the Iron Age.
http://www.edinburghnews.scotsman.com/news/ancient-farm-community-unearthed-during-tram-works-1-3645199
ROYAUME UNI –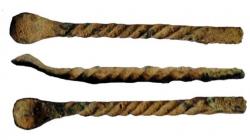 Leiston Abbey - Archaeologists have revealed a dig at an abbey ruin unearthed a medieval "earspoon" and tweezers suggesting monks indulged in personal grooming. Ninety people paid to take part in the Dig Ventures two-week excavation at Leiston Abbey, Suffolk. The team found the small, thin spoon, believed to be used for cleaning ears. Kezia Evans, community archaeologist, said: "People weren't bathing as much as we do now, but they tried to make sure their faces and hands were clean." Participants searched for artefacts and information about the Premonstratensian abbey, which was founded at nearby Minsmere in 1182 before moving to Leiston in 1363. It was suppressed in 1536 during Henry VIII's dissolution of the monasteries. The project has also been hoping to uncover evidence of industrial activity at the abbey, such as a mill, which would have provided the monks with an income. Analysis of the earthworks had revealed evidence of water being stored and moved around the site. Ms Evans said: "What we have found is three large upright post holes in the field of earthworks which suggest a much larger timber structure, and we'll focus our attention on finding the rest of it next summer. "We are two years into a five-year investigation - these items are giving us a greater understanding of the people who lived there."