27 NOVEMBRE 2017 NEWS: Saint-Paul-Trois-Châteaux - Goa - Westbrook - Llys Edwin - Montréal - Jainagar -  Gudnapur - Shangjing -Chelmsford -
27 NOVEMBRE 2017 NEWS: Saint-Paul-Trois-Châteaux - Goa - Westbrook - Llys Edwin - Montréal - Jainagar -  Gudnapur - Shangjing -Chelmsford -
INSTITUT SUPERIEUR D'ANTHROPOLOGIE
INSTITUTE OF ANTHROPOLOGY
ONLINE COURSES / COURS A DISTANCE
WINTER TERM : JANUARY 2018
REGISTER NOW
FRANCE –
Saint-Paul-Trois-Châteaux - The researchers from the National Institute for Preventative Archaeological Studies earlier this week told the France3 television channel that the cellar in the town of Saint-Paul-Trois-Châteaux was "potentially a mikvah" in medieval times. The town, which is situated 90 miles northwest of Marseille, had a large Jewish population in the 13th century, they said. Claude de Mecquenem, an expert in Jewish history and archaeology for the Institute, reported on two weeks of intensive research. He said that the depth of the basin inside the cellar – a space of 300 square feet – and its location at the heart of what used to be the town's Jewish quarter suggest "it is potentially a mikvah."Mylène Lert, a curator at the town's Tricastine Museum of Archeology, told France3 that she had suspected the space was a mikvah since she first descended there in the 1990s, following its discovery in renovations. "Every time I went down there, there was always water there," she said. "And considering that a Torah ark was discovered in a house next door, the clues suggesting that this is a mikvah are starting to add up." The Jews of southern France were allowed to stay only in four locales after the Great Expulsion of French Jewry, decreed by King Philip IV of France in 1306, according to Ram Ben-Shalom, a historian and lecturer at the Hebrew University of Jerusalem specializing in the Jewry of Provence. Saint-Paul-Trois-Châteaux was not one of them. Jews were allowed to live in closed, guarded and crowded ghettos, known as "carrieres," in Carpentras, Avignon, Cavaillon and L'Isle-sur-la-Sorgue because these locales were on lands owned by the pope, who took in Jews in exchange for payment.
https://www.israelnationalnews.com/News/News.aspx/238475
INDE – Goa - The National Institute of Oceanography (NIO) will carry out a marine archaeological exploration in Goa's Gopalapatnam area, after a team found traces of a 2,000-year-old wall there in 2015, hinting at the existence of an ancient port and a maritime trade route. In 2015, the NIO found a 2.5-km-long wall along the northern bank of the Zuari river. The team conducted a ground-penetrating radar (GPR) survey and found that the wall leads to steps that were leading into the sea, and that a 'rajvithi', an ancient path used by the king, was leading towards Old Goa. The findings led to speculation that the structure could belong to the Kadamba Dynasty.
http://www.dnaindia.com/india/report-hunt-for-2000-yr-old-port-off-goa-2562518
USA - Westbrook - Excavator Tom Maynard has been digging around Connecticut for more than 30 years. He made the find while clearing land for new home construction on Mohawk Road in Westbrook where Native Americans used to camp. "There were camps all along the river," explained amateur archaeologist Gary Nolf. Longtime archaeology enthusiasts Gary Nolf and Don Rankin were called to collect the artifacts. "It shows us where the Native Americans were, what they were doing, what they were eating, what they were hunting," Nolf said. "This site being a thousand years old, could they have been connected to the Hammonassets, the friendly tribe that lived here? Maybe," said Rankin. At least a thousand years ago, this site would've been considered a dump site for Native Americans where they left behind hundreds of clam, oyster and whelk shells. They also found hand-carved spears natives would attach to a bow for hunting. "We want to know how they lived here, what their family life was like," explained Rankin. They hope this discovery of ancient artifacts help them do just that.
VIDEO = http://wwlp.com/2017/11/25/1200-year-old-native-american-artifacts-unearthed-in-westbrook/
ROYAUME UNI –
Llys Edwin - A fortified house linked to an ancient Flintshire prince is being excavated to learn more about the site's important historic role. Parts of Llys Edwin, a home dating back to the 11th century, are being analysed by archaeologists aiming to raise wider awareness of the importance the site holds to the history of North-East Wales. Workers, volunteers and students have been on site over a two-week period looking at the remains of the ancient building, once linked to the family of Edwin of Tegeingl, a North-East Wales prince who died in 1073. The site could have been used as a line of defence against the Norman invasion of Wales.
http://www.dailypost.co.uk/news/north-wales-news/ancient-flintshire-house-dig-archaeological-13952996
CANADA -
Montréal - An excavation is underway to search for the remains of Irish famine victims, 6,000 of whom died of typhoid fever along the banks of the St. Lawrence River in Montreal. Within what looks like an everyday, average car park in Montreal, an investigation is currently underway to find the tragic "fever sheds" that once held hundreds of thousands of ill and impoverished Irish immigrants attempting to escape the Great Hunger in Ireland for a new life in Canada and America. The mass graves of 6,000 people who died in the Canadian city after fleeing hunger and poverty in Ireland are somewhere under the car park. Yhe dreams of the Montreal Irish Monument Park Foundation w to find them were dashed last summer as the park where the future memorial was to stand was sold to Hydro-Québec for use as an electrical substation.
https://www.irishcentral.com/roots/history/archaeologists-montreal-irish-famine-victims
INDE - Jainagar - The Archaeological Survey of India (ASI) has recently issued the licence for conducting excavation at Jainagar based on recent discovery of an early medieval period monastery (6-10th century AD). The place is located around 125km east of Patna. "A sculpture in this Buddhist monastery looks similar to those found in other Pal period (8-12 century AD) structures," CM Nitish said while inspecting the site on the sidelines of the launch event. Several copper coins of Alauddin Khilji and two coins bearing the name of Maratha ruler Bajirao Shinde were also discovered at Jayanagar in December, 2016, when locals were digging a mound. ainagar hills apart, CM Nitish instructed the officials to take steps for preservation and protection of seven archaeological sites in and around Lakhisarai town, which is believed to be a historically rich region. "Lakhisarai and the places around it were quite strategic in the early medieval (AD 550- 1200) and medieval period (AD 1200- 1800). Large numbers of historical monuments including Buddhist monasteries and Brahminical temples belonging to this period have been found in and around Lakhisarai. The significance of Lakhisarai is also due to its strategic location in eastern India. It was significant in the inland river trade route as it is located at the confluence of Ganga, Haruhar and Kiul rivers," Chaudhary said.
https://timesofindia.indiatimes.com/city/patna/cm-launches-jaynagar-hills-excavation-at-lakhisarai/articleshow/61796521.cms
INDE-
Gudnapur - The earliest inscription in which all the 9 numerals have been engraved is the one at Gudnapur' While the Halmidi inscription is the earliest known inscription documenting the Kannada script and is well celebrated, a history scholar has sought to throw light on the Gudnapur inscription – another inscription of equal historical importance though one that is not as well known. N.S. Rangaraju, retired professor, Ancient History and Archaeology, University of Mysore, has sought to highlight the origin and evolution of the Kannada numeral as found in inscriptions. He said that in some of the early Karnataka inscriptions, there are instances of a couple of Kannada numericals. "But the earliest inscription in which all the 9 numerals have been engraved is the Gudnapur inscription engraved during the time of Kadamba Ravivarma," he said. The proper dating of the engraving of the inscription is not available and as per available records, the date of the Kadamba Ravivarma is 485 A.D. to 519 A.D. Hence, it might have been engraved in the early 6th century A.D., Dr. Rangaraju said. While the Halmidi inscription if the first and earliest Kannada inscription, the Gudnapur inscription is the first with the nine Kannada numerals and hence is historically significant, he said.
http://www.thehindu.com/news/national/karnataka/scholar-throws-light-on-the-origin-evolution-of-kannada-numerals/article20811692.ece
CHINE - Shangjing - Archaeologists have found evidence of an ancient ethnic minority group following Confucianism over 1,000 years ago in north China's Inner Mongolia Autonomous Region. Remains of Confucian temples have been found in the ruins of Shangjing, the upper capital of the Liao Dynasty (916-1125), said Dong Xinlin with the research institute of archaeology of Chinese Academy of Social Sciences. Dong said the first Confucian temple was built as early as the Khitan started building the upper capital. Besides Confucian temples, Buddhist and Taoist ones were also found at the site. "The Khitan had an inclusive culture," he said. The Liao Dynasty was founded by the nomadic Khitan and ruled the northern part of China. Shangjing, now located in Bairin Left Banner in Inner Mongolia, was first built in 918. The capital was the dynasty's political, economic and cultural center on the prairie for over 200 years. The ancient capital was also found to be divided into two parts, with the Khitan living in northern part and Han Chinese people in southern part. "This showed Khitan's respect for the Han population and its culture," said Dong.
http://news.xinhuanet.com/english/2017-11/24/c_136777402.htm
ROYAUME UNI –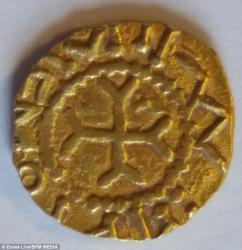 Chelmsford - A treasure hunter has unearthed a haul of ancient gold coins, thought to have been buried with an Anglo-Saxon King nearly 1,500 years ago. Chris Kutler, 54, stumbled upon the coins after spending four days searching a 1,600 sq metre field in Chelmsford, Essex.The hoard has now been sent to the British Museum for analysis and valuation. The coins, called Tremissis, that Mr Kutler found earlier this month and nearly twenty years ago were used by the Merovingians who ruled over what we know as France today, and also beyond towards Saxony. According to law, treasure is 'two or more coins from the same find, at least 300 years old, and contain at least 10 per cent gold.' The coins, called Tremissis, that Mr Kutler found earlier this month and nearly twenty years ago were used by the Merovingians who ruled over what we know as France today, and also beyond towards Saxony. According to law, treasure is 'two or more coins from the same find, at least 300 years old, and contain at least 10 per cent gold.'
http://en.brinkwire.com/143/treasure-hunter-unearths-1500-year-old-anglo-saxon-coins/