INSTITUT SUPERIEUR D'ANTHROPOLOGIE
INSTITUTE OF ANTHROPOLOGY
ONLINE COURSES / COURS A DISTANCE
SUMMER TERM : JULY 2014
REGISTER NOW
KYRGYZSTAN –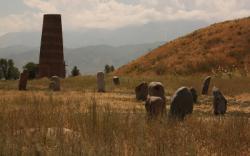 Suyab - Russian and Japanese archaeologists show a big interest in ancient settlements of Suyab, Balasagyn and Nevakt, which are 1000 years old and contain valuable artifacts, MP Karganbek Samakov said on Parliament Radio. "For instance, the Buddha statue was discovered at the remains of Suyab in 1996, which is exhibited in the Hermitage now. We could develop our own museums and attract tourists," MP Samakov siad. The given settlements were recently inscribed into the UNESCO World Heritage List as the Silk Road networks nomination of Kyrgyzstan, Kazakhstan and China. 50 trans-boundary corridors more will be created, which will include several countries from China to Japan, the parliamentarian said. Japanese archeologists are ready to build a museum at Suyab settlement, where exhibits found during archaeological digs will be showcased.
http://www.akipress.com/news:543895/?
INDE – 
Mathilakam -The State Archaeological Department has started a field survey of historic monuments at Mathilakam, near Kodungallur. It is considered that Mathilakam was one of famous Jain centres during the Chera dynasty's rule. There was a huge Jain temple here. The objective of the survey is to collect evidence for the existence of the Jain temple at Mathilakam, according to Mohanachandran of the Archaeological Department, Thiruvananthapuram. Historians such as MGS Narayanan have noted that Elango Adikal had written Chilappathikaram at the Jain temple in Mathilakam. The geography of the area has changed totally since then. The team visited places around Elavanjikulam near the Jain temple site, square wells in Mathilakam, St. Joseph Latin Church, which is considered to be an old Jewish synagogue, Puthiya Kavu, Thrippekkulam, Manikulam at Kaipamangalam and British Travellers Bungalow and Kulimuttam.
http://www.thehindu.com/news/national/kerala/archaeological-team-begins-field-survey-at-mathilakam/article6154960.ece?utm_source=RSS_Feed&utm_medium=RSS&utm_campaign=RSS_Syndication
THAILANDE –
  Nakhon Ratchasima - Human skeletons and pieces of ancient pottery were found on Thursday in a paddy field in Nakhon Ratchasima's Muang district. The Fine Arts Department's branch office in Nakhon Ratchasima sent archaeologists to examine the skeletons and pottery found on a farm in the village of Khok Sung. An initial examination suggested the skeletons were more than 1,500 years old. 
Skeletons, relics found in rice field 
http://www.bangkokpost.com/most-recent/417668/?.
INDE –  Raja Bali Ka Garh - A good number of antiquities, including human & animal figurines and beads of terracotta, bangle fragments and ceiling have been found in a recent excavation conducted at Raja Bali Ka Garh, Balirajgarh, in Madhubani district. Altogether over 400 antiquities were found during the excavation in the last six months. The site is 260km away from Patna and 38km west of Madhubani district headquarters. Patna Circle of Archaeological Survey of India (ASI) had carried out archaeological excavation since January 16 this year. With the onset of monsoon, the excavation work has been stopped. The excavation was carried with the objective to ascertain the nature of settlement, particularly on the northwest area within the fortification and to know a fresh cultural sequence of the site, Chauhan said. In order to ascertain something new, the vertical digging was chosen first to find out cultural sequence near the north gate of the fortification, he added. Raja Bali Ka Garh is an ASI protected monument notified by the name, 'Remains of Ancient Fort or Garh locally known as Raja Bali ka Garh', at a small village Balirajgarh in Madhubani district. The site was earlier excavated during 1962-63 by the mid-eastern circle of ASI and subsequently state archaeology department in 1972-73. Evidence of four cultural period were found.  According to archaeologists, this fortification was built in 2nd century BC and the remains in use up to Pala period. The entire area is spread over 176 acres. One separate pottery yard with arrangement of other infrastructure has been made on the mound itself to study the materials revealed from the excavations. Beads of semiprecious stones like carnelian and jasper are noteworthy findings. These antiquities are from Sunga to Pala period.
http://timesofindia.indiatimes.com/india/Over-400-antiquities-found-in-Balirajgarh-Bihar/articleshow/37156776.cms