INSTITUT SUPERIEUR D'ANTHROPOLOGIE
INSTITUTE OF ANTHROPOLOGY
ONLINE COURSES / COURS A DISTANCE
FALL TERM : OCTOBER 2015
REGISTER NOW
SLOVAQUIE –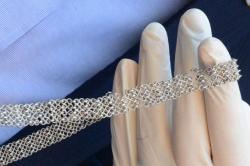 Rusovce - Several precious items have been discovered by archaeologists during the construction of a sewage system in Rusovce, a suburb of Bratislava. A unique belt made of pure silver dating back to the 2nd-4th centuries AD is of unique value with a historical value beyond measure, said Archaeological Agency general director František Žák Matyasowszky. "There's no other item like this," he told a press conference on September 22, as quoted by the TASR newswire. "We believe that this belt once belonged to a lady, and since the goldsmith work in question is of cutting edge expertise, the lady probably belonged to a high class of society." Another precious find contains two rings. "One, made of bronze, was likely a woman's ring, whereas the other one might have been crafted for a child," Matyasowszky said. "It has a small white disc in the middle, depicting a gladiator or warrior." These items also must have belonged to rather wealthy owners. In total, the archaeologists found 245 precious artefacts on Maďarská Street in Rusovce. The 2nd-century Gerulata Roman military camp was located in what is now the borough of Rusovce. It formed part of the Limes Romanus fortifications and belonged to the Roman province of Pannonia. It was deserted when Roman legions were withdrawn from Pannonia in the 4th century AD.
http://spectator.sme.sk/c/20060741/unique-items-from-ancient-times-found-in-rusovce.html#storm_gallery_467
ROYAUME UNI –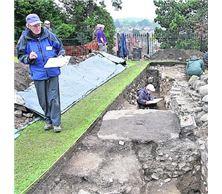 Oswestry - A 10x4 metre trench has been dug at the site, which has revealed deep-running sections of the castle's exterior walls which are believed to date from the 12th Century. Small protruding remnants of the wall stood on top of the mound before this year's excavation, offering the team an indication of where to begin their dig. Curious to learn if substantial remains of the castle survived intact below ground, the group also aim to establish facts about the structural design of the defensive stronghold. Findings have pleased Mr Cooper, who hopes his team can acquire further funding to pursue the project more rigorously and explore the site further. He said: "What I think we're looking at is the mid-12th Century building stones which formed part of the original fortification. "We are beginning to suspect that we have found the wall edge and possibly evidence of rooms inside the castle walls.
http://www.bordercountiesadvertizer.co.uk/news/153102/oswestry-dig-reveals-sections-of-12th-century-walls.aspx?
ROYAUME UNI –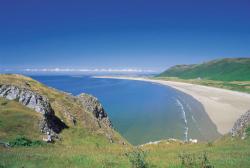 Rhossili - To uncover the secrets of a deserted medieval village just above the beach. The village was engulfed by sand in the 15th Century, but recent storms have reversed this. There's now a chance to survey and record what lies beneath the sand before the medieval village risks being swept out to sea and lost forever.
http://www.southwales-eveningpost.co.uk/Help-uncover-medieval-village-engulfed-sand-600/story-27863455-detail/story.html?
ROYAUME UNI –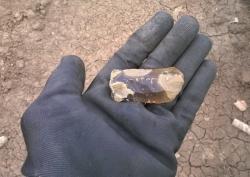 Londres - Archeological findings, some thousands of years old, have been uncovered during the controversial Hampstead Heath Ponds Project to raise the 300-year-old dams in the event of a catastrophic storm. Victorian pennies, 18th century pottery and even a Neolithic flint have been found near the Model Boating Pond so far.
http://www.hamhigh.co.uk/news/education/hampstead_heath_ponds_project_unearth_archeological_neolithic_flint_victorian_pennies_1_4246894
USA - Minnesota - MSU team mapping Minnesota's Native American sites. A database containing the locations of all of the state's roughly 18,000 Native American sites and millions of artifacts along with their accompanying notes, studies and field work. The project, called the Minnesota Archaeological Inventory Database, or MAID, is also expected to be used by researchers, the public and the Native American community. American archaeologists have been excavating Native American sites for more than a hundred years, but these Natives' descendants have little or no access to that information, Schirmer said.
http://www.startribune.com/msu-team-mapping-minnesota-s-native-american-sites/329626021/
USA –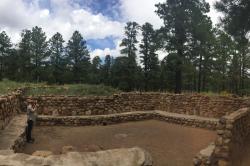 Elden Pueblo - Imagine being able to look at a historical site from every angle, measure the smallest details on the interior and identify how to preserve it without ever touching it. Photogrammetry technology combines hundreds of overlapping high resolution images taken with a digital camera mounted on a pole to create a 3D color virtual model of a site. For an archaeologist, this is the future of documentation and a low cost alternative to laser technology such as LiDAR. "This is a tremendous increase over our previous efficiency in mapping archaeological sites," said Chris Downum, an NAU professor who began using photogrammetry last year. Chris Francis, an archaeology master's student at NAU, spent his summer interning with the Coconino National Forest to create a 3D model of the Community Room at Elden Pueblo, an ancient Sinagua village located in north Flagstaff off of U.S. Highway 89. "These places have been around for hundreds of years and we want to see them stay around for another hundred years," Francis said. "This really allows us to go in and make precise measurements without being intrusive." Downum explained the importance of these sites to several of the region's Native American tribes who he works closely with during the stabilization process. He said Elden Pueblo specifically is very important to the Hopi and believed to be part of the footprints of their ancestors.
http://news.nau.edu/3d-photo-technology-helps-nau-archaeologists-document-historic-sites/#.VgZC9t-c08o
USA –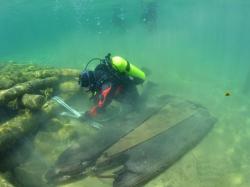 Jacksonport - The Wisconsin Historical Society has announced the listing of the Jacksonport Wharf Archaeological Historic District, Boundary . Increase in the National Register of Historic Places.This district was originally listed in 2012 but, because of its location between the high water mark and approximately 200 yards offshore, it is in a dynamic surf-zone environment with varying degrees of sand movement from year to year. For this reason, shifting sands have uncovered previously undocumented artifacts associated with three historic pier structures, and three shipwreck sites that make up the district. The district is an archaeological record of the interface between terrestrial and maritime components of 19th century lumbering and fishing trades. Because many pier and ship artifacts remain buried beneath sand, there remains vast potential for the district to yield important new archaeological information in years to come.
http://www.greenbaypressgazette.com/story/news/local/door-co/news/2015/09/25/jacksonport-wharf-extension-added-register/72817974/